It's taken the latest, front-wheel-drive-based 1-series, with its wonky proportions, transverse four-cylinder and uninspiring dynamics, to make us realise how much we took the previous generations of 1-series – unusually styled, but traditional BMWs under the skin – for granted.
It was also what convinced Kevin Bird, technical director at BMW specialist Birds, to buy a late-model BMW M140i. Frustrated by the direction in which BMW was heading, Bird noticed that the outgoing M140i was the last straight-six BMW available with a manual gearbox outside of the M division.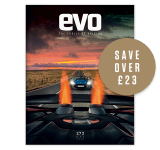 Subscribe to evo magazine
Subscribe today to have every issue of evo delivered straight to you. You'll SAVE 39% on the shop price, and get evo for its original cover price for a whole year!
The M140i was never perfect when new though, so it's also a good platform for improvement – and that's exactly what Birds has attempted to do with a car that could become increasingly sought after in the next few years.
Engine, performance and 0-60 time
No transverse four-cylinder here: the M140i came with a 3-litre straight-six mounted north-south under the 1-series' long bonnet, and this particular car drives the rear wheels through a six-speed manual gearbox.
As standard it made 335bhp and 369lb ft, but Birds' work has extended that figure to 424bhp. The drivetrain has also been embellished with a Quaife ATB limited-slip differential to tame the M140i's rear end, while the manual 'box gets a short-shift kit and clutch upgrade.
Pressing the starter button is an instant reminder of why there's more to a car than mere numbers. BMW can throw all the power it likes at the new 1-series' motor but it will never match the experience of the old in-line six. It's smooth, sonorous, and with Birds' upgrade, startlingly potent.
Torque is wisely limited in the first three gears, as the standard-width tyres would struggle to contain it otherwise. The car feels easily on par with an M2 Competition in a straight line, albeit without the Comp's harder-edged induction note. It's huge fun to exploit once you're used to the stiffer action of the upgraded gearshift, and more than matched by the bite of the Alcon brakes.
Technical highlights
For Birds, the car isn't just a representation of what BMWs should be, but a test bed for how to make them even better. To that end, Birds' demonstrator features some subtle but significant upgrades to sharpen up the handling and braking, and to bring its performance in line with the M2's higher calorific value.
Power isn't the main focus of the car though. Instead Birds has concentrated on bringing more precision and control to the M140i's chassis, which could occasionally feel a little wayward. It's developed what it calls the B-Series sport suspension set-up, and it's far from just bolting on a set of springs and dampers from a catalogue and calling it a day.
The kit uses Bilstein dampers built to Birds' own specifications and tested by former Formula 3, BTCC and IMSA racer James Weaver. The dampers are combined with Eibach springs, also built to Birds' specifications, and the pairing is said to improve control but also deliver a better ride quality on UK roads than BMW's passive or active options.
What's it like to drive?
True to Birds' word, the real improvement is in the chassis. At low speeds the car is undoubtedly firmer than before, reacting suddenly to road scars, but as quickly as the national speed limit signs appear the car enters a Zen state. Any harshness seems to disappear, and the car's movements feel at once fluid and tightly managed, with enough suspension stroke from the near-standard ride height to deal with more uneven surfaces.
Corners also highlight the car's newfound precision and add confidence to every steering input. The car's natural balance is easier than ever to exploit, the differential loading up as soon as you ease back onto the power, and the rear axle less perturbed than it was by mid-corner bumps or undulations.
The extra power does nothing to harm that either. The upgrade is far from essential – straight-line punch was never something the M140i lacked – but even in this modified state the B58 in-line six has a beautifully smooth delivery that lets you meter out the power as precisely as you can flex your ankle. It's arguably at its best with the manual 'box too, for even finer control. As Kevin Bird puts it: 'You should only turn off the traction control once you've learned to not illuminate the warning light.'
And if you're going to eschew the easy speed of the modern M135i xDrive, that's kind of the point, isn't it? The M140i is not an 'old' car, so we'll make no erroneous claims of an 'old-school' driving experience, but in this upgraded state it's a car where enjoyment comes as much from involvement and exploring your abilities as it does from outright performance.
Price and rivals
The Birds engine management upgrade comes in at £2698. The Quaife diff is £2014 fitted, the clutch and short-shift upgrades £653, and the B-Series suspension set-up comes in at £1874 fitted, and all prices here include VAT.
The full Birds B1-430 conversion, including all of the above, is £6908 including VAT, or £6280 if you have it all done to the automatic model, which obviously doesn't require the clutch and gearshift changes. All upgrades are available on the earlier M135i models and the equivalent 2-series coupes too.
Obviously you'll need a car too, with M135is currently starting around the £10k mark and later M140is around £15k, with the 2-series coupe equivalents roughly £2k on top of each of those. With BMW M2s still hovering around the £25k mark though and M2 Competitions even more than that, Birds' upgrades look like a cost-effective way of getting similar results.