BMW to create one-off tribute to 3.0 CSL
Special edition from BMW design team pays hommage to 1970s classic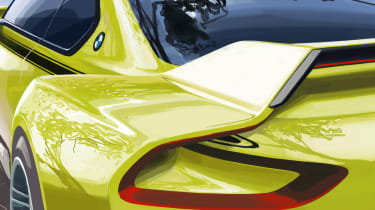 BMW is to create a one-off tribute to the iconic 3.0 CSL. Set to be unveiled at the Concorso d'Eleganza Villa d'Este, the car is 'a nod to the engineering achievement exemplified by the BMW 3.0 CSL'.
Currently all that has been shown of the CSL Hommage is a single image. It shows the rear end of the car which features a large rear spoiler with lights that wrap around the bodywork.
BMW has explained that the '3.0 CSL Hommage', as it's being officially called, will feature multiple design touches reminiscent of the original car.
That means the already pictured rear spoiler will be paired up with a roof spoiler. Other features include wide wheel arches as well as large air deflectors.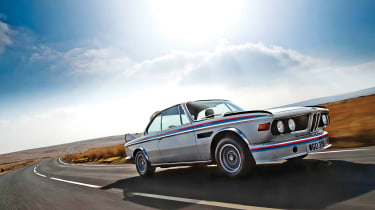 Carbon fibre has been used extensively throughout the design of the car, with the lower section in particular featuring plentiful use of the lightweight material.
The interior is as pared-down and simplified as possible, with every element being an essential part of the driving experience.
For those not in the know, the 1970s 3.0 CSL was in many respects the original M car. It featured a 3.0-litre straight six engine, lightweight materials, a stripped back interior and an aerodynamic package that earned the car the nickname 'the batmobile'.
Later cars would see engine capacity increase as well as aero work. By 1973 the CSL boasted 3,153cc and a set of un-road legal wings that were left uninstalled with the car, coming in the boot to be fitted after purchase.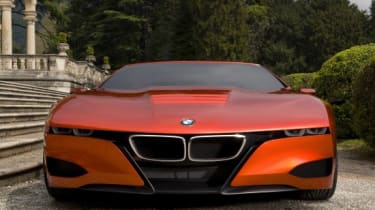 This isn't the first time BMW has produced a one-off tribute to one of its iconic cars. Back in 2008 the company put together the 'M1 Hommage concept' which was a hat tip to the iconic 1978 coupe.
evo pitted the e92 M3 GTS against the 3.0 CSL in 2011 (issue 156): 'when you approach the CSL, you giggle at the body alterations, clink the little metal door-handle open and fill your lungs with the unmistakeable pong of vinyl-impregnated air. If your objective intentions aren't already shot to bits, then they soon will be: that shoulder-cut bucket provides the perfect, suggestively laid-back '70s posture, the leather-trimmed wheel is thin and delicate, and there's no slack at the straight ahead.'
Full images of the 3.0 CSL Hommage will be released on the 22nd May.