BMW xDrive TV advert pulled after single complaint
ASA bans TV advertisement showcasing BMW's four-wheel-drive system on the grounds it condoned dangerous driving.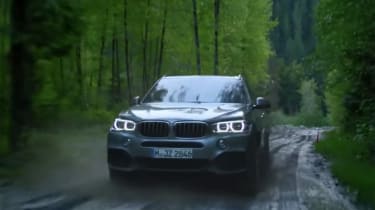 A TV commercial produced by BMW, promoting the marque's xDrive four-wheel-drive system, has been banned from airing after the Advertising Standards Authority declared that it 'condoned faster, dangerous and irresponsible driving'.
A complaint filed by a member of the public forced the ASA to investigate the advertisement, titled 'Get out there'. Pointing to the upbeat backing track (Blur's Song 2), extreme driving environments and outdoor activities featured in the advert, the ASA concluded the 'succession of short, fast-paced scenes gave the impression that the cars were being driven at a considerable speed'.
Based on the above findings, the ASA deemed the advert in breach of advertising code rules and thus ordered it to be removed from the air. BMW estimates the advert was viewed 9.3 million times, however only one complaint – the one resulting in the advert's demise – was received by the ASA.
A compilation of scenes demonstrated BMW xDrive-equipped models tackling a variety of (off-road) terrains. The ASA marked out a specific moment, where a BMW X5 was shown skidding on a sodden muddy track, that provided cause to ban the ad. BMW argued the ASA's description of 'skidding' was incorrect, saying 'the term "skid" suggested that the driver had lost control of the car, which did not occur during the ad'.
BMW added: 'The ad did not show the cars skidding, but a slight reduction in traction, which highlighted the technical capability of the xDrive system to react to a change in grip on each wheel.'
Following its ruling the ASA told BMW 'not to demonstrate handling characteristics in the context of excitement' in future adverts.