You may have noticed in our recent 'best cars for x amount' web features that we're quite fond of the E46 BMW M3. Nick Trott, evo's editor, said he'd choose the car if he had £10k or £15k at his disposal, and Dan Prosser later agreed, saying he'd buy the harder CS version. 
>Read – Best cars to buy for £15,000 – evo garage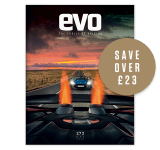 Subscribe to evo magazine
Subscribe today to have every issue of evo delivered straight to you. You'll SAVE 39% on the shop price, and get evo for its original cover price for a whole year!
But what is it that makes the third-gen M3 so special? And is it enough to outweigh the inevitable negatives attached to a car approaching 15 years of age? Below, we explore whether it's worth spending your hard earned cash on an E46 BMW M3. 
The engine
Let's consider the car's strongest attributes. The most obvious to start with is that engine. It's a six-cylinder unit with a 3246cc displacement, capable of producing 338bhp at 7900rpm. We loved it when the car was new, with then motoring editor John Barker proclaiming:
'That 3.2-litre 338bhp straight-six is wonderful, with an effortless reach, ever-ready vigour and a tight-lipped howl spangled with a zingy, metallic edge. It's unquestionably the M3's best feature, punching it forward with deceptive ease and loading the rear so you can trim the car's attitude through the length of a sweeping corner.'
Thankfully, the past decade and a bit has been kind to the engine, and with the latest M3 receiving a turbocharger and even the previous E92 generation swapping six- for eight-cylinders, the E46 possesses a classic charm that's been lacking from the M3 badge ever since.
Even today in the twenteens, it's a peach of a powertrain. It produces a useful 269lb ft of torque from 5000rpm – a high number by today's turbocharged standards – proving that the engine needs to be revved to offer its sweetest performance, and sounds just plain old lovely. We described the note as a 'confident howl that pushes all the right buttons' back in evo 025. 
Power is sent rearwards through a six-speed manual gearbox (we'd opt for this over the SMG semi-auto), the 'box itself sitting immediately below the lever for a satisfyingly close connection. While the lever doesn't slice through the cogs with the feel you'd expect for such a layout, it does at least enable quick, albeit knuckly changes. In this day and age, maybe we should just be happy to have the lever there in the first place.
The chassis 
We described the E46 as having the 'most adjustable chassis since the E30 M3,' in evo 039 back in January 2002, and if we're honest, that probably still holds much truth today.
The car wasn't exactly light in its day - in fact the latest F80 M3 is some 50kg lighter at 1520kg - but its pliant suspension and responsive controls enabled, and still enable, a fantastic sense of connection. Jethro Bovingdon happily explained back in 2004: 'all M3 owners must quickly become driftmeisters.'
That's why it comfortably made the cut for our Greatest Drivers' Cars list in evo 066, and that's why is still chosen so frequently by evo's road testers as a timeless favourite.
The performance
The E46 has been around since the year 2000. That's fifteen years for car performance to substantially move on, but still, the numbers it produces are highly respectable.
While total output is some 87bhp off the latest M'd 3-series, the 5.1sec 0-60mph time and 155mph (limited) top speed are still very current. At the turn of the century, the E46 set an (unofficial) 8min 22sec laptime at the 'Ring, confirming laptime pace is impressive even today.
The reliability
Let's be honest, the M3 isn't bullet proof. Ex-evo editor and general motoring expert Peter Tomalin confirms: 'pre-June '03 engines were prone to crankshaft big-end bearing failure; oil supply upgrades should have been sorted under warranty.' If there's no history to prove they have, be very wary.
>Read – BMW M3 E46 buying guide
Cracking subframes are another well-known problem, but thankfully easily fixable if caught early. If left to develop however, an expensive repair job could be on its way. We advise on listening out for tell-tale clicks when accelerating and braking on test-drives.
Other, less crucial suspension related issues are also fairly common amongst higher-mileage cars these days, but in general, the E46 M3 is a strong runner. There's no reason why a high-miler couldn't still be driven hard, just as long as it's seen regular servicing and is allowed to warm up fully (surely something that applies with any car anyway).
The looks
We left this bit till last because, well, it's obvious isn't it? The E46 was a looker in its day, moving the game into the twenty first century from the already handsome E36. And today, its softer but still imposing lines could quite easily be described as timeless.
The price 
Though E46s do squeeze in under £10,000 on the used car market, the best examples all hover closer to £15,000. Servicing usually costs just shy of £200 and should be done every 15,000 miles according to BMW, but as the cars get older, that number should be shortened.
>Look - Classic and Performance Car
Tax is currently £285 per year and fuel costs are manageable with a combined MPG figure of about 33. A common big bill, rear tyres, will cost around £500 fitted.
So that's great all round performance, good looks and a lovely engine; the E46 M3 is a lot of car for the money. Off we trot to the classifieds, right?