Our previous budget caps of £5k and £10k have opened up access to some quite interesting performance cars, but at the £15k mark we're starting to get some hugely tempting choices, as more exotic models start filtering down.
That means everything from a homologation special, through true mid-engined sports cars to high-performance luxury are all attainable, and while sensible buyers should probably budget for a few grand to cover maintenance or repairs (or cut your overall budget down to suit), do your homework and you could come away with something very special indeed.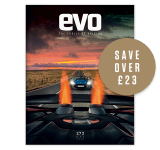 Subscribe to evo magazine
Subscribe today to have every issue of evo delivered straight to you. You'll SAVE 39% on the shop price, and get evo for its original cover price for a whole year!
Mitsubishi Lancer Evolution VI – Stuart Gallagher
If you want to find a Lancer Evo VI for under our £15k budget you shouldn't stick around. The choice is certainly shrinking, now getting you a higher-mile but generally tidy car or something that's been modified. We'd usually opt for the former; Mitsubishi had a pretty good idea of how to make a good car anyway and barn-based modifications can often lead to a string of reliability issues.
Performance is strong from factory regardless: 246bhp produced from the VI's turbocharged four-pot enables a 4.6sec 0-62mph time. Four-wheel drive, a sweet five-speed 'box and seriously fast throttle response are all thanks to the car's tarmac rally stage set-up, adding to its already tantalising aura of world rally nostalgia.
Common issues include warped discs and noisy gearbox bearings, but largely, the cars are strong. Such is the name they hold, cars are often well looked after. Maintenance may be the highest of anything here (well, maybe not that Bentley…), but keep the car in top shape and it'll not only drive brilliantly, but you're unlikely to lose much on your £15k starting price if you eventually get around to selling it either.
Porsche Cayman (987) – Antony Ingram
I briefly considered a Toyota GT86 for our sub-£15k bracket, with some examples now dipping below ten grand. But there's a more appealing, and probably more unwise choice of sub-£15k sports car, and that's one with a Porsche crest on the bonnet.
It's amazing that Porsche took a whole nine years to release a proper coupe version of its Boxster roadster, but when the Cayman was launched in 2005 it became clear why – in many respects it was a better car than the 911. That Porsche seemed to hobble it with less powerful engines barely mattered, because its ride and handling balance was magical, and the 2.7-litre and 3.2-litre flat-sixes (later 2.9 and 3.4) as wonderful as ever to use.
With only £15k to spend my temptation would be to get absolutely the best 2.7 available, rather than a 3.2 S of a similar price, though as with any Porsche, priority number one is to buy on condition and history rather than mileage. Caymans do suffer from some of the maladies of other Porsches of this era, so keep an eye out for what work has been done too.
Recent events make it difficult to judge values of the less collectable Porsches such as these – 911s seem destined to go up, and older cars such as 944s and 968s are already rising, but Boxsters and Caymans are in a monetary no man's land. As a result, buy it and enjoy it rather than thinking of it as an investment.
Lotus Elise – Steve Walker
It's a sign of the enduring appeal of the Lotus Elise that getting hold of a good one on a £15k budget in today's market isn't easy. The Series 1 launched in 1996, but the early Series 2 cars from 2001 onwards are more plentiful at this price point.
In base Series 2 spec you got the 1.8-litre Rover K-series engine without the VVC variable valve timing tech, generating 120bhp, but the 111S variant added VVC for a power boost to 160bhp, and closer gearbox ratios. Either way, the pure joy of the Elise is the pared-back simplicity of the car that tells in its 860kg kerb weight and beautifully pure, unassisted steering.
There's nothing quite like an Elise on road or track, and if you're lucky enough to be able to afford a second car exclusively for the purposes of having fun behind the wheel, it isn't going to disappoint – especially if you extend upwards in price towards the more serious track-focused toys. As a daily driver, it's going to be more of a challenge, but a comfortable driving position, superb damping and reasonable refinement mean it's one many will be only too delighted to take on.
Bentley Continental GT (Mk1) – Sam Jenkins
Weighing in at over 2.3 tons, it's not a particularly evo car, and it has the ability to absorb thousands of pounds in running costs every year. Being the proud owner of a Bentley Continental GT for just £15,000, however, is simply too appealing to ignore…
Launched in 2003 following Volkswagen's 1998 acquisition of Bentley, the model took a different approach to the GT brief than its predecessors. Offering straight-line performance not dissimilar to that of supercars of the time, whilst providing ultimate luxury and comfort for occupants, it's easy to see why the formula has remained almost untouched two decades later.
As with all high-end cars that see horrendous depreciation, low prices can lure buyers into a service schedule they might not have bargained for. A sub-£15,000 used price doesn't change the fact that it once sold for in excess of £100,000, meaning a major service will still set you back over a tenth of the price of the car.
Thankfully though, it's a surprisingly reliable machine, with the mammoth 6-litre twin-turbocharged W12 rarely experiencing issues, should it have received proper maintenance. Some 552bhp and 479lb ft of torque were the factory figures, pushing the GT from 0 to 62mph in 4.8sec and on to a near-200mph top speed – impressive even for today, and certainly for £15,000.
Lexus IS-F – Jordan Katsianis
So in period, there was plenty of reason for the Lexus IS-F to come last in a sports saloon group test. It was 2009, both the Audi RS4 and BMW M3 had banging, high-revving, naturally aspirated V8 engines, six-speed manuals and the beginnings of modern-age chassis technology such as adjustable dampers and trick electronically controlled limited-slip differentials. They were dynamic, highly strung and right at the cutting edge of performance tech for the day, which is exactly why they don't make great second-hand buys.
Would you really want to put your hard-earned into an S65 V8 that's been mistreated for its out-of-warranty years? What about the RS4? Stunning engine sure, but for our £15k budget it's likely to have had a hard life. Those cross-linked dampers will probably be a little worse for wear, and those fantastic bucket seats are probably worn out to 30-year-old sofa levels, and that's if they're still in it: remember the phase when those were being stolen out of RS4s like top-line Pioneer head units from a modded Fiesta in the '90s?
But the Lexus will probably be a little different. Its V8 is not just typically bulletproof, it's also the same Yamaha-fettled 2UR-GSE V8 found in the current RC-F and LC500 Coupe, in both cases featuring one of our favourite modern engines. It's powerful enough to be entertaining, but without being needlessly fast, and comes with plenty of aural theatrics through those odd stacked rear exhaust pipes.
The second-generation IS saloon itself was also a bit of a misfit in the day: cramped, heavy, laden with either generally gutless or just plain terrible shorthand Toyota engines, but when converted to a sports saloon it seemed to matter less. Don't get me wrong, a period-perfect E90 M3 will still eat the IS-F for breakfast, but at £15k the Lexus will probably be the one on the drive, and not in the workshop.