You're looking at the Bugatti Chiron - successor to the Veyron, and a car that should put Bugatti back on the map in a world where LaFerraris, McLaren P1s, Porsche 918s and Koenigsegg Regeras advance the hypercar breed at a startling pace. And startling pace is what Bugatti brings to the party, just as it did with the Veyron on its 2005 debut. The Veyron was a car all about numbers, though its 261mph top speed is undoubtedly the headline figure. 
The Chiron will definitely be faster, as Bugatti boss Wolfgang Dürheimer told evo they are 'ready to set the next speed record'. Rumours persist of a 280mph plus top speed, but it is likely that the new car will be 'limited for road travel' for the sake of the tyres and the German police. It's still expected to be in excess of 270mph, though. "Where others stop," Durheimer said, "Bugatti takes one more step."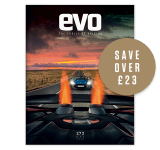 Subscribe to evo magazine
Subscribe today to have every issue of evo delivered straight to you. You'll SAVE 39% on the shop price, and get evo for its original cover price for a whole year!
Finding a road to fully extend a car this kind of top speed might be difficult, but the Chiron has plenty of other numbers to appreciate too – although weight might not be one of them (1995kg wet). The £2 million plus price tag might also be cause for concern.
Bugatti has started series production in its Molsheim 'Atelier', with only 20 staff responsible for the entirely hand built assembly process. After the configuration stage, Bugatti says the production process should usually take 9 or so months until delivery.
To ensure the consistent quality of each customer car, every Chiron is put through over 350kms of exhaustive high-speed road tests before finally being shipped out to their respective owners.
Engine
Eight litres, sixteen cylinders, and arranged in a W, just like its Veyron predecessor. Far from a carry-over though, Bugatti has completely redesigned the Chiron's W16 – notable technical details include higher-performance turbochargers (four of them), 32 fuel injectors and improved charge cooling. The latter provides the next big number. 60,000 litres of air are pumped through the engine every minute. The cooling pump takes serious strain too, pumping 800 litres of water per minute through the system.
Aided by a lightweight carbonfibre intake tube, lighter crankshaft, two-stage turbocharging and a titanium exhaust system, the Chiron's W16 develops 1479bhp at 6700rpm, and a massive 1180lb ft of torque, spread from 2000-6000rpm. Or in other words, the Chiron hits its maximum torque figure 1300rpm after idle.
Gearbox 
A clutch described as 'the largest, highest-performance clutch used on a passenger car' and a Bugatti-developed seven-speed dual-clutch gearbox then sends this torque to all four wheels.
Performance and 0-62mph time
This results in more mind-bending numbers: A sub-2.5 second 0-62mph time, under 6.5sec to 124mph and under 13.6sec to 186mph. In addition to the 261mph limited top speed, the car will also do 236mph in its 'Handling' mode.
Chassis 
Carbonfibre features throughout the Chiron, from its monocoque structure (manufactured to LMP1 levels of torsional rigidity), to the bodywork, and even the airbag housing – the first in the world.
An adaptive chassis keeps all four wheels firmly on the road and, as with the Veyron, the Chiron features specially-developed Michelin tyres fit for its enormous speed potential. Here the big numbers continue, with 285/30 R20 rubber up front and 355/25 R21 tyres at the rear axle.
Brakes
Carbon ceramic brakes haul the Chiron back from high velocities: it'll stop from 62mph in 31.3m, from 124mph in 125m and from 186mph in 275m. An air brake aids stopping power further – fully deployed, it changes the Chiron's drag coefficient from 0.35 in Top Speed mode to a barn-like 0.59. The styling however is far from barn-like. There are definite hints of Veyron here, with further hints of the Vision Gran Turismo concept created for the eponymous videogame series. It's less rounded, more muscular than the Veyron, while other details evoke famous Bugattis of old – notably, the car's central spine (a detail carried through to the beautifully-trimmed interior) echoes that of the Type 57SC Atlantic.
Amid environmental concerns, disillusion with the 'one percent' and authorities who take a very dim view of speed, the case for an eight-litre, sixteen-cylinder hypercar with a top speed on the far side of 250mph must be getting slimmer by the day.
Price and availability 
That Bugatti has chosen to create the Chiron – limited to 500 units and each selling for a minimum of 2.4 million Euros (£2.05 million, at current exchange rates) – is very much something to celebrate. In Geneva, Dürheimer confirmed that to place a deposit you ideally need to be a current Bugatti customer – and need to place either 200,000 euros or $250,000 'in our bank account'. The Bugatti boss also revealed that the car's lifecycle will be eight years, with around 60 cars built per year 'but if we sell out in two years, I have a problem' he joked. And the rumours that the Chiron would use a hybrid pack? Dürheimer told evo that it was considered, but performance was not boosted to the same degree as the revised turbocharging. 'It wouldn't have been fast enough,' he said.
Click here to read about more supercars, concepts and production cars from the 2016 Geneva motor show
Factory and Production
Bugatti has officially started series production of its new Chiron hypercar. The almost impossible follow up of its Veyron predecessor will likely hit over 280mph and cost from £2.05 million (at current exchange rates). The Bugatti 'Atelier' opened its doors for evo recently where we got an insight into how the world's ultimate super sports car is built.
­­­
Starting with the configuration stage, owners can pick from a standard colour range of 23 exterior paint and eight carbon finishes, 30 interior leather and eight Alcantara options as a base. From here, Bugatti will let prospective owners then divulge their taste, if they wish, to an unlimited palette of interior and exterior finishes so long as they meet the Bugatti standard for quality and durability. Once the customer signs off the configuration stage, Bugatti tells us the process will usually take around 9 months before the car is delivered to its lucky owner.
Bugatti say they have had to make multiple upgrades to the factory before starting Chrion production, including upgrading various hardware components, like the rolling road, to facilitate the higher power and torque figures produced by the Chrion. Once the carbon fibre bodyshell is delievered to site, it is test fit with the monocoque and chassis members to ensure a perfect fit, before being transferred to the paint shop. The painting process can take up to 3 weeks, as each coat of paint is sanded and polished before the next one can be applied
Once the painted bodyshell is cured it then begins the assembly process, with only 20 highly trained staff hand assembling the entire car without any mechanised assistance aside from computerised torque control of the fastening bolts. Assembled at 12 stations, rather than a traditional production line, the Chiron's drivetrain, interior and final body panels are all fitted before a six-hour quality inspection is completed. The Chiron then leaves the 'Atelier' having gone through over 350km of high-speed road tests before delivery or onsite collection by the customer. 
Pictures
We now have a full in-depth gallery of the Chiron available to look at below. Simply click the image to browse.