Special edition Bugatti Veyrons for Dubai
Middle East edition Veyron Grand Sports display the potentially garish results of Bugatti's customisation scheme
Less than a third of Bugatti Veyron Grand Sport production has been sold. Over 100 cars of the 150-strong run remains, and Bugatti has unveiled a selection of customised Grand Sport cabrios to help shift them. The trio you see below are dubbed 'Middle East versions', and will be displayed at the 2011 Dubai motor show. There's only one of each available, as they're designed to display the range of options Bugatti's customisation scheme allows.  Grabbing most attention is the black and yellow Veyron and its black tinted alloy wheels. The colour combination is said to be Ettore Bugatti's favourite, and it's a scheme displayed by various vintage Bugattis, though there's considerably more yellow this time around. The interior boasts detailing in black carbon and leather. The car will set you back 1.58million euros (£1.4m). The next most striking special edition is two-tone blue carbon and polished aluminium, with diamond cut alloy wheels. Much of the detailing – grilles, air intakes, etc – is also aluminium, while the interior 'benefits' from tangerine leather and exposed blue carbonfibre. It's certainly not subtle, but then neither is the price – it costs 1.74million euros (£1.5m). The same money buys you the third, more restrained Grand Sport. It also mixes coloured carbonfibre with polished aluminium, the side mirrors and wheels also being constructed with the latter material.
If you're not quick enough to snap up a Middle East Veyron Grand Sport – or they simply aren't garish enough for you – then worry not, as another 102 drop-top Bugattis remain. And it appears your chosen colour scheme needn't be bound by taste…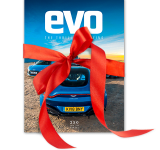 Subscribe to evo magazine
If you're passionate about the world's greatest performance cars, experience the thrill of driving with evo magazine. Try your first 5 issues for £5.