The homologation car is very much a thing of the past these days, and more's the pity, because there are few cars that get both evo staffers and readers more excited than those with the purpose of succeeding in motorsport.
Perhaps of all the different classes, it's the Group A cars that are the easiest to identify with, with 5000 road cars (latterly 2500) needing to be built in order to qualify for racing. Much like other classic car markets, the Group A niche has fractured in recent years on the wave of the general classic car boom. This phenomenon applies when comparing different marques, but also to the standard of cars within the same model line, and hence the values they can command.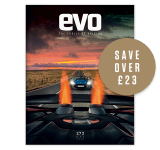 Subscribe to evo magazine
Subscribe today to have every issue of evo delivered straight to you. You'll SAVE 39% on the shop price, and get evo for its original cover price for a whole year!
At the top of the pile are the Evolution E30 M3s, the Integrale Evos and the RS500 Sierra. The very best examples of these cars are now pushing the £100,000 barrier, but poorer examples and earlier iterations (with a lower perception of desirability) can be a lot less.
However, as a generalisation, the Japanese marques are a long way behind in monetary terms. Some may point to the 22B and P1 Imprezas, but of course neither were actually Group A cars. The highest climber is the Tommi Mäkinen Lancer Evo VI (incidentally, the last car to compete in the WRC under Group A rules) at around £30,000. Meanwhile, early homologation Subarus and Toyota Celica GT-Fours – multiple rally championship winners – can all be had for well under £10,000.
Steve Smith owns Integrale specialist Walkers (walkersgarage.com). 'Prices are really difficult,' he says of the Lancias. 'Good ones are fetching a lot of money, so everyone thinks they're all worth a fortune. You'll pay £25,000-50,000 for a decent Evo 1 or 2, with nice 8v and 16v Integrales available between £10,000 and £20,000.'
Most of these cars will have had some work over the years, as with most classic cars, but collectors seem to want perfect, sub-10,000-mile cars, of which there aren't many left. Independent dealer Mark Donaldson (markdonaldson.com) says he's been involved with three such Lancias in the past year, and all went for £70,000+. 'They don't age well, and can be expensive to put right,' he says. 'E30 M3s have also gone off the clock in terms of values, but I think they've peaked for now: many of the best have reached long-term homes.'
For Steve, his phone rings frequently with buyers searching for a perfect car. Back in the real world, and surely to the relief of many, he's also producing Delta repair parts for when the corrosion is cut away.
It's a similar story in the world of the RS Cosworth. Paul Linfoot runs North Yorkshire RS Spares (cosworthrsspares.co.uk) and is also the RSOC RS500 registrar (see expert view). He sees both sides of the collector gold-rush: 'There are no RSs on track now at club days. If it's too sunny, it's too dusty; if it's too wet, it's too mucky. It's spoiling things. The serious collectors want nearly new cars and they'll pay whatever it takes to get them, but this is a small market of buyers and there are even fewer cars. It's causing a fragmentation in the lower price range.'
> Ultimate Mitsubishi Evo group test
Refreshingly, these factors don't come into play when you're talking Impreza Type RA and Celica GT-Four. The early GC8 Impreza Type RA formed the basis of Colin McRae's 1995 title-winner. Dean Wilson of type-ra.com says: 'It's a changing ownership profile now; more people are buying the cars to put back to standard. Over the last couple of years the prices have risen. There's a realisation that the cars are disappearing. Loads went for 50p back in the recession, but older buyers now can afford to insure and run them. Type RAs are £2000-4500, with STI models from £4500. They do rust, though – they're terrible for it in the rear arches.'
It's a similar story with the mighty Toyota Celica GT-Four (see expert view). Nice examples of the Carlos Sainz model can be had from £7000, although there aren't many around.
Expert view
Freddy Gottschall, gtfour-sociale.uk
'Prices of GT-Fours have firmed up in the past few years – so many have disappeared through rust. A good example of the "Carlos Sainz" ST185 will be £7000-9000, while the standard ST185s are £3000-4000 for a really good one.
'Later ST205 models can be bought relatively cheaply as they're expensive to put right. Many buy cheap then break them, but nice, unmodified cars can be had for £5000-6000. ST205s with forged engines and up to 500bhp can be as much as £12,000, as long as they have the right paperwork.
'UK cars are worth more than imports, but there are far more imports available.'
Paul Linfoot, cosworthrsspares.co.uk
'While the best RS500s can fetch £100,000, the average guy just can't justify spending more than £50,000, so there's a void in the market. The trouble comes when people think they have a £50,000 car and it's really a £20,000 one – they don't understand, or rather they don't want to hear it. An honest RS500 should be £40,000, but sellers want £60,000 – and they'll never sell it. The cars are getting tossed from dealer to dealer, not selling, and then people say the bubble has burst. It hasn't: the car is simply overpriced. There's a car for everybody out there, but the seller's expectations aren't always realistic.'
Steve Smith, Walkers Garage
'Lots of Integrales came in from Italy during the '90s, and you just don't know what the true mileages are. We've also had a lot of Evos from Japan come through the workshop recently. Structurally they tend to be good, but most have been modified in some way.'
I bought one - Richard Etheridge Subaru Impreza WRX STI Type RA
'I've owned my Type RA on and off for 11 years, only buying it back recently. I competed regularly in this car in hill-climb events, and will do so again next year. It's about the way it makes you feel: it's incredibly flattering to drive fast; a raw experience.'
evo view - Stuart Gallagher
If we could find an honest RS500 for £40k it would be tempting, but it would have to be exceptional for us to ignore an M3; Group A specials don't come much better. Right now, though, it would have to be something from Japan – for the money nothing ticks so many boxes as an Impreza Type RA.