Corvette-based Innotech Aspiron revealed
Czech company Innotech to release Corvette-engined track-day car at the Goodwood Festival of Speed.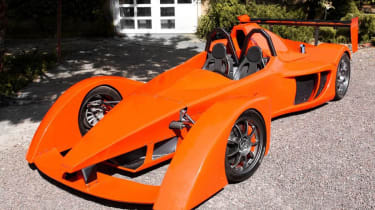 The Innotech Aspiron is a hardcore trackday car, powered by a range of GM V8 engines, producing from 600bhp, up to 1000bhp for the top models. Set to make its public debut at the Goodwood Festival of Speed, the Innotech has comes with a Formula 1-inspired nose and exposed cockpit.
The car is built around a central aluminium spaceframe chassis, and features lightweight bodywork - including carbon fibre front and rear wings. The various engine options include the LS3, LS7, LS9 or LT1 – all coupled up to a Ricardo six-speed manual gearbox and mechanical limited slip differential.
Based in the Czech Republic, Innoitech is best known for offering a number of tuning options for Corvettes, but with a price tag starting from around £98,000 and topping out at £135,000 (although even more if you want the 1000bhp version), it's pitched somewhere between the similar-in-concept KTM X-Bow GT (at around £74,000) and the mighty Caparo T1 at £301,975.