My evo Year: Anthony Davidson – Overview of the WEC race at Shanghai and beyond
Anthony talks about his dominant performance in Shanghai, how sleep makes you faster and why he'll still be pushing for the win in Bahrain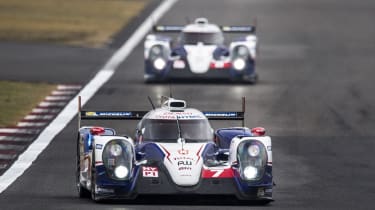 In short, the 2014 season's been going really well. After the Fuji win we knew we had the car to do the job in China. We were confident as Shanghai has always been a circuit we've traditionally gone well round, but I was also very aware that this was a pivotal part of the World Endurance Championship.
You can never predict the outcome so it was brilliant to come off with the perfect result. It really was a great weekend once again, and it was fantastic to show the competition how strong we are. To walk away with another victory for Sebastien and myself was crucial or the Drivers' Championship, and for the team it was perfect as well.
Having said that, the race wasn't easy. No six-hour race is ever easy, but it was at least as straightforward as we could have hoped it to be. We made a pitstop under safety car conditions, and this dropped the sister car and us to the back of the field.
The stop was actually part of the strategy; we were going to need a splash and dash at the end of the race, so we thought we'd get that out of the way under the safety car. It might have not have looked intentional, but it was.
The thing that wasn't intentional was on our side of the garage when the fuel didn't go into the car during the stop. It meant the car had to come in again on the next lap, and as a result we were quite concerned as to whether the car had a physical problem or whether it was the hose itself.
It turned out to just be a misalignment between the car and hose, which didn't allow the fuel to go in properly. Once we'd figured it out there were no more problems thankfully and we cracked on with the race. Our Michelins lasted really well through the stints, so we were really able to push and just focus on the job at hand.
Sebastien did the majority of the hard work; he did all the overtaking and got us up to first place from the back of the field, so when I got into the car I just had to carry on and build a gap over the sister car. I handed the car back to him with a pretty substantial lead, and we just carried on repeating that process each time. It was a lovely position to be in from after the first stint where we'd held a commanding lead. We just carried that on until the flag to take the win.
The challenge of back-to-back races
It's funny, when you're doing lots of racing in quick succession your fitness, in terms of cardio vascular fitness and finding time to train, it actually drops away compared to the off season and summer break.
This contrasts with your in-car fitness – or your 'match fitness' – which actually improves during these busy periods.
Another challenge during these back-to-back races is time management. You've got to have recovery time and not push your body too hard, well not my body at least! At 35 I understand my body pretty well and what it needs in terms of food, energy and sleep.
Trying not to get ill is also massively important. The more sleep you have, the better chance your body has at fighting off viruses you could pick up from travelling all over the world and being in aeroplanes for so long.
Having a good understanding of what you need, what's actually vital to make you perform at your best when you're at the circuit, that's what it's all about.
The jet lag also plays a big part at this stage in the year, when you're flying from continent to continent with varying time zones. I'm well aware of this, so I purposely chose to miss going to the Brazilian GP for my F1 TV responsibilities in between it all because I knew that would have been perhaps one trip too many, especially when you're fighting for the Championship.
I'm glad I took that decision at the beginning of the year because it's panned out exactly how I wanted it to, in terms of Championship order and in terms of keeping fresh. Having foreseen this before the start of season wasn't necessarily a stroke of confidence; it was a case of thinking 'what if' more than anything else. 
Looking ahead 
Do we chase wins or just bag enough points to take the Championship? To be honest, I've thought about it a lot and I keep going round full circle. If you look at it from a pure Championship point of view, if you look at it as methodically as you can and you take emotion out of the equation, the best thing to do is literally finish the race.
But at the end of the day, we are racing drivers and we are emotional. You don't get many chances in your career to drive a car that is so capable of winning races on a consistent basis, so the temptation to push for victory is clearly there. It's all about the winning to us.
Sebastien and I have talked about it a lot together and have concluded that if we approach these last two races in the same way we approached Fuji and Shanghai, things should work out. We're confident in our own ability, we're confident we won't make mistakes, we're confident we have the speed as drivers. We've proved that this year, so it's just a case of keeping that momentum through the final two rounds. 
I've always said we don't need good luck; we just need to not have bad luck. As far as I see it, when we're talking about bad luck we're talking about unreliability. I'm realistic enough to know that we haven't had any reliability issues on our side of the garage this year, so if it happens here it happens. That's part of racing.
There's no reason as to why we should approach the last two races any different to the others. Yes, you go into it with a little trepidation, but in terms of wanting to go for victory, that temptation is always there.
Also, from the team's point of view though we're leading the Constructors' Championship, we haven't got a healthy margin [Toyota leads with 226 points, Audi is second with 197]. Therefore it's still important for both of our cars to be beating the Audis, and to do that, you need to push. They're no slouches so we know that we have to push to beat them. 
Sometimes, when you're pushing close to 100 per cent, you have better concentration and focus than backing out of it and thinking twice about an overtaking move. So yeah, we'll be pushing as always at Bahrain and Sao Paulo.
Anthony and teammate Sebastien Buemi lead the WEC with 147 points, some 42 points more than the second placed Audi. The penultimate round of the 2014 Championship will take place at Bahrain International Circuit on 15 November.