For those lucky enough to have £1million to play with, there really isn't that much in the world of performance cars that is off limits. The doors, be them scissor or gullwing, are well and truly open.
It has not been an easy list to put together, as for most of us £1 million means bucket list stuff, but what if you had to pick just one? Below is what the evo team would invest in.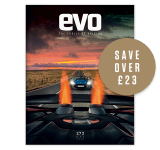 Subscribe to evo magazine
Subscribe today to have every issue of evo delivered straight to you. You'll SAVE 39% on the shop price, and get evo for its original cover price for a whole year!
Nick Trott - Ferrari F50 
It seems our editor Nick Trott has a thing for 12-cylinder Ferraris. Ask him to talk you through his drive in Nick Mason's Enzo, and he'll jump at the chance to relive the spine-tingling sensations a V12 Ferrari provides. Choosing an F50 as his £1m car is a natural choice then. 
To some, the F50 wasn't an extreme enough successor to the savage F40. It featured a softer take on the older car's edgy looks, and despite arriving nine years later, wasn't much faster. And it didn't stand much of a chance against the limelight hogging McLaren F1.
>Read - Best cars to buy for £100,000
Look at the F50 in isolation however, and you'd be mad to dismiss it. Its F1 derived 4.7-litre V12 featured banks aligned 65 degrees apart, producing 513bhp at 8500rpm. It's 347lb ft of torque didn't arrive until 6500rpm either, confirming this was a supercar that offered most at the red end of the rev-counter.
Today, people have warmed to the F50's appearance and now treasure its analogue character. David Vivian confirmed this after driving an F50 for evo's 100 greatest drivers' cars feature: 'it is very hard, noisy and mechanical, but unerringly honest and communicative. It's a proper, hairy-balled supercar.'
Stuart Gallagher - Ferrari 288 GTO
Any Ferrari to wear the GTO badge is special. The most significant letter in its name is 'O', because it signifies that the 288 GTO was built to omologato, or homologation.
Based on the mid-engined 308 GTB, the harder, track-focused GTO used a 2.8-litre V8 with twin-turbochargers. Its engine capacity was restricted by FIA rules, but despite its compact size, it still produced 400bhp at 7000rpm.
>Read - Best cars to buy for £50,000
It was nearly two whole seconds faster from 0-60 than the 308, taking just 4.9sec to complete the sprint. A 189mph top speed was super fast for a road going car back in 1984 too.
After the car went on sale, Ferrari actually abandoned the idea of taking the GTO racing – most manufacturers who built Group B cars took them rallying rather than on track. 
But it turned out the GTO didn't need to impress on track to sell, because 274 of them found homes before 1987. And now, its gorgeous period looks, rarity and racing connections help to make it one of the most iconic cars of all time. 
>Read - Best cars to buy for £35,000
Henry Catchpole - Porsche GT1
Henry Catchpole has been lucky to drive a long list of hypercars in his time, but one that sticks out in memory for him is the Porsche GT1. He most recently drove the 1998 Le Mans winning GT1 up the Goodwood hill in 2014, and clearly he wants another go.
Of course, Catchpole would have to buy himself a road going version of the endurance racing legend (pictured), but thankfully a taxed and MOT'd GT1 features very little differences to its racing counterpart.
It kept the racer's long-tail body and cocooned cockpit, and even benefitted from a similarly striking rear-wing. The road car's 3.2-litre twin-turbo flat-six produced 536bhp and 443lb ft of torque.
>Read - Best cars to buy for £20,000
That may be less than a current 911 Turbo S (which produces 552bhp), but it only had 1120kg to move. Performance was therefore super quick: 0-60 took 3.7sec and 0-100 took just 7.1sec.
While the GT1's lengthy footprint would negate its ability to be an effective shopping car, its direct link to Le Mans and rapid performance make it an incredibly exotic buy, even in and amongst other £1m cars. Catchpole confirmed this when he drove one at the end of 2013:
'What's incredible is how communicative the chassis is and how easily you can start to work the car and use the power. The GT1 feels small and you're instinctively connected to each corner. There's no roll to speak of, yet it doesn't feel snappy and you always know where you are with the grip, so it feels easy to play with the mid-engined balance.' 
>Read - Best cars to buy for £10,000
Dan Prosser - Pagani Zonda
The Pagani Zonda is a special car to evo. We were the first to get an exclusive behind the scenes look at the original C12 model, and have always loved the carmaker's brazen take on building supercars. 
evo founder Harry Metcalfe even went on to buy a Zonda C12S, so Prosser's choice to spend his theoretical £1m on one would be heavily celebrated in evo Towers.
Powered by a Mercedes-sourced 6-litre V12, the original C12 produced 390bhp, but Metcalfe's faster S utilised a bigger Mercedes-AMG built 7.3-litre V12. Power grew substantially to 555bhp.
We drove the C12S on the Autobahn, and managed to reach 197mph top speed. This was some way off Pagani's claims for 208mph, but did place the car right at the sharp end of supercar-dom.
>Read - Best cars to buy for £5000
Where the C12S really wins is its eccentricity. Of course, its V12 possesses one of the most spectacular soundtracks on the planet, and its performance is uncompromising even by today's standards. But slip into one and the first thing you'll noticed is the intricate, hand-made interior that gives each car immense amounts of character and charm.
While its impossible to call a Zonda cheap, given it possesses the performance of a hyper-fast AMG, science-fiction looks (as confirmed by Metcalfe's UFO numberplate) and unrivalled levels of Italian flare, it sure is a lot of car.