While there's no minimum of money that can nab you an excellent used performance car, move towards the upper end of the spending spectrum and the options not only diversify, but start to offer more than just a fun driving experience. For around £50,000,  the door opens to true supercars of years gone by, with modern day icons also well within reach.
There's no hiding that such a car can also open the door to eye-watering repair bills, so having a pot of cash dedicated to maintenance is advisable for most models on this list. Choose your particular car wisely, however, and you can avoid the most pricey issues in most cases.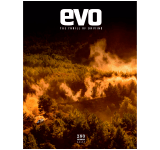 Subscribe to evo magazine
Subscribe today to have every issue of evo delivered straight to you. You'll SAVE 39% on the shop price, and get evo for its original cover price for a whole year!
Take proper care of one of these machines and you'll bag yourself a performance car that won't just provide thrills now, but might also become a keepsake for the future. And if the market agrees, might grow in value in future. 
> Best cars to buy for £5000 – evo garage
Honda NSX - Jethro Bovingdon
The original NSX came from a time when Aryton Senna dominated F1 and preferred heel-and-toeing in leather loafers. With chassis guidance from the legend himself, the NSX was almost guaranteed to be a drivers' favourite. 
With its mid-mounted 276bhp 3-litre V6, the timeless Japanese sports car is good for a 5.5sec 0-60 time and 168mph top speed. That's quick even by today's standards, partly thanks to the car's skinny 1410kg kerb weight.
Balance is superb – we can thank Senna for that – as is the engine's character. Combined with the manual six-speed 'box (autos were available, but hindered character), the NSX offers a wonderfully analogue experience.
> Old vs new: Honda NSX Tokyo shootout
They say the Honda NSX was the car that forced Ferrari to rethink the supercar. Why? Because it was incredibly reliable. Today, Honda's well-built supercar has therefore stood the test of time well, but still be wary of cars that have lived hard lives.
Common issues for tracked cars often revolve around suspension wear, with replacement front uprights costing as much as £1000 each. Other things to look out for are failed VTEC variable-valve timing systems; you'll know if they've failed, because the NSX's strong top-end will feel rather gutless.
Other than that, £50k can buy you a very handsome Honda NSX indeed. And while we'd like to say we're not concerned with resale values, a fast growing book value can't hurt.
Ferrari 575M - Jordan Katsianis
When anyone says something like 'proceed with caution', this is probably a rather extreme circumstance to apply it. So while no one should ever be tempted by a V12 Ferrari that's 'just' in the realms of affordability, we still can consider this process in the theoretical.
So, why a 575? Earlier 550 Maranellos seem to be rising in value faster than the market would deem reasonable, yet the 575M is missing that thermal uplift for the moment. Let's be frank, £50k is too much money to blow on something that'll only be a depreciating asset, so the 575 seems ripe for a bit of classic 'evonomics' when future values are taken into account.
> A-Z Supercars: Ferrari 575M Maranello
Of course the whole point of a V12 Ferrari is the engine, and the 575's 5748cc Tipo F133E/G doesn't disappoint, producing up to 508bhp at a tingly 7250rpm. Torque is also strong at 434lb ft, both of which help shoot its considerable 1852kg kerbweight to 62mph in 4.2sec. Its top speed is a very modern 202mph too. 
Setup-wise it was compromised, developed to be more suited to the US market than the earlier 550, but the GTC Handling Package went some way to fix that, even if it does then force the price points up and over our theoretical budget. 
It was a relatively straightforward upgrade though, and something a half-decent suspension specialist would be able to replicate or even improve upon with more sophisticated contemporary non-OEM components when the inevitable time comes to replace the springs and dampers. There is one caveat (okay, one of many). Don't even think about the F1 box, because regardless of its operative deficiency, it would also deny you an open-gate manual.
BMW M5 (F10) - Steve Walker
What to do with a hypothetical £50,000 car budget? Do you go for an ageing thoroughbred exotic and assume there's hypothetical cash left over for the equally exotic bills? Or do you go in the slightly more sensible direction of something newer that's less likely to be hiding calamitous financial surprises?
Being cautious with non-existent money is silly, but I genuinely think that if I did have it, I wouldn't be buying the leggy Ferrari 360 or Aston Martin Vanquish. Instead I'd be looking at tidy, modern 911s or an F10 BMW M5. At least, I think so.
> BMW M5 (F10) 2011-2016: review, specs and buying guide
The F10 might lack the screaming V10 of its E60 predecessor, but it's faster, sharper, with a better gearbox and, if you're that way inclined, more economical and refined too. As an everyday ownership proposition that can thrill you as a driver when the need arises, it's hugely compelling.
The 552bhp twin-turbo V8 and twin-clutch gearbox will get it to 62mph in 4.3sec, but you can shave 0.2sec off that with a Competition Package model that takes power up by 15bhp. The limited 30 Jahre Edition and Competition Edition cars go under 4.0sec before rumbling on to a 199mph top speed thanks to 592bhp outputs. All in a beautifully appointed executive saloon. Marvellous.
Lexus LC500 - Sam Jenkins
Though its design made its debut on the LF-LC concept almost 10 years ago, there's still nothing quite like the LC500. Its looks may be divisive, but there's no denying that it has immense presence on the road, with that waterfall front grille, the concept-esque lighting units and high-set windowline. 
This striking design is continued inside, with the dashboard displaying a dazzling light show on startup, exquisite materials to be found throughout, and it even taking features from the iconic LFA – the tachometer physically changes position depending on the drive mode. Even the interior door handles are thoughtfully-sculpted metal items, designed with ergonomics in mind.
> Lexus LC 500 Coupe review – Lexus's buji coupe a brilliant alternative GT
Yet design isn't the LC500s only stand-out feature, as it also comes equipped with a Yamaha-tuned 5-litre naturally-aspirated V8, producing an intoxicating (and increasingly rare) induction bark from the other side of the bulkhead. A reasonable 470bhp and 398lb ft of torque are sent to the rear wheels, and although its German rivals might better it in this department, there's simply no replacement for NA power delivery.
Despite its unusual position in the GT segment, the used car market appears to have recognised the attraction of the LC500, with values reluctant to drop to the levels of its German rivals. Depreciation has begun to take effect nonetheless, and so higher mileage earlier examples can be had for just shy of £50,000 – still quite some discount on its current £80,000 starting price.