Sim racing is serious business and competitions where virtual racers work their way from a world of pixels and algorithms to one of petrol, rubber and tarmac – like the GT Academy – are now legitimate ways into a motorsport careers.
So I can't tell you why I was surprised when I attended the a semi-final round of the Overclockers UK Racing Series and was met by a collection of sinewy young guys wearing well-worn suede race boots, clutching their own battered race helmets. Some were even dressed in full FIA-approved onesies.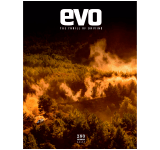 Subscribe to evo magazine
Subscribe today to have every issue of evo delivered straight to you. You'll SAVE 39% on the shop price, and get evo for its original cover price for a whole year!
To get to Bedford Autodrome to compete for a place in the final, each of the half-a-dozen competitors had to set a time around a virtual circuit in Overclockers' own simulator. The six challengers with the quickest times were selected.
Now in the real world, and able to stare each other in the eye, the semi-finalists would spend the day behind the wheel of real cars to warm up for the final challenge: five laps in a F3000 single-seater to set a clean, fast lap. The three fastest drivers would then be joined by six more competitors from two other semi-final rounds for a grand final to do the same all over again. The fastest on that day will win the competition outright.
As well as observing the very early stages of a new motorsport legend's racing career (you never know) I also joined in with the activities. Well, it would have been rude not to - even if I wasn't properly involved in the competition.
Each of the real life Overclockers Racing rounds adopts the format of a Palmer Sport driving event, which consists of a few mini challenges behind the wheel of a selection of different cars. The day started with laps around different circuits on the Bedford complex in a BMW M4, an Ariel Atom and a Renault Sport Clio Cup  before an off-road course in a Land Rover Defender, a gymkhana in a Caterham and a bit of go-karting.
> See how a Renault Sport Clio Cup compares to an Audi R8 Plus on track
After that we were let out onto a bigger circuit to drive a JP-LM; a V6 powered Radical-style car adorned with wings and slick tyres. Sat next to us in the JP-LM was a brave –in my case, at least – instructor to help give us some pointers for what would be the main event at the end of the day, and the only one where the times really mattered, the F3000 single-seater.
As they didn't have any bearing on who made it through to the final, I fully expected the earlier tasks would be an opportunity for the competitors to psych each other out, ruffle a few feathers and attempt to put each other off. But I've clearly been taken in by the soap opera-style story lines that accompany high-profile motorsport, as my guesses were completely off the mark. There was no posturing and bravado, false or otherwise, from the competitors. Actually it was quite the opposite; the atmosphere was jovial and fun all day. It's almost as if the bitter rivalry that we hear about between racing drivers is completely false, and just a construct by the organising bodies and the media in an attempt to create the drama that's sorely lacking from the actual racing. Just a thought.
Owning your own gear and looking like you know what you're doing, as we all know, proves nothing. Sadly, the only barometer I had to gauge whether these Sim racers had the skills and talent to match their fancy set of boots was, well, me.
I'm no seasoned racing driver, my one race in a Citroen C1 hardly makes me Ivan Muller, but I thought I'd, perhaps, be able to hold my own against these guys.
Things got off to a promising start, for me. The first task was the M4s, as it was a performance road car (something I am lucky enough to be used to) around one of the tracks at Bedford (evo's local circuit), it would be my best chance at topping the scoreboard. I got close, I came second.
> Read our full review of the BMW M4
But then, as the cars became more and more like proper race cars, and the tasks were less suited to my experience, my results were less impressive. Flumoxed by the Atoms, I slipped down to fourth and then I fell seconds off the pace in the Clio Cup.
I clawed some points back in the off-road challenge, where driving as slowly as possible was beneficial, and I clocked up another silver in the Caterham, where being quite sideways seemed to help.
Then, when it came to the JP-LM, it wasn't just my deficit of talent that was a problem, but how poor my strength and fitness was. My one critism of the day was how little time I got to spend in each car (time flies when you're having fun an' all that), right up until the session in the JP-LM.
Just a few laps behind the wheel of the Radical-style car my arms turned to jelly. Despite some excellent tuition from my instructor, Abbie Eaton, and her encouraging chant of 'Now, full throttle, you've got the track!' I couldn't maintain the strength to fight the sticky tyres being forced in the tarmac by the wings and my times began to fall.
Back in the pits I fumbled around, trying to undo my helmet with only semi-functioning arms, while the actual contestants leaped out of their cars, shook the hands of their instructor with verve and whipped off their lids to go and inspect their credible times.
Being faster than me proves very little, really. But what was clear, from their times as well as their attitude and fitness, was that all of the contestants were experienced and remarkable professional.
James Garner, Charles Theseira and Muorali Selvarajah were the three who made it through to the semi finals, all posting times less than 01:16 in the Formula 3000. Special mention goes to Mathieu Gauthier-Thornton, who was by far the fastest in the JP-LM and averaged the best score throughout the day to win driver of the day, but sadly didn't make it to the final.
Not this time, anyway. Because there's still time to set a lap on the simulator to make it into the last semi-final round. What's more Overclockers aren't restricting the entrants to those who have already had a go, or even ones who have made it to Bedford already.
You will be able to book a slot in the Overclockers simulator, for free, from now until 3rd June. Find out more information and how to book here.