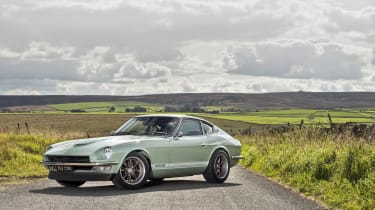 1/17
It's rare that a car manufacturer passes up an opportunity to celebrate an old stager with an all-new model, but 2019, the 50th anniversary of Nissan's 'Z-car', will be gone before the now decade-old 370Z is succeeded.
The brawny, naturally aspirated Z is an anachronism in the new car market, but when its great-grandfather appeared in 1969 it was fresh, modern, and an instant, stellar success. Born and bred in the USA, the original S30-generation Z-car remains one of the most desirable Japanese models to this day, a darling of collectors and drivers alike. It is Japan's 911.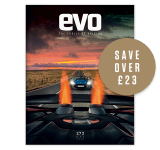 Subscribe to evo magazine
Subscribe today to have every issue of evo delivered straight to you. You'll SAVE 39% on the shop price, and get evo for its original cover price for a whole year!
> Nissan 370Z Nismo review and pictures
Yet the 240Z was seen as a bit of a risk at the time. Its success can be traced back to Yutaka Katayama, who became responsible for sales of Nissan cars under the Datsun name on the West Coast in 1960. He was eager to sell sports cars alongside the small utility vehicles, and subsequent sales of the Datsun 1500 Fairlady roadster showed there was an appetite among America's younger buyers for exciting cars. The Datsun 1600 that followed sold in even greater numbers, in part thanks to racers such as Peter Brock and Bob Sharp campaigning the model to victories on the nation's racetracks. In 1965 Katayama rose to president of Nissan Motor Company, USA, and pushed for a sports car to build on the company's increasing presence on the streets and circuits of America.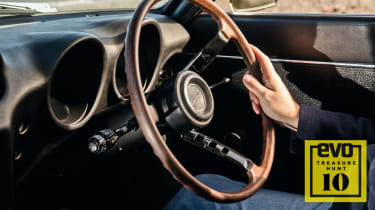 That car was the Nissan Fairlady Z, or Datsun 240Z as it was known in the USA and elsewhere. A two-seat, rear-wheel-drive coupe powered by a 2.4-litre 'L24' in-line six, it went on sale in the US for $3526 in 1969, the equivalent of just over $24,000 (£18,548) today. Nissan nailed it – in the showroom and on track. The likes of Sharp, John Morton and Paul Newman drove the 240Z and its successors to Sports Car Club of America 'C Production' championship victories every single year of the '70s. Balanced, powerful and entertaining, the Z's impact on the circuit and sell-out performance in dealerships was a sign of how well Nissan had judged its new sports car.
Smash-cut 50 years forwards and to the rather less glamorous B660 in Bedfordshire. Our 1972 Z looks tiny, but couldn't be more perfectly proportioned. The 240Z is often compared to Jaguar's E-type, but I've always thought it had its own identity. It's more blue-collar than the Jag for a start, but with the sunken headlights, cropped tail and more restrained dimensions (it's around a foot shorter), plus the benefit of hindsight, the influence doesn't seem quite as strong today.
The S30's huge presence in online car culture further distances the Z-car from other long-nose, short-tail sports cars of the era, including Toyota's beautiful 2000GT (said to be a greater influence on the Z). This car, owned by Nissan GB, has enjoyed a recent restoration, and mechanically it's a little different from standard. Conventional Zs used a pair of side-draft Hitachi carbs, but fitted here are the triple Webers from the ultra-rare Fairlady Z432 with its Skyline GT-R-sourced S20 four-valve, triple-carb, double-camshaft engine (hence 432).
Starting up the L24 is a reminder of the relationship we lost with our cars when fuel injection and electronic ignition hastened the procedure. Twist the key one notch to the whirring click of the fuel pump somewhere behind the seats, then a couple of pumps and a further squeeze of the gas as I twist the key again helps the 'six' churn into life. No choke is needed to start the engine (the lever sits between the seats), but a little helps in the few minutes it takes to come up to temperature. Once it has warmed through it's at its best with the butterflies wide open, stumbling and backfiring a little if you're too gentle. A rousing, full-bodied induction roar and surprising turn of pace are further incentive to push the long-travel throttle to the floor, and the long throw of the five-speed 'box (early cars had four ratios) feels well matched to the deep-chested powerplant.
There's real balance to the chassis, too. You'd need fists of ham to get it out of shape at road speeds but you can feel the tyres loading up and feedback squirming through the thin, woodette wheel rim as if you're driving a bigger and slightly lazier early MX-5. To its credit, the 240Z even feels more all-of-a-piece than that other Japanese sports car – there's real integrity to the structure, even on rougher roads. The firm brake pedal is confidence-inspiring, too. I'm sold by the time I'm a mile up the road.
The fuel crisis of the '70s hit sports car sales, but Datsun compensated for power-sapping emissions equipment by enlarging the L24, first to 2.6 litres for the 260Z in 1974, and then to 2.8 litres for the 280Z's L28. Wisely Nissan left the styling well alone, only changing it significantly in 1979 with the 280ZX. The Z-car lineage continued with two generations of 300ZX, in 1984 and 1990, and two generations of modern Z in 2003's 350Z and 2009's 370Z. No replacement is imminent, but if you've got the money, there may be a better way to celebrate 50 years of the Nissan Z…
Datsun 240Z
| | |
| --- | --- |
| Engine | In-line six, 2393cc  |
| Power | 150bhp @ 6000rpm |
| Torque | 148lb ft @ 4400rpm |
| Transmission | Five-speed manual, rear-wheel drive  |
| Front suspension | MacPherson struts, coil springs, anti-roll bar  |
| Rear suspension | Chapman struts, coil springs  |
| Brakes | Solid discs front, drums rear  |
| Wheels | 14in front and rear  |
| Tyres | 195/70 R14  |
| Weight | 1068kg  |
| Power-to-weight | 143bhp/ton |
| 0-60mph |  8.0sec  |
| Top speed | 125mph |
| Price when new | $3526 (in the US)  |
| Value today | £18,000+ |
And this is it. The colour lies slightly further down the spectrum, and the wheels are a few inches larger (though sporting a similar design), but the shape is undeniable. Long hood, short tail, recessed headlights, slim chrome bumpers. This is a Datsun 240Z, but… different somehow. Honed. Leaner. More purposeful.
This 240Z is the work of MZR Roadsports. You'd be forgiven if the name doesn't ring any bells, though don't be surprised if it becomes more and more familiar over the next few years. Comparisons with a certain Californian firm that specialises in old Porsches, or perhaps a Somerset brand familiar with Alfa Romeos, are inevitable. Spend any time with MZR, absorbing its passion for the classic Nissan and witnessing the quality of its work, and drawing comparison with those high-profile companies seems entirely justified.
It's taken a while to pull this together. I discovered MZR via its tantalising Instagram feed around the end of 2016, drawn in by photographs of a simple 240Z painted in the factory '918' orange, sitting at the perfect height over dark 14 x 7-inch Watanabe wheels and chunky tyres. A blue, more overtly modified 'Sport Edition' car followed, with an underbody so clean you'd swear you'd catch your reflection in it, and an engine bay dominated by six mesh-topped trumpets.
Then the green car appeared. The 'Sport Design' car. Bespoke, three-piece wheels, echoing those old Watanabes (themselves a homage to old British Minilites) but squeezed tightly under the arches, suspension components that wouldn't look out of place on a race car, a subtly integrated roll bar, and rich, gorgeous detailing wherever you looked. We had to know more.
What followed was months of emails trying to nail down a date with MZR founder Rahail Tariq, often enthusiastically peppered with development images as the Sport Design car progressed, before we finally found ourselves on a small industrial estate in Bradford, guided by Tariq's infectious enthusiasm for his cars. It was worth the wait.
Japanese cars have taken a little longer to establish themselves in the classic car market than those from brands such as Porsche and Alfa Romeo, and this is often reflected in their prices on the used market. Times are changing though, and the emergence of companies such as MZR is evidence of a ready market for those willing to spend several times the car's value on endowing it with modern levels of performance and convenience.
A chance encounter with a 240Z classified advert in evo's sister title Octane planted the first seed of MZR Roadsports back in 2001. The iconic silhouette proved a difficult one to shake, and a few years later Tariq finally found a car to call his own. Hidden rot started the search for a rust-free shell from the United States, but when it came time to modify the car, few existing specialists seemed suitable.
During the search Tariq crossed paths with Martin Ryland, a 240Z specialist living in France. This encounter eventually led to a business partnership, with Tariq forming new designs and ideas and Ryland handling the engineering side, and as the duo's reputation grew, Ryland moved back to the UK and MZR Roadsports was formed.
The process today has grown out of that very first car. Shells are bought from the US, most frequently from the southwest, where the warm, dry climate might be unkind to paintwork and trim but leaves steel relatively untouched. They are nevertheless dipped, stripping them to bare metal, at which point any necessary repairs or fundamental changes to the bodywork are made. When we visit, a wide-body commission is receiving its finishing touches. The prominent arches aren't mere plastic bolt-ons, but fabricated from metal and welded seamlessly to the original structure.
In contrast, the paint shop houses a car whose perfectly flared arches are so subtle you'd have to park it next to a standard car to realise the difference. A towering rack houses a trio of shells the team has yet to start on, while cosied up next to the wide-body car is Tariq's own 'G-nose' 240Z, imported from Japan. I'm fairly sure I once spent days racing a badly modified Civic in Gran Turismo 2 to afford a similar car.
It's easier to buy up healthy dashboards elsewhere, as MZR does, than to fix decades of tin worm and bodges inflicted upon the few surviving UK cars. Converting a 240Z from left- to right-hand drive is relatively simple too, though as MZR's customer base expands, it's also delivering left-hand-drive cars – current commissions include cars for Switzerland, as well as Hong Kong and the UK.
Adjacent to the main workshop is a small room housing some of the bespoke pieces MZR uses to trim each car. Everything from perfect dashboards to new bumpers, gearknobs, differentials and engine components are lined up. Some pieces are clever re-adaptations of components designed for other cars. Others, such as the 17-inch three-piece wheels, are custom-made for MZR, and Tariq is understandably reluctant to give away the company's secrets. Several components are sourced from local firms, and none can be bought individually from MZR, an understandable decision to avoid lower-quality MZR lookalikes appearing all around the internet.
The Sport Design car is more or less a full house of the most tantalising parts. It starts with a rebuilt engine, expanded from the original 2.4 litres to either 2.9 or 3.1 and making 240 to 280bhp on an MZR-designed throttle-body electronic fuel injection system. The five-speed transmission comes from an S14 Nissan Silvia, and the 3.9:1 limited-slip differentials first start their lives at the back end of a late '90s Impreza WRX. Both are rebuilt before going in the car.
MZR stiffens the shell – most notably with an architectural half-cage that triangulates to the sizeable rear strut towers – and 30-way adjustable coilover suspension is fitted at each corner. There's adjustment in the custom suspension arms too, allowing owners to perfect camber, caster and toe, while the optional electrically power-assisted steering uses a motorsport rack-and-pinion set-up. Axles, driveshafts, brakes – all are upgraded, and a custom-made, motorsport-spec wiring loom ties the car's functions together.
With six intake trumpets and a snaking, custom exhaust manifold, the underbonnet is a work of art, but the interior might be even more special. Like the exterior it's a subtle evolution of the original, but quality oozes from every component. The basket weave seats are, like virtually every element, trimmed in nappa leather. You get the impression it'll all wear-in beautifully with ownership and use, as old cars should. The woven carpets have a quality feel, but will also no doubt wear well, and they hide two layers of soundproofing. The gauges look standard but are entirely new, and all lighting is by LEDs. Buyers can have modern DAB radio and smartphone-compatible audio, and there's even central locking. None of it jars, and the assembly is faultless.
Traffic is light as we wind north through Bradford in the Sport Design in search of more appropriate roads. Tariq is driving, allowing me to take in some details that may otherwise be missed in the pursuit of absorbing more prominent features on a drive. Details such as the intermittent whirring of the brake booster that MZR is using, the surprising comfort of the slim-looking seats and the remarkable pliancy of those large wheels and tyres, even on broken urban surfaces. Tariq says the booster will be quieter in clients' cars, but the other two points are perfectly judged.
We switch places just north of Skipton. First impressions: great driving position. Low, but the Z's expansive visibility and MZR's ultimately sensible seating position mean you're neither peering over the rim of the wheel nor brushing your quiff on the headlining. Nissan got the pedal positions right back in the day too, while the reprofiled centre console puts the stubbier gearshift in just the right place.
Accelerating hard for the first time is profoundly satisfying. The injected engine begins its work below 2000rpm and just… keeps… going. The throttle pedal is firm and carves a wonderfully long and progressive arc, just like that of the donor car but with rather more potential along its path to the firewall. Sink the pedal and the 'six' fills its lungs without a cough – just one unbroken growl and growing surge of power all the way to the yellow marker at 6500rpm.
The gearshift is shorter and more precise than the standard Z's, more like an MX-5's but with a little more heft, and beautiful tactility thanks to the milled maple and mahogany billiard ball on top of the rod. In contrast, the other control weights are feather-light – the electric steering makes manoeuvring a doddle and neither the clutch nor the brakes offer cause for concern. In truth, I'd like a little more weight to the steering and brakes. Each currently peels away a subtle but important layer of feedback, and the light brake pedal also makes heel-and-toe downchanges tricky. The flip side is an ease of use that buyers coming to the MZR 240Z from more modern vehicles may well appreciate, but for those who'd appreciate more resistance, a fix is coming in the form of a pair of small dials that will allow the driver to adjust the level of assistance from the steering and the brake servo. 
Those buyers will certainly find no qualms with the car's outright performance, as well as its traction (even on damp roads), responses or braking power, while longevity should be guaranteed by the car's meticulous construction, high-quality components and truly impressive structural rigidity – I don't think I've ever driven an old car where creaks and rattles are so conspicuous by their absence.
What captivates me most is just how similar it feels to a classic Z-car. MZR hasn't tried to expunge the character of an untouched car, and by improving the Z's original aspects only where it falls down in a modern context – performance, integrity, reliability, quality – the result is a car that feels like a 240Z from an alternate timeline: one where the model's eventual slide into middle-aged spread and 1980s boxiness is replaced by a car that Nissan chipped away at and honed where expertise and technology allowed. There's no better half-century celebration of one of Japan's most important sports cars than this. 
MZR 240Z Sport Design
| | |
| --- | --- |
| Engine | In-line 6-cyl, 3100cc (2900cc option) |
| Power | 270bhp |
| Torque | 230lb ft  |
| Weight | 1030kg |
| Power-to-weight | 266bhp/ton  |
| 0-62mph | n/a |
| Top speed | n/a |
| Basic price | £94,995 |