This month's new versus used comparison is between two big four-wheel-drive coupes, both powered by turbocharged six-cylinder engines. Yes, on paper there's plenty to connect a brand new Audi S5 coupe with a used Nissan GT‑R. Nevertheless, you don't need us to tell you that in reality these two are as disparate as wurst and sushi.
OK, their silhouettes are almost identical: deep sided, with hulking shoulders over each wheel, swooping rooflines, and gaping, hungry mouths dominating their frontal areas to cool V6s that generate copious amounts of heat when worked hard. And yes, £50,000 in the hand secures not only a shiny new S5, but also a six- to seven-year-old GT-R. Fifty grand for a still-current GT-R? For many of us the very thought of Nissan's four-wheeled institution makes the fingers twitch towards that banking app, and that's unlikely to be something you'd say about the smooth but predictably clinical Audi.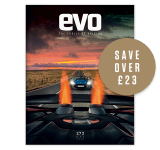 Subscribe to evo magazine
Subscribe today to have every issue of evo delivered straight to you. You'll SAVE 39% on the shop price, and get evo for its original cover price for a whole year!
> Audi S5 Sportback review - Finally a proper drivers' car?
The GT-R's V6 has a 0.8-litre surplus of displacement over the Audi, along with an extra turbocharger, plus a remit to be an awful lot less cuddly and refined than the 3-litre single-turbo unit in the S5. The result is that it generates 523bhp here (in 2010MY form), comfortably eclipsing the Audi's 349bhp, and as we all know, with all the tuning options available that's potentially just the beginning.
In terms of raw performance there is simply no comparison. The GT-R's 0-60mph time of three seconds dead still puts the frighteners on supercars costing five times the price today, and as a used car it is probably the performance bargain of the moment.
So why on earth would you entertain the Audi? The answer lies in all the reasons people always buy cars like the S5. They may not be the sort of reasons that earn you evo points, but in the 'real world' that the vast majority of us have to live in, the S5 does have a lot going for it. There's no evidence to suggest the Audi is put together under the skin better than any other mainstream car, nor that its components are of a higher standard, but the natural assumption is that it's a higher-quality product when you touch the materials used in its cabin, and subconsciously note the crispness of its exterior panel fit.
It's all very 'slick'; all very quietly impressive. It's the kind of car that will impress the neighbours while ruffling no suburban feathers, which let's face it, isn't something you can say about the GT-R – especially if it's fitted with the kind of upgraded howitzer of an exhaust that makes the double glazing rattle in nearby mock Tudor mansions.
If you're feeling so inclined you can pad around in the S5 with an effort level registering barely above zero. The torque-converter auto shuffles gears smoothly and quickly, and the V6 is completely lag-free, with a healthy punch from barely above idle speed. Essentially, the S5 could whisk you to work every day, securely and rapidly, in all weathers, take the family out at weekends, and quietly impress all who drive or are driven in it. And to be fair to it, it also has another side – given the correct adjustment of the different driving modes.
Like all VW Group cars that use the 'MLB evo' platform, the S5 melds extraordinary refinement with a fine sense of balance and natural poise. The steering is very light – as are all the controls, in fact – and typically there's little in the way of feedback to help judge what's happening down at the road's surface, but it's smooth and accurate, and it's always surprising to look at the speedo and see just how rapidly the S5 is accelerating, and how much speed it can carry through a corner. It's typically four-wheel drive, with no theatrics, majoring instead on total traction and a largely neutral attitude to cornering. You would also be right to expect an entirely trouble-free and reassuringly 'premium' ownership experience from the Audi, from its low service costs in its early years to the quality of the cappuccino at your local Audi Centre.
I've no idea what the cappuccinos are like at Auto Torque (where this GT-R was sourced from), but as a car nut it's much more preferable to be surrounded by the knowledgeable fellow enthusiasts who work there and the numerous GT-Rs that fill the firm's pristine workshops. Opting for the used GT-R sets you down a completely different path: these two cars may cost the same to buy, but the GT-R will undoubtedly cost a lot more to run, albeit retaining a much larger percentage of that fifty grand over the next few years.
After the cool textures of the Audi, the GT-R's interior is best described as functional, but it's also appropriately solid, with a fat-rimmed steering wheel and well-padded Recaro seats. Then again, as we found recently when we ran a GT-R on the evo Fast Fleet, for such a big car there's not a lot of room in the rear of the Nissan.
Manoeuvring at walking pace in a dusty layby you can hear the drivetrain clunking and crunching as diffs lock, clutches open and close, and individual tyres grab at the gravelly surface. It feels resolutely hardcore, like its mechanical parts were engineered by Isambard Kingdom Brunel. Yet despite the industrial feel and the range of mechanical sounds, this example – with 26,000 miles on the clock – is smooth to drive and makes no worrying noises.
The engine is much more vocal than the Audi's at idle, and far more natural in sound. It's one of those turbocharged motors with a frenzied appetite for air, fuel and boost, stampeding through the gears that thump home via the twin-clutch gearbox. GT-Rs have got steadily more refined over their production life, but this is still a raw, evo car at heart.
Yet, despite the brutal acceleration, it's the chatter of the four-wheel-drive system that continues to be the dominant aspect of the GT-R. Every time you use any meaningful throttle you can feel the system juggling torque between the axles, the front end occasionally clawing away as the back squats and squirms. The effect is even more pronounced mid-corner; as well as seeking out every last bit of grip, the system works overtime to bully the GT-R around the corner, while the fabulously detailed steering is your ally in understanding both what the car is doing and the road surface beneath.
In the fight between tarmac and Nissan, it feels as though the latter wins – you half expect to look in your mirror and see the road folded up like a discarded black ribbon after it's been run through the GT‑R's rollers. Ironically, that old jibe that the GT-R is like a computer game, that it does everything for the driver, is as true for the S5 as it is inappropriate for the involving Nissan.
That you can follow a GT-R in the S5 and keep up tells you plenty about just how well resolved the S5 is as a package. Add in all the other aforementioned qualities and the S5 is not without considerable appeal. However, the worry will always be that before long you'll tire of its undemanding character and anytime, anywhere performance, and long for something much more authentic, something altogether more exciting. You've got to really want the Nissan to put up with its drinking habit and servicing costs, but thankfully it's a very easy car to love, and for people like us that's often what matters most of all. With thanks to AT Performance Cars for the loan of the Nissan GT-R
Specifications and costs
Nissan GT-R vs Audi S5
Engine
V6, 3799cc, twin‑turbo

V6, 2995cc, turbo

Power
523bhp @ 6400rpm

349bhp @ 5400rpm

Torque
451lb ft @ 3200rpm

369lb ft @ 1370rpm

Transmission
Six-speed dual-clutch, four-wheel drive

Eight-speed auto, four-wheel drive

Weight
1740kg

1615kg

Power-to-weight
305bhp/ton

220bhp/ton

0-62mph
3.0sec

4.7sec

Top speed
194mph

155mph (limited)

Price new
£69,950 (2010)

£48,880

Value today
£50,000
 
Full service
£773

£380

Short service
£436

£203

Front discs
from £354 each

£180 each

Rear discs
from £348 each

£113 each

Front pads
from £248 per axle

£182 per axle

Rear pads
from £176 per axle

£88 per axle

Big brake kit
£5414 (AP Racing front and rear)
 
Front damper
£342
 
Rear damper
£296
 
Upgraded bell housing
£1068
 
Exhaust
£1500 (cat back)
 
650bhp tune
£4800
 
Tyres
£284.36 front, each£354.71 rear, each(Dunlop SP Sport Maxx GT 600)

£229.09 each, front and rear

(Bridgestone Potenza S007)
The rivals
Could a 911, Skyline or even an Ur-Quattro tempt you?
You can't talk four-seat, all-wheel-drive, turbocharged coupes without considering a Porsche 911 Turbo. Between £45,000 and £50,000 you have the choice of either a 996 manual or a 997 with the Tiptronic transmission. If you're willing to sacrifice turbos, then newer 997 Carrera, Carrera 4 or 4Ss with less miles are well within budget.
You don't have many alternatives to the S5 if you have your heart set on an Audi. First-generation V8 R8s that have covered around 30,000 miles start at £45,000 but, no matter how brilliant it may be, the R8 doesn't have rear seats. Decent Ur-Quattros do, on the other hand, and decent ones start at £40,000, but they're proper classics, and don't expect R8 or even S5 levels of performance.
It's a similar story with Nissans: the only other four-seat coupes that are in the same ballpark are now considered classics. The very best and rarest R32 Skyline GT-Rs are over £40,000 but the later R34 version has gained real traction on the market and you'll only find a few for less than £50,000.
If the classic status and appreciating value of the R34 seems appealing, then there's a pair of limited-run BMWs that might tempt you away from four-wheel-drive traction. An E46 M3 CSL with about 50,000 miles is within budget, and so is a 1M Coupe with 40,000 miles or more.
Very similar to the 1M, both in terms of attitude and price, is the brand new M2 Competition, but it isn't the most natural alternative to a new S5 – the Mercedes-AMG C43 4Matic Coupe occupies that space.