When it comes to small-scale manufacturers, their number is actually far greater than you might think, and many of them may well have slipped under the radar, unknown to the vast majority of people. But the work these companies are doing and the projects they're hoping to get off the ground are fascinating, and perhaps none more so than Rodin, based in New Zealand's south island.
In the overall scheme of things it's a tiny operation with hopes of building 50 cars a year, but a visit to its HQ may well raise an eyebrow – this is no backstreet, small-scale operation. The site occupies an impressive 1450 acres and has not one, but two test tracks totalling an impressive six kilometres in length. And the reason we know this is that we're here to drive Rodin's FZed, perhaps the nearest it's possible to experiencing a Formula 1 car without going to the expense of buying a team.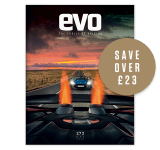 Subscribe to evo magazine
Subscribe today to have every issue of evo delivered straight to you. You'll SAVE 39% on the shop price, and get evo for its original cover price for a whole year!
> BAC Mono R revealed with 622bhp per ton
The whole Rodin operation is quietly overseen by David Dicker, an ex-pat Australian who splits his time between New Zealand, Dubai, Italy and Australia, the last where his computing company, Dicker Data, employs over 400 people and turns over more than $1.5billion annually. Not, perhaps, the sort of background you might expect from someone who is now reinvesting a sizeable chunk of his wealth into building a car that he says 'will be quicker than a Formula One car'. 
The Rodin FZed project began life as the Type 125, one of Dany Bahar's overly ambitious ideas during his brief time running Lotus. The aim was to build a track car as close as possible to that of an F1 car, and it even came with full factory support to run at tracks around the world. Owners would even have had the option of driver training by former F1 star Jean Alesi. Unfortunately, the Type 125 died like many of Bahar's Lotus dreams, but Rodin's Dicker rescued and refined it after being offered the project in early 2016. He bought the T125 project lock, stock, and barrel from Lotus 'mainly so we could learn a few things about how to make a quick car, but also to learn a bit more about how not to do it as well'. 
As a Lotus, the car weighed 640kg and its Cosworth engine produced 631bhp. The team at Rodin Cars went through the Type 125 with a fresh set of eyes and removed an impressive 51kg from the car, all while finding another 34bhp from the engine. Much of the weight saving comes from systematically replacing many of the original aluminium parts with 3D-printed titanium items. The FZed now boasts a power-to-weight ratio of 1147bhp per ton so it should be rapid enough, and puts upcoming hypercars such as the Aston Martin Valkyrie with a piffling 1106bhp per ton in its place.
As you'd expect, the FZed is as intimidating as it is awesome to drive. The Cosworth V8 idles at 3100rpm, and with a hand-operated clutch with about 25mm of travel getting it off the line calls for a bootful of throttle and a prayer not to stall it. The first few laps are a balance of driving fast enough to maintain temperature and pressure in the pre-warmed tyres, while trying to warm the brakes so that the dead pedal comes alive with retardation. Even at half-throttle, the engine feels ferocious. After a few laps the FZed 'switches on', with every aspect of it coming alive, and the brakes, tyres, engine and aero all urging for more speed.
> Aston Martin Valkyrie: 1160bhp hypercar debuts on track at 2019 British Grand Prix
On the Rodin test track the FZed punches out of the long, late-apex hairpin in second gear with such urgency that it's an effort to stop the screaming Cosworth from headbutting the 10,500rpm limiter. At low speed the steering is light, but as the aero takes effect it takes significantly more effort, but its handling is actually quite benign, even if you trail-brake the carbon brakes going into a corner. You can feel the rear mobilise for just the briefest of moments, but it doesn't spit you off the track. It's an exhilarating experience, and unless your surname's Hamilton, Bottas or Vettel, you're unlikely to ever travel faster.
In terms of ultimate track performance, where does the FZed sit? In its early life as a Lotus project, Alesi suggested that it offered a similarly physical driving experience as a mid-1990s F1 car, but that its ultimate lap pace was much nearer a 2010 F1 car (it's loosely based on 2008/9-era F1 regulations). 
The test track has a handful of decent corners, including a sequence of high-speed direction changes, and the FZed attacks this part of the circuit like a Scalextric car. It's not aero or mechanical grip that proves to be the limiting factor, but rather the driver's underdeveloped neck muscles, that ache for days afterwards.
Rodin is assembling FZeds already – the first five customer cars will feature the 3.8-litre Cosworth V8 we sampled, but subsequent machines will be powered by a 4-litre V10 that Rodin has redesigned and refined from a Judd IndyCar engine. It might seem like madness to be taking on so much engineering for such a small, bespoke company, but Dicker has plans that go much further than the already hugely impressive FZed. In the pipeline is an even more extreme machine – the FZero.
> evo Track Days 2020: dates, tickets, booking info
It has a much more aerodynamic, fully enclosed cockpit which will enable it to generate far more downforce than the open-wheeled FZed, and it will also be resolutely rear-wheel drive 'because I don't like four-wheel drive', says Dicker. It'll be powered by Rodin's bespoke 4-litre V10 that's being built by Neil Brown Engineering, headed up by former Cosworth engineer Graham Dale-Jones. But in this application it'll also feature a brace of turbochargers and an estimated 1000bhp. The eight-speed gearbox, also bespoke, is being made by Ricardo Engineering. But just about everything else on the one million dollar FZero – a firm price has yet to be established – is being made in-house by the company's own designers and engineers, Dicker being very much at the centre of the process.
It's perhaps this attention to detail and the insistence that Rodin designs and engineers as many parts as possible that really sets it apart. It might seem foolhardy to attempt to do everything, but Dicker is convinced it's the best way of doing things. 'It's just better to make this stuff yourself because the quality is guaranteed if you do,' he explains. The implication being, if you rely on suppliers rather than build the bits yourself, your car is only as good as your worst supplier.
> Ricardo: A UK automotive innovator at the forefront of future car tech
And the ultimate aim for the FZero? A car that will lap circuits faster than an F1 car. 'We should have over 4000kg of downforce at 300kph,' comments Dicker, and with over 1000bhp and a target weight of 605kg (and that's wet, not dry) you can start to believe him. At the moment, all of Rodin's efforts are being concentrated on making the FZero the world's ultimate circuit car, but Dicker admits he would like to produce a limited run of road-legal examples, but only if it doesn't compromise the project's primary focus. 
It's a bold ambition for a fledgling company, but having seen the way it goes about its business you wouldn't want to bet on Dicker not succeeding with his ultimate goal. We can't wait to drive it.