Fernando to Ferrari
Fernando Alonso's move to Ferrari for 2010 Formula 1 season is confirmed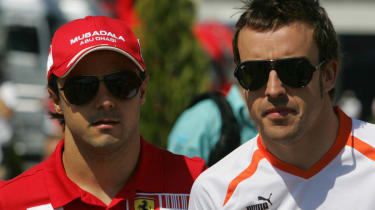 After the persistent rumours, Fernando Alonso has finally been confirmed as a Ferrari driver for the 2010 Formula 1 season and beyond, after signing a three-year contract with the Italian team.
He will team up with Felipe Massa, who is currently recovering from injury and set to make his comeback at the beginning of next year's championship. Alonso therefore replaces Kimi Raikkonen, who won the F1 championship with Ferrari in 2007.
In a domino effect kicked off by Alonso's move, Kimi is expected to head to McLaren, in turn taking the place of Heikki Kovalainen who's been tipped to go to Renault alongside BMW's Robert Kubica.
Alonso's is the only confirmed move thus far, though. Here's what he said about it – 'I'm very happy and very proud to become a Ferrari driver. Driving a single-seater from the Prancing Horse is everybody's dream in this sport and today I have the opportunity to make this dream come true. Above all I want to thank Ferrari Chairman Luca di Montezemolo, who really wanted this 3-year contract. We already had an agreement this summer starting in 2011, but then, the last days, the picture changed and we decided to anticipate my arrival in Maranello by one year.
'The years at Renault were fantastic - together we won four world titles (two Drivers' and as many Constructors' Championships) until this day, 21 Grands Prix. I wish the team all the best and let's hope we gain some good results in the last races this year.
After this season I will put all my effort in the next season: I'm sure that, together with Felipe, we'll offer Ferrari and the fans from all over the world some great satisfaction. I can't wait to start working with my new team.'
Keep your eyes on evo.co.uk and our Twitter page for the F1 latest