Ferrari Le Mans Hypercar entry commences on-track testing
A potential new golden age of endurance racing will see Ferrari compete with Toyota, Peugeot and more in the top-tier FIA class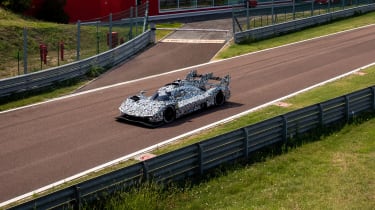 Ferrari Scuderia has commenced on-track testing of its Le Mans Hypercar entry on the Fiorano circuit ahead of its debut next year. The World Endurance Championship's high profile regulation change has seen a glut of OEMs throw their substantial financial and engineering weight at the series, opening up what could become a new golden age of endurance racing. 
Ferrari will be competing in the Le Mans Hypercar (LMh) class with this racer, directly rivalling Toyota Gazoo Racing, Scuderia Cameron Glickenhaus and Peugeot – the latter car debuting at the 6hrs of Monza round this weekend. The hypercar class will be joined from 2023 by a second regulation set called Le Mans Daytona Hybrid (LMDh), in which Porsche, BMW, Lamborghini, Alpine and Cadillac will also compete.
As per the LMh regulations, the Ferrari's racer will utilise a bespoke chassis and powertrain from its on-track rivals, combining a combustion engine with a hybrid element. Its peak outputs are not static, as they're constantly adjusted under the complex Balance of Performance process that ensures both LMh and LMDh cars are competitive with one another.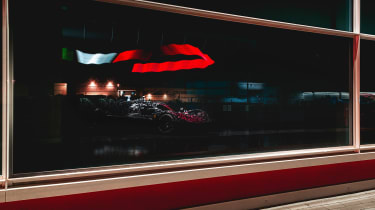 As for the racer itself, we can see that it'll follow the usual proportion set of modern endurance racers, but in a complete contrast to Peugeot's 9X8h racer will utilise a very large rear wing with huge end-plates and a central strake that grows from a fin mounted atop a large, rectangular intake snorkel. Underneath the high-mounted wing sits another horizontal plane that extends beyond the rear diffuser.
The rear-end aero effect is certainly distinctive from Peugeot's wingless design, and could be one informed from Ferrari's F1 development – something that might prove to be an advantage in comparison to its rivals that for now don't compete in both racing formulas (aside from Alpine).
Ferrari has not confirmed what powertrain it'll feature under the skin, but it'll almost certainly be turbocharged as is the norm in the class. As it stands, powertrain variation in the series is proving to be just as widespread as the cars' aero, with Peugeot and Toyota utilising a twin-turbo V6, Porsche a flat-plane twin-turbo V8 and BMW a traditional cross-plane 4-litre V8
So WEC looks like it'll offer some seriously competitive racing between the world's biggest OEMs, and with budgets and reputation at stake, we should be in for a few brilliant seasons of racing in the years to come.