Few hatchbacks have made a bigger impact than the second Ford Focus RS did when it burst into our world in January 2009. It wasn't just the headline output figures of 300bhp and 324lb ft. Here was a fast Ford with the visual clout to put many mid-engined sports cars in the shade. Any lingering regrets that it didn't have four-wheel drive were soon blown away by the character and delivery of the turbocharged five-cylinder engine and a chassis that did a remarkably fine job of channelling those rampaging horses through the front axle.
The engine was based on the 2.5-litre inline five from the Focus ST Mk2, but with bespoke pistons, conrods and camshafts. The main change was the new, larger Borg Warner K16 turbo, which doubled the boost pressure from 0.7 to 1.4bar. A bigger intercooler, freer-breathing intake and exhaust systems and the obligatory remapping of fuelling and ignition completed the package. The result was 300bhp at 6500rpm and a stonking 324lb ft all the way from 2300 to 4500rpm. Performance claims were 0-62mph in 5.9sec (a figure we matched from 0 to 60mph) and a top speed of 163mph. From a Ford hatchback!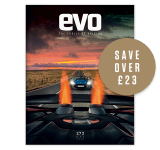 Subscribe to evo magazine
Subscribe today to have every issue of evo delivered straight to you. You'll SAVE 39% on the shop price, and get evo for its original cover price for a whole year!
Helping ensure the RS wasn't a torque- steering monster were Ford's patented 'RevoKnuckle' front suspension and a heavily revised version of the previous RS's Quaife limited-slip differential, with much more subtle intervention when it started locking.
Spec-wise, Luxury Pack 1 included dual-zone climate control, auto headlights and wipers, rear parking sensors, tyre pressure monitoring, keyless go, DAB radio and a six-disc Sony CD player. Pack 2 added an upgraded infotainment system including a rear-view camera and touchscreen satnav.
In May 2010, Ford unleashed the limited-edition RS500 with outputs ramped up to 345bhp and 339lb ft by a larger intercooler and airbox, a fatter exhaust and an ECU remap. It looked suitably menacing, too, with a matt black wrap, black alloys and red calipers. Even at £33,750 a pop, all 101 cars allocated to the UK were snapped up within a week.
For those who missed out, Ford offered the same mechanical upgrade, developed with Mountune and billed as MP350, for £1995 plus fitting. Independent tuning companies, of course, quickly took the RS to their hearts too, squeezing 400bhp or more from the engine and offering a whole range of suspension and brake upgrades.
Specs
| | |
| --- | --- |
| Engine | In-line 5-cyl,2522cc, turbo |
| Max power | 300bhp @ 6500rpm |
| Max torque | 324lb ft @ 2300-4500rpm |
| Transmission | Six-speed manual, front-wheel drive, LSD |
| Weight | 1467kg  |
| Power-to-weight | 208bhp/ton |
| 0-62mph | 5.9sec (claimed) |
| Top speed | 163mph (claimed) |
| Price new | £27,575 (2010) |
Checkpoints
Engine and transmission
The guys at focusrsoc.com concur with the specialists that the five-cylinder engine is proving wonderfully resilient, even when taken to 400bhp and in some cases even more. It's worth stating, though, that Ford's recommended servicing intervals are long; most specialists suggest an annual service, especially for tuned cars, so the first thing to check for is evidence of fastidious servicing.
An early issue was with the original plastic plenum being blown apart by backfires. Ford addressed the problem with a remap that was carried out under recall, ostensibly for a 'hard brake pedal', but some tuned cars still experience problems and a cast alloy replacement manifold is a popular upgrade. That said, Andy Williams at focusrsoc.com has owned his car from new in 2009, clocked up 125,000 miles and is still on the original plenum.
> Click here for our Honda Civic Type R review
The timing belt isn't officially due for replacement until 125,000 miles or ten years, whichever comes soonest. However, for peace of mind, experts like Graham Goode Racing say it's well worth getting its condition checked. Camshaft oil seal failure is quite common and when the oil runs down the front of the engine it can contaminate the belt, making it weaker. As the assembly is enclosed by covers, a leak isn't always obvious. Replacing the seals plus the timing belt and tensioner costs around £450, and most owners get the water pump replaced at the same time – an additional £160.
While you're looking around and under the engine, check for leaks from the radiator, which isn't the most durable. The gearbox and diff are proving robust, even when the engine has been tuned, but do look out for any signs that the clutch is on the way out. Replacement takes over five hours, so it's an expensive job: specialist GGR charges around £1400 if you replace the flywheel as well.
Suspension, steering and brakes
The suspension is generally hard-wearing. If you hear any knocking on the test drive, it's probably the front lower arm bushes requiring attention, but this is normal wear and tear. Check the tyres for even wear across the tread – correct alignment is critical for both the handling and to preserve the tyres. The OE tyres were 235/35 R19 Continental SportContacts, though many owners now favour Michelin Pilot Super Sports – at around £180 per corner, it's worth checking they've plenty of life left in them.
> Click here for our Hyundai i30 N review
Tyre and brake wear varies widely. Andy Williams says he gets well over 20k from a set of Super Sports, switching to Conti TS830s in winter. With the brakes, it's worth noting that the rears tend to wear faster than the fronts – the effect of ESP – so check pads and discs all round.
Body, interior and electronics
No serious structural corrosion issues as such, but some cars suffer superficial corrosion, and the first place to check is around the wheelarches. Also check for uneven panel gaps and signs of overspray that could indicate accident repairs, but note that Ford's paint plant had trouble panel-matching the Ultimate Green paint in particular, so don't automatically suspect accident damage if you see slight colour variance between panels.
The interior is hard-wearing but it's worth paying attention to the front seat bolsters, especially if the car has the leather Recaro upgrade, which seems to wear slightly less well. Rattles, particularly from within the doors, can be tricky to trace and fix.
Information and prices
Parts
Prices from grahamgoode.com. Tyre price from blackcircles.com. All prices include VAT but exclude fitting charges and are correct at the time of publishing.
| | |
| --- | --- |
| Tyres (each) | £184.02 (each, MichelinPilot Super Sport) |
| Front pads | £75.70 (set, standard) |
| Front discs | £330.62 (pair, standard) |
| Suspension | £769.00 (set, BR Racingcoilovers) |
| Clutch kit | £958.80 (incl flywheel) |
| Spark plugs | £56.48 (set) |
| Oil filter | £12.24 |
| Air filter | £15.95 |
Servicing
Prices from grahamgoode.com, including VAT. Service at 12 months or 12, 500 miles, whichever is sooner and are correct at the time of publishing.
| | |
| --- | --- |
| Service 1 | £286.31 |
| Service 2 | £345.74 |
| Service 3 | £414.70 |