VW Golf GTI vs Ford Focus ST
With 247bhp and a newfound appetite for corners, the latest Ford Focus ST promises to be one of the most exciting hot hatches.
How hot should a hot hatch be? Your instinct is probably to say scorching, but as this month's new arrivals from Ford and Vauxhall prove, temperature comes at a price. The new Astra VXR that our Henry has been fanging around the Nürburgring on page 98 is fire-alarm hot: 276bhp, a differential cleverer than most school leavers and a £26,995 screen sticker. By comparison, the new Focus ST, being tested here against the Golf GTI, might seem closer to the korma end of the spice scale with less power, no tricky diff and nothing like the same level of visual aggression. But then when you factor in the £21,995 starting price you'll realise that the Ford undercuts all of its major rivals, making it something of a recession-busting bang-per-buck bargain.
And maybe Ford is on to something. Performance hatchbacks have been having a tough time of things, especially in Europe where the combination of CO2 taxation and recession have seen the genre become an endangered species. Even in Britain, where a substantial number of us like our hatches served scorchio, sales have been in a steady decline – Vauxhall reckons it's only going to sell half as many of its new Astra VXR as it did the previous model. Which is why Ford took the radical step of turning this Focus ST into a global model, built to work in America as well as Europe, and with big emphasis on useability and value; the company is pretty much making as much fuss about the ST's official 39mpg economy as it is the 247bhp produced by the new 2-litre turbo engine. Hardcore thrills, if they come at all, are reserved for an (as yet unconfirmed) RS version. For now, the Golf GTI is absolutely where Ford is aiming.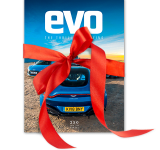 Subscribe to evo magazine
If you're passionate about the world's greatest performance cars, experience the thrill of driving with evo magazine. Try your first 5 issues for £5.
Picking up this ST direct from the Ford factory in Cologne gives it an early chance to prove, on a quiet stretch of Autobahn, that it's certainly not lacking in raw firepower. Officially it will manage 154mph, foregoing the need for a 155mph limiter, but the run down to our rendezvous sees an indicated 262kph – or 162mph – with the car tracking rock- steady. Even allowing for an optimistic speedo, that's still pretty impressive.
We've chosen to meet in the small town of Prüm, evo's favourite bit of Deutschland and gateway to some of the country's finest driving roads. This is the quietest corner of the Eifel mountains, about 40 minutes from the Nürburgring but without any of the traffic drawn by the world's most famous racetrack, and with some epic roads that start to feel busy if you see more than two other cars within five minutes. Andy Wallace has pedalled the GTI from the UK in something approaching record time, and he delivers his early verdict from behind a broad grin: 'Good car, that.' It might not be the segment's sharpest steer, but if you've got to cross four countries between breakfast and dinner, then it's clear the Golf takes some beating.
With the two cars parked next to each other, it's hard not to give all of the early points to the Volkswagen. Ford doesn't produce a three-door Focus any more, so the ST shares the same five-door shell as the standard hatchback – and sitting beside the right-from-every-angle three-door GTI (on those gorgeous optional 18in 'telephone dial' alloys) the Focus looks ungainly and a bit awkward, its body kit and deeper front bumper seemingly accentuating the standard car's chin-heavy styling. And, at the back, that centre-exit exhaust looks a bit like an aftermarket afterthought.
In the Ford's cabin it's a similar story – the ST-isation is definitely of the lick-of-paint variety rather than a full tear-down. There are some huggy (and very blue) Recaro buckets, three supplementary dials on the top of the dashboard (like the previous ST) and a couple of subtle badges. But otherwise this is exactly the same cabin you'll find in a rep-spec TDCI, with cheap-feeling plastics and, if you've paid extra for the navigation, a tiny display screen at the top of the dashboard with the sort of blocky fonts you'd expect from a five-year-old Nokia.
This shouldn't matter, of course – hot hatches should be judged by the way they drive rather than the rebound damping of their grab handles. But the downward sales trajectory of the segment, and the way it's been mirrored by the relentless rise of posh-badged alternatives, suggests that it's more of a factor than we probably think it should be. And it's a point that's further reinforced by the predictable excellence of the Golf's cabin and the solidity of its fit and finish. The GTI might cost £3600 more than the ST, but when you sit in both cars back to back it's hard not to conclude – in purely shallow and subjective terms, naturally – that the supplement is entirely justified.
Or, in other words, the Focus is going to have to be a seriously impressive thing on the road if it's going to stand a chance of overhauling the Golf as a total ownership proposition. Mechanically it's a very different car from the previous ST, which was always defined very much by its engine. This was for both good and bad reasons – the Volvo-sourced turbo five delivered solid performance and outpunched most of its contemporary rivals, but its considerable mass also had a noticeable effect on the car's dynamic balance, especially in slower corners where it struggled to deliver the sort of agility you'd expect from a fast Ford. Now the old five-pot has gone and, on first experience, the new 2-litre from Ford's 'EcoBoost' family of four-cylinder turbos is a far better-rounded unit, with headline figures of 247bhp and 265lb ft of torque.
In the hills above Prüm the new engine delivers proper pace. It's clearly turbocharged – there's no major lag but the power delivery is boosty and the way the torque builds in a non-linear fashion keeps your right foot busy modulating the pace. Like the smaller EcoBoost engines, the 2-litre doesn't give much urge below about 1500rpm, and it's not a natural revver either – ask it to go beyond 6000rpm and it starts to feel a bit asthmatic. But the solid mid-range, and the ease with which the slick-shifting six-speed manual 'box helps you to extract it, means it's properly rapid when unleashed in the real world. And progress is accompanied by a rorty soundtrack that Wallace accurately describes as being 'somewhere between a four- and a five-cylinder'.
The Focus's big trick is definitely its steering. Having read prior to this test that it has a variable-ratio electric rack, alarm bells were jangling. Experience has suggested that less tech tends to be better when it comes to steering weight and feel. But even after just a few kilometres it's clear that this is a seriously impressive system, with the assistance motor delivering instantaneous response while allowing proper feedback to get back to the wheel. At first the reactions feel a bit too keen – you need to mentally recalibrate to the quickness of the rack. But once you're dialled-in you realise that you can trust the system to both deliver your intentions to the front end and also tell you how much grip the impressively adhesive 235-section Goodyear Eagles still have to call on.
At this point the Focus delivers another dynamic surprise – torque steer. Ever since the first Focus RS was castigated for its relentless ditch-seeking under power, Ford has been a bit sensitive about allowing any of its quicker models to exhibit much in the way of self-steering, even going to the trouble and expense of developing the clever 'RevoKnuckle' front suspension for the mk2 Focus RS to combat the problem. That's one of the costs that's been saved in the new ST, which apparently uses steering motor inputs to try to cancel out unwanted torque effects. But, on generally smooth German tarmac, it doesn't come close to eliminating the tugging under big throttle openings in first, second and third gear as the car sniffs out bumps and cambers. It's not excessive – we're not talking a Saab 9-3 Viggen here – but it's enough to leave me slightly concerned as to how well the car will deal with the lumpier challenge of British tarmac.
Still, at least the rest of the ST's dynamic experience is pretty much spot-on. Springing initially feels a bit soft by hot hatch standards, but firm dampers keep everything clamped and body control is good. The Focus has been set up with a properly adjustable back end, which both provides a measure of passive steering under hard cornering loads, but also responds to a mid-corner throttle lift by tightening its line in an instinctive fashion. It's not as tail-happy as something like the Mégane 265 – it takes real abuse (and a fully deactivated stability control system) to persuade the Focus into actual oversteer at anything above modest speeds – but the chassis has got a real flow to it and it seems to genuinely relish the challenge of a demanding road.
By contrast, the Golf seems almost stodgy when asked to cover the same ground at similar speeds. In large part this is down to the need to tune yourself back into its lower-geared steering, which sees you clutching another quarter-turn of lock in second- and third-gear corners. But it's also because the GTI has clearly been designed to deliver effortless pace rather than the Ford's fully interactive driving experience.
Let's start with the good stuff, of which there is plenty. The first surprise is that, despite the Golf's power disparity – with 207bhp it's 40bhp adrift of the Ford – it feels barely slower than the Focus, both in straight lines and when asked to deal with a twisty road. Full-throttle straights prove that, although the Focus can draw away, it does so slowly. Throw corners into the mix and the GTI's 225-section Bridgestone Potenzas generate every bit as much adhesion as the Ford's fractionally fatter Goodyears: throughout two days of hard driving (and with a Le Mans winner acting as the experiment's 'control') the two cars prove to be almost perfectly matched, regardless of the terrain they are being asked to digest.
The Golf also scores the nicer engine. The current incarnation of Volkswagen's 2-litre TSI motor deserves to be listed as one of the great turbo motors, with an almost perfectly linear response to the long-travel throttle pedal and an enthusiasm to rev that together belie its forced induction. It will happily pull past 6500rpm, filling the cabin with a zingy, mechanical tone that's every bit as pleasing as the Ford's bassier exhaust note.
Despite having what feels like firmer suspension settings, the VW rides just as well as the Ford, too, levelling out bumps and compressions that the ST's softer springs try to fill in. Following the Focus in the Golf over a bumpy road is a fascinating lesson in the differing approaches to suspension kinematics, with the ST's wheels being visibly deflected by imperfections that the Golf doesn't seem to notice. And despite the slower rack, the steering is perfectly decent and front-end responses are delivered with a faithful linearity that matches the rest of the driving experience.
What the Golf doesn't do nearly as well as the Focus is play. It's relentlessly sensible – clearly set up around a brief of grip rather than slip. In slower stuff this means that the GTI feels a bit dull and inert compared with the ST, without any of the Ford's enthusiasm for tightening its line. And there's pretty much no point in turning the traction control off – breach the limits and you'll just find understeer, while if you leave the systems switched on, the XDS electronic diff's ability to brake a spinning wheel to redistribute torque helps to keep the Golf on a chosen line.
The GTI's brakes also lack the bite of those in the Focus – and tire sooner when asked to deal with an all-corner diet. The Golf is summed up neatly by Wallace: 'It's good, but the Focus is just better.'
On first impressions, Ford has successfully trodden a very fine line with the Focus ST – dynamic enough to be genuinely interesting and sensible enough to justify itself as everyday transport. We'd take that official 39mpg figure with a generous pinch of salt – we managed a considerably less impressive 15mpg over 250 miles of hard testing. But it's fair to say that, if you'll let me cash a pun I've been sitting on for the entire story, this is a far more focused car than the Golf GTI. The VW is still a seriously impressive all-rounder – but the ST is definitely set to be the driver's choice. The next big question is how it will deal with the likes of the pricier and more powerful Mégane 265 and Astra VXR – a question we'll answer for you as soon as we can.
Yet there's a fascinating addendum to this story, a still unwritten chapter that could turn it on its head. Because the man who led the team responsible for both this ST and all of Ford's recent performance products – Jost Capito – has recently defected to Volkswagen. And with Ford refusing to confirm that we'll be seeing an RS version of this Focus, it's entirely possible that the ST will be as sporty as the range ever gets. With that in mind it doesn't require much imagination to see that, with VW's billions behind him, Capito will be using the Golf as the canvas for his next masterpiece.
A big thank you to DFDS Seaways for our ferry crossing. For more details visit www.dfdsseaways.co.uk
Visit/ford/focus-st/22846/ford-focus-st-review-can-it-stand-up-to-the-hyundai-i30-n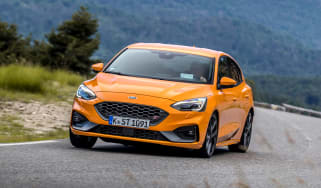 Ford Focus ST review - can it stand up to the Hyundai i30 N?
Visit/mercedes/gle/201748/2019-mercedes-gle400d-review-a-worthy-original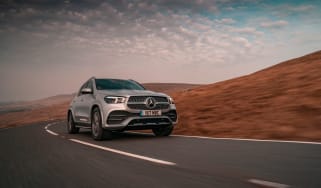 2019 Mercedes GLE400d review – a worthy original
Visit/porsche/porsche-911-carrera-4/201744/2019-porsche-911-carrera-4-and-carrera-4-cabriolet-detailed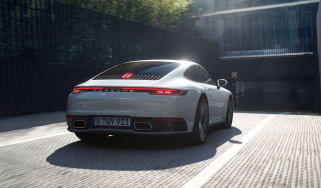 2019 Porsche 911 Carrera 4 and Carrera 4 Cabriolet detailed