You can now boost your Ford Mustang to 800bhp with a factory-supplied engine upgrade
Ford's new FP800S engine upgrade pushes the Mustang GT to astonishing power levels, and comes with a three-year warranty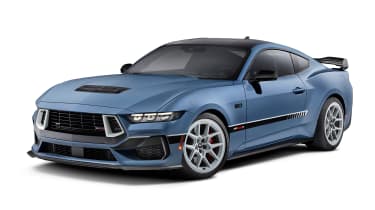 Extracting enormous power from your Ford Mustang would normally entail a visit to an aftermarket tuner such as Hennessey or RTR, but not anymore. Ford has launched a factory-developed FP800S engine upgrade kit to reliably achieve outputs of – you guessed it – 800bhp and beyond, with a warranty to boot. 
The package makes its debut at SEMA this month with a Mustang GT donor car, and applies to the latest S650-generation model that launched earlier this year. In US trim the GT's 5-litre Coyote V8 peaks at 486bhp and 418lb ft of torque, while the upgrade kit pushes this past 800bhp and 600lb ft. 
This has been achieved without any internal modifications to the V8 – instead, the FP800S kit is designed to feed higher volumes of fuel and air into the engine to generate extra power, with bespoke ECU tuning to optimise the mixture. 
Central to the upgrade is a 3-litre Whipple twin-screw supercharger and a dual intercooler system, which uses a larger heat exchanger than standard. High-flow fuel rails and injectors have also been fitted, along with a 120mm intake system that feeds an upsized 92mm throttle body. The components have been tested to Ford's durability standards and are covered by a three-year, 36,000-mile guarantee. 
All Mustang GTs are compatible with the upgrade – whether equipped with a manual or automatic transmission – and it'll be available to customers from next year.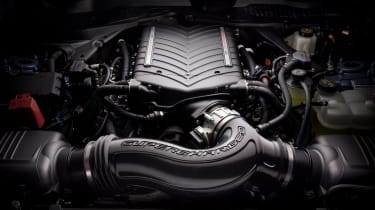 At extra cost, Ford will also offer strengthened driveshafts and uprated suspension to deploy all that grunt more effectively, and a Borla Extreme cat-back exhaust to allow the V8 to breathe more freely. 
The latest Mustang hasn't landed in the UK just yet, but our first drive of the more focused Dark Horse version indicates that it's a meaningful step on from the previous model. As of now, there's no word on whether the FP800S package will be sold on our shores.