Jaguar XFR buying guide - Jaguar XFR buying checkpoints
These are the things you need to know about buying the Jaguar XFR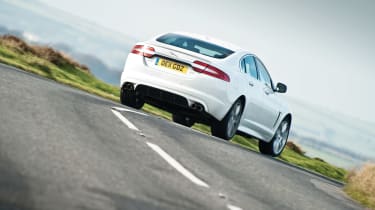 Jaguar XFR engine
The 5-litre supercharged AJ-V8 Gen III engine is proving pretty much bullet-proof provided it's serviced regularly. Officially that's every 15,000 miles, though specialist Tom Lenthall (tljaguar.co.uk) recommends every 10,000 miles or annually. The 105,000-mile service is the big one as it includes new plugs and supercharger belt. TL charges £512, but it'll be a lot more at a Jaguar dealer.
If the V8 soundtrack is a little too muted for your taste, the likes of Spires and Quicksilver offer more vocal exhaust components. TL Jaguar also offers a tuning package – supercharger pulley, K&N filters and a remap, which gives an extra 80-90bhp for £1400.
Jaguar XFR transmission
The automatic 'boxes rarely give problems – Lenthall recommends changing the oil and filter at 60,000 miles – but the e-diff can suffer 'issues', with fault codes usually traced to the diff-locking motor. A replacement costs £536.40 and takes around an hour to fit.
Jaguar XFR steering, tyres and brakes
Unsurprisingly for a big, hefty, powerful  rear-wheel-drive car, the XFR is heavy on tyres, brakes and suspension components. A set of tyres will cost around £900 so it's well worth factoring that into your price negotiations. Excessive wear on the inside edges of the tyres points to the need for a geometry check. The tyre pressure monitoring system occasionally throws up fault codes, but it's usually just the valve that needs replacing.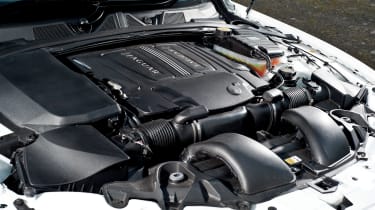 Jaguar XFR suspension
Listen out for clonks and knocks from the suspension on the test drive. Lower damper bushes are prone to wear – replacements are £22.50 each, plus around an hour per corner to fit. At higher mileages, the lower suspension arms, both front and rear, may also need replacement: budget around £250 for a front arm, £350 for a rear, including fitting.
Jaguar XFR body, interior and electrics
No XFR should be experiencing serious corrosion issues, so any signs of resprayed panels could point to accident repairs. The first-generation touchscreen control centre is a bit of a faff, but generally reliable. The standard hi-fi, meanwhile, isn't great; the Bowers & Wilkins upgrade is well worth holding out for.
>Find Jaguar XFRs for sale on Classic and Performance Car