Kia Ceed GT review and pictures
The Kia Ceed GT is a more practical, five-door version of the Proceed hot hatch. A cut-price VW Golf GTI rival?
What is it?
The Kia Ceed GT, the five-door version of the Proceed GT we've previously driven, and really quite liked. It costs £500 more than its three-door equivalent, prices starting at £20,500, and it's one of the only performance cars with a seven-year warranty.
Technical highlights?
The GT gets a 1.6-litre turbocharged four-cylinder engine. It's largely related to the Hyundai Veloster Turbo's unit, but here it's a smidge more potent, serving up 201bhp and 195lb ft of torque. Driving the front wheels via a six-speed manual gearbox only, 0-60 takes 7.4sec while the top speed is 143mph. This combines with CO2 emissions of 171g/km and 38.2mpg fuel consumption.
Compared to the regular Ceed, the GT gets retuned springs and dampers and a thicker rear anti-roll bar. The front suspension bushes are stiffer to sharpen steering response and reduce body roll, while there's an independent setup on the rear axle.  The 18in alloy wheels and 225/40 Michelin Pilot Sport 3 tyres are the largest of any Ceed model, while the standard car's adjustable electric power steering has been ditched for one, more direct setting.
Beefier brakes – 300mm discs up front, 262mm at the rear – serve up the best braking performance of any Kia ever made, apparently. Inside, a healthy standard specification can be upgraded to include a 7in touchscreen satnav, heated seats and steering wheel and a very high resolution reversing camera via the £2700 GT Tech trim line. All models get 'ice cube' daytime running lights and a TFT speedometer, which flicks between traditional analogue and a digital display featuring torque and boost gauges.
What's it like to drive?
It feels a little different to its large hot hatchback contemporaries, and depending on what you're looking for, this could be a very good thing indeed. It eschews the rather raucous thrills of a Ford Focus ST and the firm-riding solidarity of a VW Golf GTI for a well-damped, slightly softer dynamic character that really encourages you to maintain speed, as it can be hustled along without fuss. Raw-edged thills are absent, but there's a smoothness and composure that many rivals have traded for comfort-pummelling 'sportiness'. All told, Kia's choice of a 'GT' badge is finely judged.
The steering is devoid of feel but is consistently weighted, so front-end grip is easily judged. Grip levels are more modest than you'll find elsewhere, but it allows the Ceed to be fun and involving at lower speeds than its more potent rivals, and it's more adjustable than you might imagine too.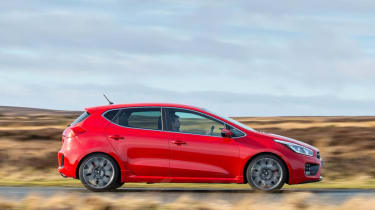 As we've mentioned before, its engine is the weak spot. Its mid-range punch is plentiful and you can really build up and maintain pace easily, while the nicely weighted pedals and slick manual gearchange ensure flicking up and down the six ratios is enjoyable. But the soundtrack is best described as flat, while harshness beyond 5000rpm will dampen your enthusiasm for journeys to the redline. A freer-breathing aftermarket exhaust might remedy these flaws a little, but it's hard to imagine buyers choosing this car over more focused rivals to be interested.
On a more prosaic note, this latest-generation Kia has interior quality to match or better numerous established rivals, and the interior is a really good place to be. Recaro seats are standard and the dashboard layout makes the clumsy design of that in the Focus look very ill thought-out.
How does it compare?
The Ceed GT sits well below its perceived rivals – the VW Golf GTI in particular – price-wise, though with a smidge over 200bhp, it's also down on power, its performance closer to the small hot hatch class than the larger rivals it compares to.
Its fiercest rival is probably the Ford Focus ST, itself incredible value, priced from £22,195 with a 247bhp 2-litre turbo engine with tons more character than the Kia's 1.6 and dynamics which are way more frisky and adjustable. Okay, so it costs more new, but shop around and a lightly used year-old example can be bought for Ceed GT money. If you value fun above warranties and comfort, it's probably the car to choose.
Given the Kia's levels of performance (and its low-ish pricing), some drivers may also be tempted by hot hatchbacks from the class below if ultimate space isn't a concern - the Ford Fiesta ST, Peugeot 208 GTI and Renaultsport Clio 200 Turbo are obvious choices, available for under £20,000.
Anything else I need to know?
This is just the beginning for sporty Kias, the company's vice president indicating a desire for more performance models and maybe a stand-alone sports car. Oh, and unlike rivals, Kia won't be fitting a twin-clutch automatic to the Ceed GT. The company's DCT transmission would be close to its tolerances handling the hatch's 195lb ft of torque.
| | |
| --- | --- |
| Engine | In-line 4cyl, 1591cc, turbocharged |
| Power | 201bhp @ 6000rpm |
| Torque | 195lb ft @ 1750-4500rpm |
| 0-60mph (claimed) | 7.4sec |
| Top speed (claimed) | 143mph |
| MPG | 38.2 |
| On sale | Now |