Lamborghini has revealed its first hybrid model at the 2019 Frankfurt motor show. Called the Sian FKP 37 in honour of ex-Volkswagen Group head Ferdinand Karl Piëch who passed away last month, it's based on the Aventador's chassis, but will not replace that model. Instead it will be a limited-edition machine that sits above the Aventador SVJ in terms of price, power and performance and according to its maker is the fastest, most powerful Lamborghini ever made. 
This is no silent-running, eco-friendly Lamborghini, though, as the hybrid system only subtly assists the car's naturally aspirated 6.5-litre V12 engine. The system also diverges from other hybrid models by substituting a heavy battery pack (usually lithium-ion) with a lighter supercapacitor.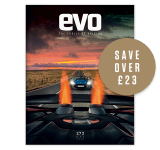 Subscribe to evo magazine
Subscribe today to have every issue of evo delivered straight to you. You'll SAVE 39% on the shop price, and get evo for its original cover price for a whole year!
> Lamborghini Sián Roadster revealed with 808bhp electrified V12
Supercapacitors differ from traditional battery packs in the way they store and supply electricity: they can absorb and expel energy far more quickly than a battery, but are less effective at holding on to a charge over a long period of time. Lamborghini says that the supercapacitor in the Sian will recharge to full after just one braking application, and although the car isn't able to run on electricity alone, it can draw on this 34bhp electric motor at speeds of up to 80mph to help out the V12. The V12 itself has seen a power increase from 759 to 774bhp thanks to the adoption of titanium intake valves. Combined, the powertrain is rated at a peak power of 808bhp at 8500rpm, likely putting to rest any fears of this being a boring supercar.
What the electric motor does is augment the V12's power delivery, in particular improving in-gear performance times, as well as torque filling during gearshifts. The Sian's claimed 0-62mph time is 'less than 2.8sec', just shading the time recorded by the SVJ, but it's the Sian's in-gear times that have benefited most. Lamborghini says that the Sian's traction has improved by up to 10 per cent and that its 40-70mph time is 1.2sec faster than that posted by the SVJ. 
The Aventador-sourced single-clutch transmission also benefits. This set-up has been an Achilles heel for Lamborghini compared with newer twin-clutch units, with the need to physically cut the ignition during changes as the clutch engages and disengages often leading to jerky progress. In the Sian the electric motor that's incorporated into the gearbox fills in while the V12 is momentarily disconnected, which should help smooth out the gearchange process. 
Where the Sian looks ahead under the skin, its aggressive design is supposedly drawn from Marcello Gandini's iconic Countach LP400 of 1974, with a clean silhouette defined by modern interpretations of both the Gandini line (the main character line down the car's flank), the NACA ducts on each side of the body and the tail lights formed of three hexagons. All three, you might agree, are quite loose connections to those original elements hidden within the Sian's complex styling, but it is a wonderfully extrovert look for what is Lamborghini's most powerful ever creation. 
Other exterior highlights include the rear wing that raises automatically as speeds rise along with temperature-activated cooling fins that operate without the need for additional electric motors. The Sian will also offer increased levels of personalisation, and an example of this is seen on the show car's Verde Gea (green) and Oro Electrum (electric gold) exterior hue covered with a precious multilayer paint that contains golden flakes and crystals.
The interior is a combination of the Aventador's underlying architecture with the new Huracán Evo's portrait touchscreen interface, but otherwise is less of a leap than the exterior design, although Lamborghini does say that some elements of the car's interior have been produced by 3D printing – a first for the Sant'Agata concern.
Lamborghini will build 63 Sians, all of which are already spoken for, but we suspect this will not be the last time we hear of Lamborghini utilising supercapacitors, as a whole new generation of Lamborghinis get ready to launch in the near future. Oh, and if you were wondering about the name, it means lightning bolt in the Bolognese dialect – no bull references this time – but quite apt for its first machine offered with electrical assistance.