Lamborghini P140 – dead on arrival
A V10-engined 'Baby Lamborghini' was in development more than a decade before the Gallardo was launched in 2003. This is the story of why it it never saw the light of day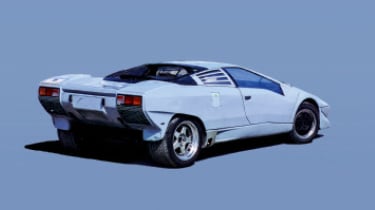 In 1988 Lamborghini stopped making the V8-powered Jalpa, ending an 18-year run of 'entry-level' models that started with the Urraco. Forever in the shadow of their V12-engined big brothers, these cars were never very popular, yet Lamborghini didn't give up on the idea of a more affordable model in its line-up. To this end, a year before the Jalpa was retired, the company began work on a new project codenamed P140, which would eventually step into the shoes of the forgotten Ferrari 308/328 rival. Better yet, it would feature something offered by neither the Jalpa nor any Ferrari: a V10. 
To wrap this brand-new, in-house engine and bespoke chassis, Lamborghini called upon favoured designer Marcello Gandini, who came up with a stubby wedge shape most notable for a pair of glass buttresses either side of the rear window and the designer's trademark kicked-up wheelarches. As a result, the P140 wasn't a classically pretty car, but this wasn't its biggest problem. A greater issue was money, or lack of it.
Lamborghini at the time was not a big company, nor did it sell many cars, and its owner, Chrysler, was not sending over blank cheques from Detroit. This meant there wasn't much cash to develop brand new models. The tiny engineering department also had its hands full already working on another project, P132, which would become the Diablo, and since this would be the company's flagship, replacing the sainted Countach, it had to take priority. Only once it was launched in 1990 could attention turn to its baby sister, but even then some engineering effort had to be given to Diablo variants, which were more attractive profit-wise. The P140 project was on the back foot, and when the world started to sink into the recession of the early '90s it was laid to rest after just three prototypes (including the one pictured here) had been completed.
> Renault Clio RS16 – Dead on arrival
P140 didn't entirely go away, however, because in 1994 Chrysler sold Lamborghini to Megatech of Indonesia and the 'entry level' project was restarted under the codename L140. Not everyone in the company was a fan, though. Chief test driver Valentino Balboni, for example, used to delight in deliberately spinning the prototype on the roads around the factory to highlight its fundamental handling issues. These issues came about because the V10 sat on top of the gearbox, a flawed layout that stemmed from the decision to define the distance between the wheels by dividing a Diablo wheelbase by 12 and then multiplying by 10.
The height of the drivetrain might explain why Giugiaro's rejected proposal for L140 looked somewhat ungainly and ill-proportioned when it was revealed to the world in 1995 as the ItalDesign Calà concept. In the same year, realising that it could never afford to develop a second model line with a bespoke V10, Lamborghini came up with a new plan, informally called 'Baby Diablo', which would use a bought-in engine instead.
An approach was made to Audi to discuss buying its 4.2-litre V8 engine and four-wheel-drive hardware, and though this project didn't make it to production, it opened the lines of communication that led to Audi buying Lamborghini in 1998, the result of which was a bump in cash and resources that allowed the Italians to dust off that old in-house V10 engine design so that project L140 could be rebooted and seen through to production at last. We know it today as the Gallardo. It took 15 years, but in 2003 Lamborghini finally got its V10-powered junior supercar.