We absolutely adore the Huracán LP610-4's ferocious performance and astounding 5.2-litre V10, but while it's undeniably exciting and shockingly effective, the four-wheel drive chassis is more about total grip and composure than outright entertainment. The new rear-drive version should put that right in some style…
> Click here for our full review of the Huracan range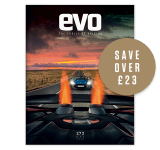 Subscribe to evo magazine
Subscribe today to have every issue of evo delivered straight to you. You'll SAVE 39% on the shop price, and get evo for its original cover price for a whole year!
What is it?
Ostensibly the Huracán LP580-2 is a new entry-level car for Lamborghini. At around £160,000 it undercuts the £186,700 LP610-4 by a big margin and it's also a shade slower, has steel brakes instead of ceramics as standard and seems like a de-contented version of the full fat model. Of course there's much more to it than that. Lamborghini is acutely aware of the criticism that the four-wheel drive Huracán has faced in some quarters and the LP580-2 looks to address concerns that their supercar is clinical rather than entertaining.
The big news is the switch to rear-drive. As a result, weight is down by 33kg to 1389kg (dry) and Lamborghini claim that 'Every aspect of the LP580-2 has been engineered for driving fun.' Disappointingly power is down. However, our experience of the dry-sumped 5.2-litre V10 suggests that the trim to 572bhp at 8000rpm and 398lb ft at 6500rpm won't be too much trouble. The standard car is ballistically fast and you'd swear it has more like 700bhp, so maybe this will feel like 650bhp's worth… The official stats say that the LP580-2 runs from 0-62mph in 3.4-seconds (compared to 3.2), 0-124mph in 10.1-seconds (versus 9.9) and tops out at 199mph whereas the LP610 will hit 'over 202mph'. Those figures put it well behind a McLaren 570S, let alone a 650S, but independent tests of the LP610-4 show it massively outperforms the claimed acceleration figures. Let's just say that the LP580-2 should be plenty quick enough.
Technical highlights
As with the four-wheel drive Huracán and its sister Audi R8, the LP580-2 has an aluminium/carbon-fibre chassis, double-wishbones all round and comes with either fixed-rate dampers or variable 'MagneRide' as an option. The 5.2-litre V10 still drives exclusively through a 7-speed dual-clutch 'box and, should you so desire, you can choose to have the variable-ratio Dynamic Steering system. Rather than carbon-ceramic brakes the LP580-2 comes with eight-piston calipers at the front with 365mm steel discs with four-pots at the rear with 356mm rears. Ceramics cost around £5000 as an option.
The LP580-2 benefits from retuned springs, dampers and anti-roll bars, a revised steering set-up that's said to provide more direct feedback and the weight distribution is slightly different at 40:60 rather than 42:58 as with the four-wheel drive car. As before there are Strada, Sport and Corsa driving modes. Strada is said to provide a slightly understeery balance, Sport is more fun and swings the balance to oversteer and Corsa is for maximum performance and is therefore more neutral. The ESC settings, throttle and gearbox map, dampers (with MagneRide), steering weight and response (with Dynamic Steering) are tweaked to deliver these various modes. You can, of course, disable ESC altogether.
The new rear-drive model also benefits from revised styling, with wider intakes at the front to increase downforce over the front axle, new rear bumper and exhausts and unique 19-inch 'Kari' alloys wrapped in bespoke P Zeros that have been developed specifically for this 'fun' new model.
What's it like to drive?
Don't concern yourself with the theoretical drop in performance, because the LP580-2 still feels mighty, mighty fast, howling through each gear in a frenzy of noise and acceleration. The 5.2-litre V10 is such a sweet, savage motor and its class and precision seems more appealing than ever now that all of the competition is turbocharged. The 488GTB has a very clever turbocharged engine – a game changer for forced induction – but it can't match the excitement of a Huracán at maximum attack.
And the chassis? That's a slightly complicated one to unpick. We only drove on track and all of the cars were fitted with MagneRide and Dynamic Steering. The LP580-2 retains the Anima switch of the four-wheel drive car and Strada, Sport and Corsa modes are very different. For me Strada is a waste of time, and I can't imagine many owners electing to drive their car much in a quiet mode with a slightly lazy throttle response and pronounced understeer. Let's skip that. Sport mode sounds more fun, slackening off the dampers (in general this car is already around 10-percent softer at the front axle than an LP610) to allow more turn-in bite and nice, progressive oversteer. The problem is that the ESC remains slightly too pervasive and certainly isn't tuned with the leeway of something like Ferrari's Side Slip Control nor a McLaren's Sport ESC setting. In Sport the car also upshifts automatically as you approach the limiter – not what you want mid-slide at all.
>Read our Lamborghini Huracán LP 610-4 review
These are pretty fundamental problems in a mode designed for 'maximum driving fun' and switching off the ESC only partially solves it. You still have the fear of an unwelcome upshift and the ESC seems to still grab the front brakes as you turn-in and the rear begins to slide. It's a bit odd. In quicker corners the control is also a bit too soft, the rear almost rolling into high-speed oversteer, which is unnerving. Corsa is altogether better. Turn-in isn't so sharp but the body control is more consistent, in manual mode it won't change-up unless you command it and the ESC is properly off when it says it's off.
So once you've worked all that out you can start to drive. What you find is a car that at times seems to be wrestling with itself. It wants to be fun, it really does. But there's still more steady state understeer than you'd like and expect and somehow the car still feels a bit bottled-up. The balance improves the harder you push, any turn-in understeer eeking away under power and when you hit the sweet spot it feels deliciously poised, just slipping sideways but not requiring big corrections. Start to bully it around and it also responds beautifully: Snag a brake into the corner, feel the tail edge wide, then use that amazing power delivery to balance the car in a gentle slide or go the whole bonfired-tyres route… The LP580-2 is happy to oblige. Of course a ferociously fast Lamborghini screaming into oversteer is quite something to experience. Fun? Oh yes.
Lamborghini persist with Dynamic Steering and although we've criticised this system before it genuinely bears repeating. To us it seems a fundamentally flawed idea. The best steering systems are consistent and breed confidence whereas a set-up that's deliberately different every time you turn the 'wheel will always be counter-intuitive and rather perplexing. For a car that's meant to be all about feedback and 'connection' it just doesn't fit. Avoid.
Overall though, the LP580-2 is something close to a triumph. It's a relative bargain (you know what I mean), the drivetrain is absolutely a thing of wonder and you can now dictate its balance and get really involved in the driving process. My only concern is that on the road, where you can't chuck the car into corners on the brakes or exit with the tyres fully lit-up, that slightly conservative set-up in Corsa mode will make it feel less agile than some of the competition at sane speeds. Perhaps Sport mode will make sense out in the wild. What's clear though is that the fundamentals of this car are outstanding and if the guys at Lamborghini can stop the soul-searching and just make it as sharp, as intense and as exciting as it could be then we'd have something truly special. Let's hope the next Superleggera is rear-drive and that none of the modes are tuned for a 'slight understeering feeling.'
How does it compare?
Priced a good £25,000+ less than the LP610-4, 488GTB and McLaren 650S, the LP580-2 is a seriously enticing proposition. Add in the fact it's the only rear-drive, normally aspirated mid-engined supercar left at this price point and it seems even more of a no-brainer. We need more miles and some road driving to give a full verdict but it's clearly going to be a big hit for Lambo.   
Anything else I need to know?
Did I mention TO AVOID THE DYNAMIC STEERING? No? Well to be clear, AVOID THE DYNAMIC STEERING.
Engine
5204cc, V10, 40v
Power
572bhp @ 8000rpm
Torque
398lb ft @ 6500rpm
0-62mph
3.4-seconds (claimed)
Top speed
199mph (claimed)
CO2
278g/km
Price
circa £160,000