Lexus GS-F previewed ahead of Detroit auto show
Lexus has released two teaser images of a new hot model. We reckon it's a forthcoming GS-F model to rival the BMW M5...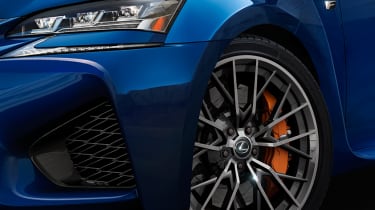 Lexus has released two teaser images of a new hot F model to join its RC-F. We know the car will be unveiled at the Detroit motor show on 13 January, but other than that information, there's nothing. So let's speculate...
Those headlights look suspiciously similar to the current Lexus IS, don't they? Well we thought they did, but then we were reminded that the GS is due a facelift and could quite possibly earn this sort of nose. And there's a giant hole in Lexus' current line-up for a hot version of the four-door saloon. So we now reckon the car on its way to Detroit will be, drum roll... the new GS-F.
Equipped with the RC-F's 5-litre V8 engine, it'll probably produce the same 471bhp and 391lb ft of torque, and be good for a 0-60 time of around 4.5sec. You might even go so far as saying the top speed will be over 160mph (ok, we'll stop copying the RC-F's specs list).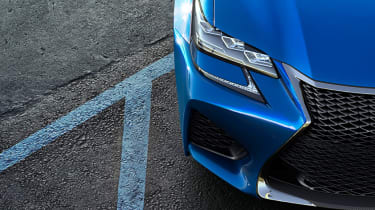 But seriously, we ran the old IS-F in our Fast Fleet a few years back - read the goodbye here - and are currently running the coupe RC-F's German equivalent, the BMW M4. Creating a larger M5 rivalling GS-F hot saloon makes sense.
Whatever it is, the fact it's an F model confirms Lexus is serious about 'sexing-up' its image with performance models. Confirmation that the stunning LF-LC concept will make production is another example of this.
Check back here in January for a confirmation of what the car actually is when it's unveiled. Do you think we're way off the mark?
Watch the video below to meet the new car's sibling, the RC-F coupe: