Lexus LFA production ends
After a production run of 500, the final V10 Lexus LFA supercar has rolled off the production line in Japan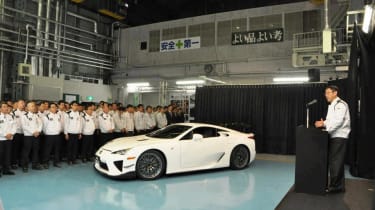 The LFA was Lexus's first attempt at a full-on supercar, and after almost exactly two years and 500 examples later, the company has shut down production at the Japanese Motomachi assembly plant.
Production of the normally aspirated V10-powered LFA started in December 2010, and continued at the rate of one car per day for two years. The LFA's V10 engine was so good, it took evo's engine of the year award in 2010.
Leaving the production line during a ceremony to mark the end of an era, the final white Nurburgring Edition LFA will most probably be the last supercar of this kind from Toyota, with plans to revive the Supra using a Tesla-derived electic drivetrain.
evo's Lexus LFA videos, news and reviews:
- Lexus LFA laps the Ring in 7:14- Ferrari 599 GTO v Lexus LFA road test- Lexus LFA Nurburgring Edition video review- Lexus LFA v Lexus IS-F track test video- Lexus LFA on UK roads- Lexus LFA review