There is a small but illustrious group of supercars that all share one very telling attribute. The Lexus LFA, Bugatti Veyron, and even the original Ford GT40 are part of this club, but it's not an engine type or design language. It's a philosophy.
If you haven't guessed by now, all of these cars were personal pet projects, funded by multinational car manufacturers to fulfil the requirements of their respective and exacting CEOs. Whether it was built to settle a vendetta like the Ford, or an exercise in technical superiority like the Bugatti, the personal project car rarely if ever makes financial sense for manufacturers, but usually creates some pretty special cars in the process. The LFA was the vision of Toyota CEO Akio Toyoda. After years of underwhelming product, a world-beating supercar was on the agenda, although the car Toyota ended up with was likely vastly different to the car Mr Toyoda initially imagined.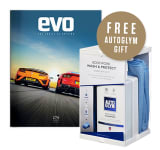 Subscribe to evo magazine
Subscribe today to our exclusive new offer and SAVE 39% on the shop price, get evo for its original cover price of £3.00 an issue, plus get a FREE gift worth £20!
> Click here to read our review of the Lexus GS F
Designed to reflect Toyota's fruitless Formula One campaign, by the time the V10-powered supercar finally reached the road it was considered over-priced, underpowered and saddled with a problematic gearbox. But the reality is that away from contemporary rivals, the LFA has more than proved its worthiness.
History
The LFA name first appeared in 2005, with Lexus revealing the first LF-A concept car at the Tokyo motor show, but development of a Toyota/Lexus supercar began some five years before, with the project actually kicking off in early 2000. After five years of development, the initial LF-A concept was aesthetically close to the eventual production car, sharing the same surfacing quality and overall silhouette. But the concept was built on an aluminium chassis and as development continued, so the cars estimated kerb weight began to become a liability.
To negate the weight gain, the already five-year initial development period was pushed further, when Toyota decided to instead construct the car entirely from carbonfibre. To coincide with the change of building method, Lexus launched another concept in 2007, again called LF-A, but this time with more dramatic styling and now publically confirming a future production version.
The road car was finally revealed at the 2009 Tokyo motor show, along with a £340,000 price tag and confirmation that only 500 units would be built. Thanks to its long-winded development and expensive carbonfibre construction, the LFA road car (now without the hyphen) was still a loss maker for Toyota despite its huge price tag.
The LFA was not universally praised on its release either, with many writing it off as an expensive irrelevance thanks to its relative performance disadvantage compared to cheaper mass production rivals. As time has gone on though, its flaws have softened and the LFA's incredible engine and stunning build quality have risen above the usual critique that is always levelled at cars when they are brand new.
> Click here for our drive of the LC 500 coupe
Lexus also brought out a more track focused Nurburgring package later in the LFA's lifecycle, featuring a more aggressive front splitter, fixed rear wing and new, lighter wheels. Together with retuned suspension and an 11bhp power boost, the package cost an extra £63,600 over the top of the standard car bringing the total cost to over £400k.
Engine and Transmission
If there is one component that defined the LFA, it's the naturally aspirated 4.8-litre V10 engine. It's not the most powerful unit, in fact the V10 in a Porsche Carrera GT that preceded it by 6 years produced more horsepower. But, if judgement was to be made on how a car produced its power, the LFA is a complete masterclass of internal combustion.
The V10 itself, named 1LR-GUE by Toyota, was co-developed by Yamaha and is completely bespoke. Built from an aluminium, magnesium and titanium alloy, Toyota boasted that the 4805cc V10 was smaller than a traditional V8 and the same weight as a V6. The 'GUE' was built to an incredibly high tolerance, featuring electronic individual throttle body control, a dry-sump lubrication system and lightweight forged internals to reduce internal inertia as much as possible.
Peak power was rated at 552bhp at a head spinning 8700rpm, while peak torque was 354ft lb at 6800rpm. The engine's true capability was not just about on paper performance though, as the unit itself was often likened to a musical instrument in the way it responded – hence Yamaha's involvement. It was so intricately engineered that it was able to rev between idle and its 9500rpm redline so quickly a traditional tachometer needle was not able to keep up.
> Click here for our review of the Ferrari 599 GTO
To achieve a near perfect weight distribution, the gearbox was mounted at the rear and connected to the engine via a rigid torque tube. Curiously, Lexus also placed the exhaust system in the same transmission tunnel to bring the driver and passenger further inboard. This was done for the benefit of the LFA's centre of gravity, putting as much weight as possible closer to the centre-line of the car.
The LFA's powertrain weakness lied in its single-clutch semi automatic gearbox. Unable to match the response or driveability of gearboxes in cheaper rivals, the main issue was that by the time the LFA reached the showroom floor Ferrari was already integrating vastly superior dual-clutch gearboxes into its line up – as were Audi and Mercedes-Benz.
Suspension, steering and brakes
The opportunity for Toyota to create a bespoke chassis for the LFA meant there was very little mechanical compromise to be deal with. As a result, Lexus decided there was no need for adaptive dampers, instead utilising coil-over dampers attached to front double wishbone suspension and a multilink rear axle. The brakes are relatively standard six-piston Brembo monoblock calipers up-front and four-piston on the rear, gripping carbon ceramic disks, but had incredible stopping power.
Interior
The LFA may have been a little pricey at launch, but it's likely that people with the means to buy one wouldn't have been bothered by it. What they would've been bothered by is stepping into an interior that didn't justify the price tag. Like the exquisite engine, the interior was cleverly designed and beautifully executed to create a space that made you feel like you were driving something really special.
Aesthetically unlike any other Lexus cabin, the LFA artfully integrated the infotainment and HVAC controls into a striking sweeping centre console, while the infotainment screen was artfully hidden away. The LFA was also the first Lexus to get digital dials, combined with a metallic bezel that changed the display depending on the driver mode. As mentioned above, the LFA required a digital rev counter as a traditional needle would have been unable to keep up with the rate of which the engine revved.
The materials used were just as indulgent and specialised as those used elsewhere in the LFA too. Milled aluminium and magnesium were used for the switchgear and indicator stalks, polished carbonfibre for the steering wheel and waxy soft leather for the sculptural seats and dash-top. It was expertly put together in a way that was unheard of for a car in limited production and helped elevate the LFA to a point beyond rivals like the Ferrari 599 GTO.
Rivals
At £340,000 its probably right to assume that buyers could likely buy the LFA and any or all of its rivals if they wanted to, but working in a matter of context the LFA's price doesn't sound as ridiculous as it once might have.
The LFA's closest rival in terms of price, capability and exclusivity would be the Ferrari 599 GTO. Limited to 599 units, the GTO was priced at £305,000, offered more performance from its equally musical V12 engine, but was definitely more of a hard-core stripped out racer than the comparatively sumptuous LFA.
Lamborghini's Aventador arrived around a year later, offering even more power from its 6.5-litre V12 and was also around £100k cheaper, but due to its series production status lacks the rarity factor of the other two cars.
The fact is though, that the LFA has not lost any of its value in today's market, and ignoring the 599 GTO's insatiable rise in prices like all limited edition Ferrari's, is a more solid way to invest your £350k without too much fear of depreciation.
Jordan Katsianis
Specs
| | |
| --- | --- |
| Engine | V10, 4805cc |
| Max power | 552bhp @ 8700rpm |
| Max torque | 354lb ft @ 6800rpm |
| Transmission | Six-speed semi-automatic, rear-wheel drive |
| Tyres | 265/35 R20 Y front, 305/30 R20 Y rear |
| Weight (kerb) | 1614kg |
| Power/weight | 342bhp/ton |
| 0-62mph | 3.7sec (claimed) |
| Top speed | 203mph (claimed) |
| Price | £340,000 (2010) |
What we said
We attended the European launch of the Lexus LFA back in 2009 - keep reading on the next page for our full review by John Simister