Engine and gearbox
It's the RC F's engine that really sets it apart from the competition. Not because it has huge reserves of power or torque, but because its 5-litre V8 is naturally aspirated, which allows its performance to be more liner and progressive and, as a result, the entire car to be incredibly controllable and approachable. It also makes a glorious noise, mostly an induction bark that turbocharged engines simply cannot replicate.
Let's get the matter of the figures out of the way, though, because they are important. It produces 470bhp, which is bang in the middle of the competition. It's a little down on torque, a symptom of its lack of turbos, with 391lb ft. The sensation of less torque is then exaggerated by peak lb ft starting at 4800rpm, about 2000-3000rpm after a turbo engine will hit max torque and just a few hundred revs before one would run out of puff too.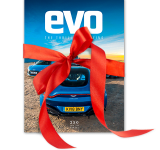 Subscribe to evo magazine
If you're passionate about the world's greatest performance cars, experience the thrill of driving with evo magazine. Try your first 5 issues for £5.
All that means is you have to work the engine a little harder and keep the revs closer to its 7000rpm limit. The eight-speed automatic transmission, a Lexus unit and not the ubiquitous ZF gearbox, helps you do that with quick – but not quite dual-clutch quick – changes and plenty of ratios to choose from.
It must be said, however, that the RC F's V8 isn't quite as tantalising or as exciting, especially at its top end, as you might expect from a Japanese, naturally aspirated engine. It's certainly not akin to an LFA V10 with two fewer cylinders. Yes, the noises are pleasant, but you do long for a higher rev limit and harder-edged noise to reward your extra efforts making up for the shortage of available torque.