An uncomfortable journey in a Lotus 2-Eleven – evo Archive
What better car for taking the indirect route from the Midlands to central France than… a windscreenless Lotus?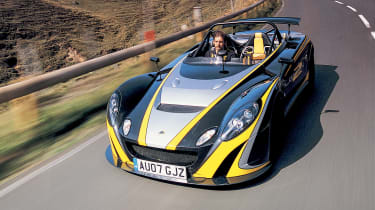 Avoiding Paris was a potentially sound choice. The Périphérique is the sort of nightmarish confusion of a ring road that a tight convoy joins sometime late morning, only to emerge in confused dribs and bewildered looking drabs long after the French capital has finished consuming its lunchtime baguettes. To commit to it via a clogged slip road is to enter a multi-lane maelstrom with all the discipline and politeness of the opening battle scene in Gladiator.
So, that's why Harry 'Pied Piper' Metcalfe decided we should avoid any possibility of glimpsing the Eiffel Tower on our way to Clermont-Ferrand for evo's 2007 Car of the Year test. Instead our illustrious editorial director decided to plot a course via Troyes to the east of Paris. About 100 miles to the east. 
Yes, this would add about 90 minutes to our overall journey time, but it was deemed acceptable in order to avoid the tenth circle of hell. And most people were happy to spend a bit more time in the surroundings of such pre-eminent eCoty contenders as Mercedes' CLK Black Series, Porsche's 997.1 GT3 RS and Nissan's 350Z. I followed unquestioningly because not only did my allocated car not have an inbuilt satnav, it didn't even really have a windscreen to attach a portable one to. 
> 2022 Lotus Emira – powertrains, specs and prices
I love the Lotus 2-Eleven but it is not a car for long journeys involving motorways. A crash helmet was essential (and not just to cover the handlebar moustache that I had decided to grow) but brought its own problems because at almost exactly the speed limit on an autoroute a quirk of the eddying airflow round my bonce-protector meant that my head would subtly but insistently wobble like a spinning plate slowing to the point of topple. Throw in the constant white noise of a hurricane (little H – I'd happily listen to the music of a Hawker's Merlin for hours) and you have quite a wearying experience. 
To this day I'm not quite sure where we went, but I suspect at one point we were much closer to Lyon than Clermont-Ferrand. And at some juncture after it had got dark I know Richard Meaden and John Barker staged a mutiny and took navigational matters into their own hands before we ended up in the Pyrenees. I remember chasing them through the night along single-carriageway N-roads at serious speeds, feeling like I was at Le Mans and wondering if I'd get to do the dawn stint as well. Then there was some more autoroute (with the wheel on the right and harnesses to contend with, tolls were not the work of a moment…) before we pulled into yet another petrol station with about half an hour to go to the hotel.
Despite knowing that the final miles would be composed of the sort of tight, twisting roads that would be much more suited to a Lotus than almost the entirety of the route thus far, it was at this point that I relinquished my seat in the little 2‑Eleven. I remember exhaustedly slumping into the passenger bucket seat of the CLK like it was a feather bed. In the years since, I have done many long journeys across Europe, but never have I been quite so done-in as I was that night.
Just over half an hour later, we arrived at the hotel. I remember walking into the bar to find some of the rest of the evo team already there, fed, watered and relaxed… having gone via Paris.