evo 265 – on sale now!
What makes the perfect sports car? We drive the newest, enjoy some past masters and go in search of the answer.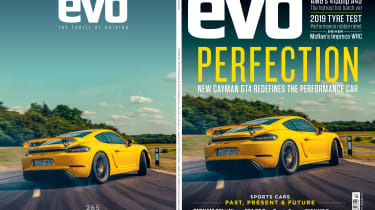 1/8
It's a strong statement to call something perfect. In the new issue of evo magazine we take our first steps with the new Porsche 718 Cayman GT4, and if you hadn't already noticed, we think it's really rather good. But it's why the new Cayman GT4 is so good that has driven what evo issue 265 is all about, as we take a deep dive into what makes a great sports car.
So, the new GT4. An update on an ex-eCoty winner, with a fabulous combination of all the elements we deem most crucial in a sports car. We could have just stuck it on a track and be done with it, but we didn't, instead taking the new GT4, along with its iconic forebear, into the wilds of Scotland to really get under its skin.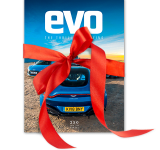 Subscribe to evo magazine
If you're passionate about the world's greatest performance cars, experience the thrill of driving with evo magazine. Try your first 5 issues for £5.
The 718 GT4 might redefine the sports car for today, but we also wanted to enjoy our sports car heroes from the recent past, too. To this end we brought together the R34 Nissan Skyline GT-R, BMW M3 CSL, TVR Sagaris and that previous 981 Cayman GT4 to discover what it was about them that fulfils the sports car brief.
This issue we've set out to settle a family feud in by bringing Toyota's Supra and BMW's M2 Competition, taken an in-depth look at Lotus's next chapter, the 2000bhp all-electric Evija, driven the new 416bhp Mercedes-AMG A45 S, and found ourselves behind the wheel of Colin McRae's 1997 Subaru Impreza WRC rally car. 
We've also published our 2019 Tyre Test plus the usual roster of news, first drives, columns and Fast Fleet sections. We hope you enjoy the issue!