Maserati GranTurismo
Four new tyres were needed for the Maser as the odometer clicked past 9,000 miles....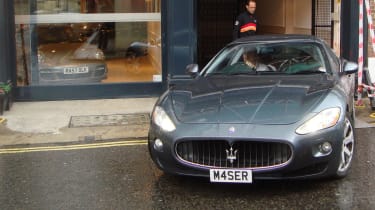 The odometer had just clicked past 9000 miles when I first noticed the rear tyres on the Maser were shot. That seemed a little premature, but the real shock came when I checked the fronts and discovered they needed replacing too.
Just as I used to find with my old Ferrari 550 long-termer, the rear tyres were worn right across the tread while the fronts looked OK at a casual glance but were in fact worn down almost to the canvas on the inside edge, so I couldn't waste any time in getting replacements fitted.
I would happily award the original Bridgestones five stars for both grip and road noise, but rather than change like for like I've decided to give a set of Pirelli P Zero Rossos a try (they worked well on the 550) to see if they'll last any longer. With the mileage I seem to be doing in the Maser each month, it won't take long to find out.
At least I've discovered a way of eking a few more miles out of every gallon to offset the GranTurismo's appetite for tyres. Having flown in to Heathrow Terminal 5 at 9am on Easter Sunday when I should have arrived at 6 o'clock on Saturday evening, several inches of snow was the last thing I wanted to see, and with the roads leading away from the airport completely white, I switched the Maser's auto gearbox to 'Ice' mode before setting off for home.
Joining the M25 the snowy conditions soon disappeared, but I'd forgotten all about having selected Ice mode and merrily made my way along the M40 with it still engaged. In fact it wasn't until I was on my way to the office the next morning that I realised what I'd done – and noticed that my average mpg had risen to 24.5mpg, some 10 per cent better than I'd ever seen before.
I can't believe the fuel saving is all down to setting off in second gear rather than first, so I can only deduce that switching to 'Ice' also introduces a different engine map. To make sure it wasn't a fluke I left the mode engaged for another 1000 miles and, sure enough, the result was a steady 24mpg-plus. I don't know if this works in other cars, but with fuel prices the way they are it might be worth a try if you carry the same meanness gene as me!
Finally, with a number of appointments in London recently, rather than trying to use a mix of taxis and tubes to get around I thought I'd spend some of my Segrave Club points and try out their black Maserati Quattroporte instead. It was a relative bargain, costing me only 10 points for the day compared with the 180 points I had to spend to get the club's Carrera GT to Yorkshire for our ultimate Porsche test in issue 117. Oh, and did I mention that the QP came complete with a female chauffeur? Is there any cooler way to travel round London? Probably not.
Running Costs
| | |
| --- | --- |
| Total mileage | 10,290 |
| Costs this month | £1014 (tyres) |
| Mileage this month | 2060 |
| MPG this month | 23.4 |