Certain cars are core to evo's ethos. The Porsche 911, winner of several evo Car of the year competitions, is an obvious example. BMW M3s, Renaultsport Clios and Meganes, Caterham 7s, MINIs and Lotus Elises have also been cornerstones of various group tests over the years.
The Mazda MX-5, celebrating its 30th anniversary in 2019, is another, and with the cheapest examples available from three-figure sums, it's also one of the most affordable ways of experiencing the thrill of driving.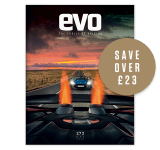 Subscribe to evo magazine
Subscribe today to have every issue of evo delivered straight to you. You'll SAVE 39% on the shop price, and get evo for its original cover price for a whole year!
> Mazda MX-5 30th Anniversary Edition revealed
Its popularity means easily-accessible parts, plenty of choice and low prices. Their ubiquity also makes finding a car with the perfect specification difficult, however – but which of the dozens of standard vehicles and special editions have risen above the rest over the years?
1990 Roadster V-Special
Few MX-5s disappear from specialist forecourts as quickly as an imported Eunos Roadster V-Spec. Originally sold only in Japan, but now prevalent in the UK thanks to a few decades of imports arriving here, it turns the car's retro styling up to eleven.
V-Specs featured British Racing Green paintwork with a tan leather interior. A wooden-rimmed Nardi steering wheel and matching wooden gearknob further boosted the British sports car vibe - while as an imported 1.6 a viscous limited slip differential was standard. Prices for nice examples are higher than that of standard models, but they should remain so too as early MX-5 values firm up.
1991 MX-5 Le Mans 24
Even if you knew nothing else about the MX-5 Le Mans 24 you'd have to be trying hard to ignore it - the orange and green "Renown" livery, inspired by Mazda's 1991 win at the Le Mans 24 Hours, makes this probably the most distinctive MX-5 special ever made.
The car was a collaboration between Mazda UK and BBR, who had already taken it upon themselves to turbocharge the MX-5 in 1990. In addition to the engine, now producing around 150bhp, the Le Mans received uprated springs and dampers, five-spoke OZ wheels, and a certificate of authenticity signed by one of the winning drivers, Johnny Herbert.
1992 M2 1001 "Cafe Roadster"
If you want to know how flush with cash Japanese carmakers were in the late 1980s and early 1990s, you need look no further than Mazda's M2 Incorporated, set up purely to explore the possibilities of extremely limited-run versions of its production models.
The first product to come from M2 - which ultimately was closed when the Japanese market crash curtailed gleeful overspending - was the 1001, dubbed the "Cafe Roadster". Its specification came in well above anything offered in a Mazda showroom, from its 1.6-litre engine tuned to 128bhp (from 115bhp), to special bucket seats, retrimmed interior, four-point roll cage, Panasport wheels and more.
M2 built 300 units (similar to other MX-5 specials) and followed it up with the luxurious 1002 in 1993, and in 1995, the M2 1028 "Street Competition" Roadster with a full six-point roll cage. All are among the most valuable and desirable MX-5s Mazda ever produced.
1994 Roadster RS-Limited
If M2 made some of the most desirable "unofficial" Roadsters, the RS-Limited is one of the most sought-after regular specials. Based on the 1.8-engined car, equipment included Bilstein suspension, a lightened flywheel, shorter final drive ratio and thicker anti-roll bars.
There's also a suspension tower brace and Nardi interior treats, but the most distinctive additions are a pair of carbon-kevlar Recaro seats and the deep Montego Blue paintwork.
A handful of RS-Limiteds have made their way over to the UK over the past few decades but their rarity, together with the increasing rarity of original, unmolested examples (those Recaros often go walkies) means values are rising quickly.
1999 MX-5 10th Anniversary
Mazda went into overdrive with the Mk2 MX-5, selling 17 different special editions in the UK alone. As is often the case though, one of the earliest is also one of the best.
Celebrating ten years of the MX-5, the 10th Anniversary was sold worldwide, 600 reaching the UK. A set of chrome-finish wheels and sapphire blue mica paintwork, plus 10th Anniversary badging, marked out the exterior as something special.
Inside, the blue theme was continued onton the Alcantara seat faces and two-tone steering wheel. Mechanically, the 10th Anniversary was the first MX-5 with a six-speed transmission. Good 10th Anniversary models are still affordable, and are likely to become some of the most valuable when the NB MX-5 becomes an accepted classic.
2003 Roadster Coupe
Mazda had dabbled with making a fixed-roof version of the MX-5 on several occasions while the first generation car was on sale. One prototype resides at Mazda HQ in Hiroshima, while M2 Incorporated and Mazda USA (with the M-Coupe) tried alternative approaches.
But only the second-generation car ever got the production coupe treatment. Exact numbers are hard to come by, but it's in the hundreds rather than thousands, split across three variants - the fairly standard-looking Type S, a sporty Type A with wheel arch extensions and a body kit, and an ungainly retro-styled Type E.
1.6 and 1.8 engines were available and body styling aside, spec was fairly standard - other than that roof, welded onto the regular Roadster shell on a separate production line. When they come up for sale in Japan - and that's not frequently - prices can reach the equivalent of £15,000.
2004 Mazdaspeed Miata
The MX-5's lack of power has long bugged some driving enthusiasts, and in 2004 Mazda finally got around to addressing that with the Mazdaspeed Miata. Sold in the US and Canada as the Mazdaspeed, Australia as the SE and Japan as the Mazdaspeed Roadster, Mazda finally bolted a turbocharger to the 1.8-litre engine.
At 178bhp and 167lb ft the outputs weren't staggering, but amazingly the power figure is still only 4bhp shy of the very latest, high-revving Mk4 2-litre car. A set of 17-inch Racing Hart alloy wheels, a heavier-duty transmission and special interior trim joined the equipment list.
2009 MX-5 20th Anniversary
The second of Mazda's anniversary specials, the 20th Anniversary was based on the facelifted NC MX-5, commonly known as the "Mk3.5". Colour choice reflected the three original colours offered on the MX-5 - blue, white and red - and a racing-style sticker pack was available.
While it was based on the 1.8 rather than the 2-litre car, the 20th Anniversary did get colour-coordinated touches, a front suspension tower brace, 17-inch alloys and a new grille, though UK cars lost out on the Recaro seats offered in Japan.
2016 Roadster NR-A
Ever wished you could buy a car off the showroom floor with equipment already suitable for motorsport use? Japanese companies have been doing it for years, offering de-contended cars, like the lightweight Mitsubishi Lancer Evo RS models.
The Roadster NR-A is one of these cars. The first version arrived in 2002, and Mazda has offered an NR-A of every model since in Japan. The latest is based on the 1.5-litre car and lowest trim level, but adds brakes from the 2-litre, extra chassis bracing, adjustable Bilstein suspension, a larger radiator and the 2-litre's limited-slip diff - as well as a six-point roll cage with door bars, bucket seats and harnesses, and tow hooks.
2016 MX-5 Global Cup Car
Built by Long Road Racing in the United States, the MX-5 Global Cup car is Mazda's current one-make MX-5 race car, with competition taking place primarily in the US and currently sanctioned by IndyCar.
Global Cup cars are relatively production-standard in many ways, with a sealed 2-litre engine and Bosch race ECU, six-speed transmission (with upgraded internals) and limited-slip differential. There are concessions to racing of course, from the stripped and roll-caged interior to the uprated brakes, suspension and BFGoodrich slick tyres, but the idea is the same as any MX-5 racing series: close competition that puts driver skill first.