McLaren hits new sales high in 2017
McLaren sold 3340 cars in 2017 a new record for the brand with the North American market taking the most units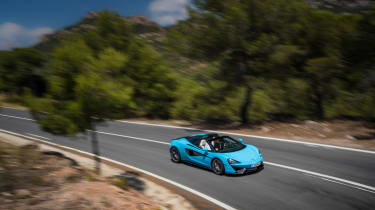 McLaren Automotive's progress has been remarkable in recent years, developing the original MP4-12C through the astonishing P1, to offering a full range of Sports Series and Super Series models to suit just about every budget in the supercar segment.
And it's breaking records as it does so. McLaren has now announced its 2017 sales tally, which has broken 2016's figure, itself significantly above the total for 2015.
> Senna: McLaren's most extreme road car yet
In all, McLaren sold 3340 cars in 2017, slightly above that of the 3286 cars the company moved in 2016. Unsurprisingly, the North American market provided the largest contribution, with 1234 cars finding homes there against a tally of 1139 in 2016.
Sports Series models accounted for around two-thirds of the overall total, justifying McLaren's decision to offer a range of more affordable models beneath its ballistic Super Series cars, though the latest addition to the Super Series, the 2017 evo Car of the year-winning 720S, contributed significantly to the 1221 Super Series cars shifted in 2017 – despite the 720S only being on sale for the last six months of last year.
The increase in deliveries was enough for McLaren to require an extra production shift at its Woking facility, which is now building around 20 cars per day. 2017 saw the introduction of the 570S Spider and the 720S, as well as the unveiling of the track-focused, 789bhp McLaren Senna in the Ultimate Series.
On the race track, McLaren also announced the 720S GT3 car to join the 570S GT4 in international racing, with the new racer making its debut in the 2019 season. A new one-make series to rival the Ferrari Challenge and Lamborghini Super Trofeo was also confirmed.
The company's growth should continue during 2018, most notably through the opening of a new production centre in Sheffield, which will build the firm's Monocage carbonfibre tubs. McLaren has committed to investing £1 billion before 2022 into a range of 15 vehicles, only three of which have been revealed so far.