eCoty Pagani Huayra vs McLaren MP4-12C video
The £800,000 Pagani Huayra up against the McLaren 12C. The ultimate track battle? Find out here...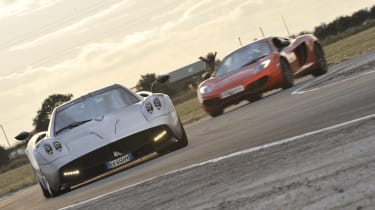 The headline twin test of evo Car of the Year 2012 is a battle you're unlikely to see anywhere else. It's also a day Tiff Needell and Richard Meaden – a pair of drivers with some rather enviable CVs – both say they'll never forget.
The Pagani Huayra and McLaren MP4-12C don't look like they'll go toe-to-toe on paper. The Italian superstar is all pantomime, and its twin-turbo V12 engine is one of the year's biggest hitters, with a stonking 720bhp and 737lb ft. It's good for 224mph and if you fancy its ornate key in your pocket, you'll need at least £800,000.
The Woking-built McLaren, meanwhile, is a snip at £176,000. Its twin-turbo V8 engine provides 616bhp and 442lb ft, whisking it to a 204mph top speed. Next to the gullwing-equipped Pagani, it looks a little tame, despite its Volcano Orange paint.
As you'll see in the video below, though, it's one of the closest, most thrilling track battles we've ever filmed. And despite the tight turns of Blyton Park potentially teeing up our biggest insurance claim ever, Needell and Meaden have an absolute ball.
eCoty Track Battle videos
- Morgan 3 Wheeler vs Toyota GT 86 video- BMW M135i vs Porsche 911 Carrera video- Porsche Boxster S vs Lotus Exige S video- Mercedes C63 AMG Black vs Alpina B3 GT3 video- Pagani Huayra vs McLaren MP4-12C video
eCoty Image Galleries
- Morgan 3 Wheeler and Toyota GT 86 - BMW M135i and Porsche 911 Carrera - Porsche Boxster S and Lotus Exige S - Mercedes C63 AMG Black and Alpina B3 GT3 - Pagani Huayra and McLaren MP4-12C