2020 Mercedes-AMG E53 Coupe spied with mid-cycle updates
A substantial refresh is coming for the E-class next year, which will spread to AMG's smooth coupe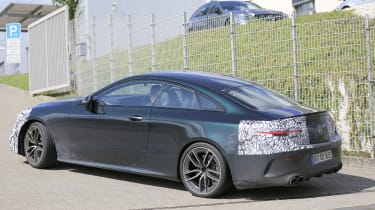 1/9
You might have already seen the standard Mercedes E-class being put through its testing phases before next year's update, but we now have our first inklings that the coupe and convertible are about to go through the same set of upgrades soon after.
Seen here in E53 form, the coupe is to pick up the same front-end updates, including new headlights, an upturned grille and revised lower bumper. The rear end looks to feature a less substantial set of changes, with new rear lighting units rounding out the alterations on this prototype.
> Click here for more on the incoming AMG E63 S
Like the other E-class models about to undergo their update, this coupe will probably find its biggest updates inside, with an adaption of Mercedes' new MBUX infotainment system into the current model's widescreen dash layout.
A new steering wheel, updated trim and colour options, and a new input method via a Lexus-style touchpad will round out the changes inside, bringing the E-class up to date with other models in the Mercedes range.
Neither BMW nor Audi built a rival to directly compete with the E-class, with larger coupes such as the BMW 8-series being far more expensive, while the Audi A5 is both smaller and more dynamic, rivalling instead Mercedes' own C-class coupe.
Under the bonnet, the coupe will follow the main saloon range in terms of powertrain updates, but will once again miss out on a full-fat E63 S model to top the coupe range. Instead, the most potent Coupe E-class will be the E53 spotted here, with its clever turbocharged and mild-hybrid-assisted straight-six engine and 4Matic all-wheel-drive system.
We expect updated E-class variants to arrive next year in saloon, estate, coupe, convertible and high-riding All Terrain forms.