Mercedes-A45 AMG replacement set to breach 400bhp
German firm's next hot hatchback will take power outputs to new levels for the class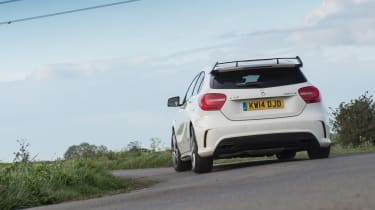 The never-ending German horse power race is set to continue with Mercedes' next generation A45 AMG.
Speaking to our sister title Auto Express, boss of Mercedes in-house skunkworks AMG, Tobias Moers, has revealed the replacement for the range-topping A-class will see power eclipse 400bhp. This will return bragging rights to Stuttgart after Audi announced its 394bhp RS3 at the Paris Motor show.
The third generation A-class is set to hit showroom floors in the latter half of 2017, so the AMG derivative will likely follow in 2018.
According to Moers, there was no further headway to be made with the present engine beyond its current 376bhp guise, with temperature management the limiting parameter prohibiting further development of the M133 engine. So, the four-cylinder, two-litre, twin-scroll turbocharged powerplant will be ditched in favour of a new motor. 'For sure, the limiting factor is the heat management in the cylinder head, so we're not moving forward with that engine any more.'
> Also read: Mercedes-AMG A45 review
Engineers have started work on a 'blank piece of paper', concocting a brand new, ground-up design for the supplanting engine. As with the current super hatch, power is expected to be deployed via a dual-clutch transmission, driving four wheels, courtesy of an AMG-tweaked Mercedes 4MATIC system. That combination would not only adorn the A45 with 400bhp-plus, but also give it a fighting chance of being the first hatch to crack 0-60mph in under four seconds.  
Such impressive performance will likely command a considerable price, with the next generation likely to cost from around £45,000. There are rumours Mercedes will fill the gap between the flagship A-class and quickest non-AMG model, at present the A250 4MATIC, with a tamer AMG version. This would mimic the firm's approach of late, introducing '43'-badged deputies to the full-bore AMG models as seen with the GLC, C-class and E-class models.