Mercedes-Benz E500 Coupe
M3 too hardcore? Merc's E500 Coupe might just fit the bill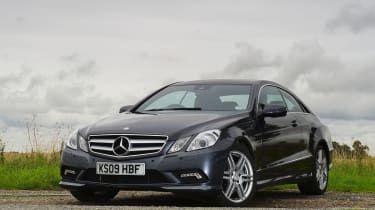 Imagine that you've got £50,000 and you really want a smart Germanic coupe but you find the BMW M3 a bit hardcore. You get your thrills on trackdays in a £1500 Mazda MX-5 and as a result your everyday wheels don't need to be something that slithers everywhere in a pall of tyre smoke and testosterone. Then you may very well be interested in this, the urbane coupe version of Merc's matronly new E-class saloon.
Let's start at the front. Ignore the Pikeytronic daytime running lights (which can be turned off, thank God) and concentrate on the rather magnificent V8 engine. It's actually a 5.5-litre – the men at Benz, like their rivals at BMW, have long since binned any truth in badgery – and it turns out a hearty 382bhp, which is more than the badass AMG cars had a few years ago. In the E500 saloon this engine is swaddled in soundproofing, which is one reason why that car never feels as fast as it is. But for the less uptight coupe they've allowed it to rumble in a rather excellent way. It's discreet and it happens only under acceleration, but there's a rumble nonetheless. This is nice. The V8 is connected to a seven-speed auto 'box which is cunning enough to know when you want smooth cruising and when you'd like a bit of rumble please. This is nice too.
But don't assume the Benz is simply a flaccid cruiser. Select Sport mode on the dash then press the M button next to the shifter and the damping tightens up, the throttle gets more sensitive and you can play tunes on the gearbox using a pair of proper paddles. With both these modes selected, the usually quiet, comfortable E500 does a passable impression of a sports car.
And there's another reason to warm to this coupe: this is not a CLK, it's an E-class, and as such it channels the spirit of the fantastic old W124 coupe, which is one of those cars that with its discreet elegance and famously unburstable build quality still garners a stout amount of respect from proper car nerds. From some angles the new E Coop could certainly pass as elegant, and Mercedes claims that this car marks a return to the Swiss Labrador levels of dependability for which it was once famous. I was going to say this long-term test would find out if the latter was true but there's no need to wait, because already the E500 has developed a glitch. Oh dear. More on that next time.
Running Costs
| | |
| --- | --- |
| Date acquired | September 2009 |
| Total mileage | 1432 |
| Costs this month | £0 |
| Mileage this month | 1233 |
| MPG this month | 23.4 |