Mercedes-Benz will have you believe the S-class is the best car in the world. For some people, it probably is - it's undoubtedly the go-to vehicle when one desires to purchase a luxury saloon, and while it's not a car you're ever likely to see on an evo Car of the year test, the S-class has always been a fairly good indicator as to the pinnacle of automotive technology in any given period.
One look at the specification sheet of the updated S-class would suggest Mercedes still lurks somewhere near the top of the tree, but such things can still only be decided for sure on the road. We'll crystallise our thoughts on the new car (and its new technology) once we've driven the S-class in the UK, but these are our first impressions.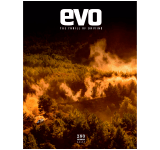 Subscribe to evo magazine
Subscribe today to have every issue of evo delivered straight to you. You'll SAVE 39% on the shop price, and get evo for its original cover price for a whole year!
Engine, performance and 0-60mph time
The updated S-class features a wide array of powertrains, of which the most interesting are a slew of new inline sixes. Petrol and diesel versions are available, though it's the diesel S 350d that will debut first, packing 282bhp and 443lb ft of torque. The S 400d, with 335bhp, is Mercedes' most powerful diesel production car ever, and both models produce their peak torque figures from just 1200rpm. The former hits 62mph in 5.8 seconds from rest, the latter 5.2sec.
Time constraints meant we were unable to try out the new six-pots, but we did manage to sample a pair of V8s. The first is the new S 560 (reviving a name from the past - the 560 SEL was Mercedes' range-topper in the mid 1980s), which uses a 4-litre twin-turbocharged V8 and makes 463bhp with 516lb ft of torque. With 4Matic all-wheel drive it's capable of covering the 0-62mph dash in 4.6sec.
Quicker still is the Mercedes-AMG S63, which also features a 4-litre twin-turbo V8 (as you'll find in other "63" models throughout the AMG range), with 604bhp and 664lb ft of torque. 0-62mph takes 4.3sec - actually matching the flagship S65 with its 621bhp and 738lb ft of torque, courtesy of a twin-turbocharged 6-litre V12.
The S63 doesn't feel quite as rampant as the smaller, lighter 63 models under the AMG banner, but it's still almost indecently rapid for a car better known for its ability to cosset. Unsurprisingly, we're informed that only around five per cent of S-class customers worldwide opt for the AMG models - and they're the customers who like to drive themselves, rather than be driven.
Those five per cent face little in the way of comfort penalties, but do get to enjoy a sound akin to a C63 being exercised in a neigbouring room. The S 560 is quieter still, and creamier too, but propels you forward with similar if not quite so insistent force. The standard nine-speed automatic transmission is almost always imperceptible in its changes.
Technical highlights
So packed with technology is the refreshed S-class that we're inclined to direct you towards a brochure should you want the full run-down, but certain elements do stand out. Mercedes has implemented its latest semi-autonomous technology in the S-class (having debuted much of it in the smaller E-class), and the firm's clever curve-tilting body has now made its way from the S-class Coupe to the saloon.
"Road Surface Scan" is still present and correct - a technology that uses cameras to monitor the road ahead for bumps and adjusts the damping of each wheel accordingly. Meanwhile, cylinder deactivation is now present on the S 560, shutting down four of the eight cylinders under light load to save fuel.
A smaller change is to the cruise control functions, which are now activated via switches on the steering wheel rather than a small stalk behind the wheel. Mercedes-Benz says the American market largely influenced this change, and we thank them for it, because it's now much more intuitive to use as a result.
What's it like to drive?
The S-class will never be a car to get you out of bed at 4am on a Sunday to go for a drive on your local B-road, but if you're awoken at 4am by your alarm for an important business meeting or airport run then there are few finer cars on sale. This is a supremely refined and relaxing car to drive and offers just enough dynamic capability that you'll not feel too short changed if you do decide to step up the pace now and then.
It drives, in effect, much like a larger E-class, which in turn feels like a scaled-up C-class. There's a consistency throughout Mercedes' conventional saloon lines that makes a car like the S-class feel quite natural and unintimidating to drive, despite its obvious length and girth, and most of the time you'd not know you were piloting something that weighed over two tons. The steering is well-weighted and accurate, the brakes reassuring, and in the two versions we drove, the engines felt entirely unstressed.
German roads are flattering to the ride of most vehicles but the S-class has the kind of unflustered gait over rougher sections that makes you wonder whether bumps actually exist. At worst, it dispatches intrusions with a quiet thud, but not one you'll remember more than a few seconds afterwards. Corners too will leave you unfazed, particularly if the car has Magic Body Control with curve tilting, which leans the body by up to 2.65 degrees into a corner to reduce the feeling of lateral forces on passengers. It's entertaining to watch from behind another S-class, and works well in practice, making the S-class feel more agile than you'd expect. Drivers will feel most of its effects through the wheel, with the car seemingly needing less steering input and less effort as the car leans in.
Of course, some S-class buyers may choose not to "drive" at all. The Intelligent Drive semi-autonomous technology is among the best we've experienced, able to follow other cars from a crawl right up to quite ridiculous speeds, accelerating and braking as necessary, slowing or speeding up according to speed limits, overtaking if you indicate, steering between white lines, and even adapting its cornering speeds according to whether you're in Comfort or Sport modes.
It isn't full autonomy; you must keep your hands on the wheel most of the time, with the car warning you when it's about to hand back control. But it's good enough that it would make the average slog around a crowded M25 a heap more bearable, and it's not hard to believe that full autonomy isn't far away.
Price and rivals
The S-class range kicks off at £72,705 on-the-road - that nets you an S 350 d diesel, which we suspect will be a popular option, despite its diesel engine. The S 63 AMG pictured weighs in at £125,690, while the top-of-the-range V12 S 65 will set you back a hefty £185,185.
Rivals for the S-class are obvious, as each of Mercedes' main competitors produces an executive limo of its own. BMW's 7-series is the driver's choice in the segment, and offers a good selection of engines from a tax-friendly hybrid to a stonking 443bhp V8 - though sadly there's no M model yet to rival the S 63 AMG. Audi offers a similar proposition with the A8 (soon to be replaced by an all-new model), but both it and the 7-series are a little more anonymous than the S-class - great for flying under the radar, less so if you like showing off a little.
If your budget stretches further than any of these cars you could go for the totally opulent offerings from Rolls-Royce or Bentley. It's a testament to how good the S-class is that we can even compare it to these hand-built luxury cars costing over twice as much in basic forms.