The S-class Cabriolet  was a new introduction in the current generation, intended as a large, relaxed and sophisticated variant of Merc's flagship saloon. The large four-seater was to be designed without a hint of a sporting pretence, a sensible notion when applied to a five-metre-long open-top cruiser. Unfortunately, it seems most buyers never really got that memo, buying the AMG S63 Cabriolet in numbers well above the standard non-AMG S500. Of course, Mercedes-AMG was only too willing to comply, happy to sell you two different S-class convertible models with (real) AMG badges fitted to the bootlid.
But along with the S-class's mid-life update, Mercedes has given the 'standard' S560 model a new engine, more toys and a standard AMG-line body, but when compared to the full-fat AMG models, does less equal more – even on something as overtly 'more' as the S-class convertible?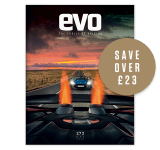 Subscribe to evo magazine
Subscribe today to have every issue of evo delivered straight to you. You'll SAVE 39% on the shop price, and get evo for its original cover price for a whole year!
As what might be considered the entry-level S-class convertible, the new S560 Cabriolet proves to have many of the same talents as its more expensive AMG siblings, but with a more defined, authentic character.
Engine, transmission and 0-60 time
When Mercedes gave the S-class range a small nip and tuck earlier this year, the Cabriolet followed suite. The biggest change for the S560 model was the fitment of a new M176 4-litre twin-turbo V8 engine owing much to the 603bhp M177 AMG unit found in the S63. Like the AMG, it's also a 'hot-V' engine, with the two turbochargers nestled between the two banks of four cylinders.
The advantage over traditional turbocharged V8s are like all 'hot-Vs', namely their ability to spool up more quickly thanks to the compact plumbing of the turbos. Although this is not an AMG-built engine, it's still impressive on paper, producing up to 462bhp, with 517lb ft of torque available from as low as 2000rpm. It's that torque figure, as well as the engine's ability to hold those numbers over such a vast plateau of revs that makes the S560 feel so effortlessly powerful, with only a hint of V8 rumble emanating from the rear quarters.
The engine is connected exclusively to a nine-speed MCT automatic gearbox with a wet clutch set-up, also borrowed from the AMG store cupboard. This allows the S560 to reach 62mph in 4.6sec, with a limited top speed of 155mph. Although 4Matic all-wheel drive might almost be a foregone conclusion in high-spec Mercs today, the S-class Cabrio does without, leaving that to left-hand-drive markets.
Technical highlights
As a Mercedes flagship, the S-class Cabriolet is chock full of Merc's latest tech, toys and features. So without boring you by revealing the number of different ways the front passenger seat can be contorted by controls on the driver's door, purely for his/or her entertainment, there are some other highlights worth noting.
The new S-class Cabriolet (and Coupe) features the first standard inclusion of OLED tail lights, something that Audi  fits to the TT RS as an option, but has since been seen fitted to few actual cars leaving the factory. On the S-class they comprise a collection of over 30 individual lighting surfaces in each housing that glow with a sharp, consistent light. This may not seem especially useful, and it's probably not, but the effect looks expensive, something that can't be said for the Swarovski crystal-embedded LED headlights.
The interior is exquisitely finished, and despite appearing to share plenty of interior components with lesser, ie. all other Mercedes models, the interior still feels remarkably well put-together. Restraint clearly wasn't one of the core statements during the design process, but the dramatic shape of the dash, combined with fine leathers, wood and metallic trim seem to fulfil the brief of a car likely to be in the same collection as a two-berth sailboat.
This is where the magic of the non-AMG S-class Cabriolet comes into focus, as it starts to distinguish itself in a more defined and distinctive manner than its AMG siblings. The steering wheel is massive, and when fitted with the optional half-timber wheel, as in this test car, one begins to drive it in a different way. It's highly unusual for us to encourage the fitment of a timber steering wheel in most cases, but its thin rim and cool, glossy texture encourages you to release your grip from the steering wheel. Instead of grappling with an AMG's sculpted Alcantara rim, desperately trying to find any feel or feedback – a pointless task in an S-class of any type – you instead relax, hold it with just your fingertips and begin to flow, driving in a laid-back, stately manner, as if you were piloting something more substantial than a mere automobile. It's this feeling, an aesthetic even, that begins to shape the S-class Cabriolet into its own form, not just a big, lazy and more expensive example from the, admittedly highly entertaining, AMG fold.
What's it like to drive?
The S-class Cabriolet feels big. Not just wide, and long, but big. You sit higher than you might expect, and combined with the shallow side glass and bulky triple-ply fabric roof can feel bulky and out of its comfort zone on small British roads. The ride is also less reassuring, filtering out big movements via the air springs well, but struggling to hide smaller, sharper intrusions, which resonate around the very large and very open cabin. Push on and the ride improves, with only a lingering element of graininess on coarse-chip surfaces.
Start to put faith in the car's ability to grip and the chassis is more resilient to quick inputs than you might imagine though. Scuttle shake is impressively suppressed for such an open cabin, and even on bumpy, uneven surfaces it remains solid and refined.
It's also startlingly fast, although the mass never disappears, but the peasant car behind usually does, and quite quickly too. The noise is very 'Mercedes V8', but with the roof closed and driving mode set to Comfort, there's only a background rumble that exudes class. Turn up all the dials and switches to Sports+ and the exhaust even gives you a few pops and crackles, although they are more subdued than firecracker AMGs.
What the S560 seems to do, despite its UK-only AMG-line body styling, is have an extra layer of authenticity than the more outrageous S63. Rather than try adopt a character from the aggressive AMG range-toppers the S560 seems to exude a higher class, one not now hidden under a tangle of 'sporty' AMG components. There is still no getting away from the image you portray at the wheel though, and we'll let you figure out whether it's a good or bad one.
Price and rivals
The Mercedes S560 starts at £115,910, but that total can quickly escalate with a rummage through the options list. Option packs, such as the Premium equipment line, add a further £5k to the price, bundling higher-grade Nappa leather, upgraded 360-degree parking cameras, upgraded seats and a climate pack which incrementally adjusts the interior climate control depending on the position of the roof. Standard on the Cabriolet are 19-inch alloys, with 20s available alongside 'designo' interior and exterior colour options.
Rivals at this point are a little far-fetched, with most either being too 'sporty', or far more expensive. The closest will likely be the incoming BMW 8-series Convertible, although the only petrol variant available so far is the warmed-up M850i, lacking the softer, more sophisticated overtone evident in the S-class. Aston's DB11 V8 Volante could also be considered a rival, but is more expensive at £141k, less roomy and does without anything like as much on-board tech or comfort features.
Closer in spirit, if not price, is the Rolls-Royce Dawn, one of the few modern cars that places a higher emphasis on comfort and luxury than the S560 Cabriolet. At way over £230k, it's a considerably more expensive and glamorous enterprise, but with a distinctly restrained approach, so long as you spec it calmly. The all-new Bentley Continental GT Convertible is also about to go on sale, but at £175k is over £60k more expensive, before options.