Hennessey Venom F5: '300mph' hypercar to go topless
Though it's yet to prove itself, the Hennessey Venom F5 goes toe-to-toe with the world's fastest models on paper
It's been a long time coming, but the Texan tuner has finally announced progress on its next hypercar, the Venom F5. Alongside news that production of its first car is under way, the brand has teased renders for a potential roadster variant, because who doesn't want to do 300mph without a roof?
Two years after the model made its world debut at SEMA in Las Vegas, Hennessey Performance has announced that testing will commence later this year, when it will find out if it's done enough to better the Agera RS, the world's current fastest production car.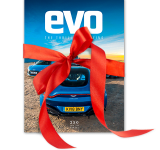 Subscribe to evo magazine
If you're passionate about the world's greatest performance cars, experience the thrill of driving with evo magazine. Try your first 5 issues for £5.
> Koenigsegg Agera RS takes world's fastest car crown with 277.9mph run
Though the brand is known for its American origins, the lightweight carbonfibre backbone of its upcoming flagship is being designed and engineered in the UK, by Silverstone-based Delta Motorsport. By nature, carbon tubs allow for the removal of a car's roof without compromising structural rigidity – this means the option for a roadster isn't out of the question, even for a car destined for such high speeds.
Don't get too excited though, as although Hennessey has released renders of a topless F5, it has made it clear that it will only consider the idea once coupe deliveries have begun next year, with roadster production beginning in 2021 should the project be given the all-clear.
As for specs, a 7.4-litre twin-turbo V8 will put 1600bhp and 1300lb ft of torque to the rear wheels through either a single-clutch automatic, or a manual gearbox. The 284mph Koenigsegg Agera RS it has to beat features a smaller displacement 5-litre V8, but manages such a speed with a few hundred less bhp.
Projected performance for the Venom F5 is a 0-186mph sprint in under ten seconds, with the model said to go from standstill to 249mph and back to rest in under 30 seconds – 7.3sec sooner than the Agera RS.
Speaking at the car's launch, John Hennessy, CEO, said: 'We expect the Venom F5, named for the most powerful tornado-speed winds on the Fujita scale, to be the first road car capable of achieving more than 300mph and have worked closely with Pennzoil to get us across the finish line.'
Just 24 Venom F5 coupes are set to hit the road, with the roadster due to match that number should it be approved. Prices for the coupe start at around £1.25m, with the roadster expected to cost even more.