2015 Gran Turismo Academy opens to find tomorrow's racing driver
Seventh year of the groundbreaking competition opens to aspiring racers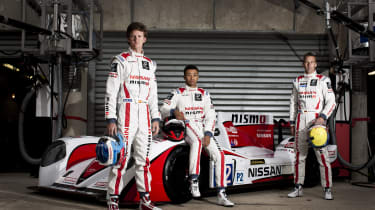 Nissan and PlayStation have opened entries for the latest iteration of the popular Gran Turismo Academy competition.
Set up to find and promote new racing drivers through the medium of videogames, the competition is now in its seventh year - and offers gamers over the age of 18 a potential route to motorsport stardom.
If you don't think games are realistic enough to enable such a transition, you've probably not had much experience of racing titles.
While no game can replicate the physical sensations of driving a fast car, in-game physics are now at a level where the anticipation, dexterity, reactions and coordination of an individual can develop to a stage where they're ready for real-world racing.
Several drivers have now graduated through the GT Academy into real racing - not least original GT Academy victor Lucas Ordonez and 2011 winner, British driver Jann Mardenborough. Both will race in this year's Le Mans 24 Hours at the wheel of the front-wheel drive Nismo GT-R LM.
Each has embarked upon a successful racing career following their competition wins, with class wins and outright victories in series as diverse as the Blancpain endurance series and GP3 single-seaters.
This year's GT Academy is perhaps more desirable than ever, as the competition's final Race Camp moves from Silverstone to the Abu Dhabi F1 circuit. As ever, the victor will also travel to races around the world as part of the Blancpain series, undergo on-the-job race training and be awarded a company car - such as the Nissan 370Z Nismo used by Jann Mardenborough.
Kazunori Yamauchi, President of Polyphony Digital Inc and creator of the Gran Turismo series in 1997, calls this year's competition 'another exciting milestone' adding that GT Academy is 'truly an incredible competition and I would highly recommend that people have a go, whatever their level on the game'.
Interested parties across Europe can fire up Gran Turismo 6 to find the GT Academy 'seasonal event' - and attempt to beat peers from around the world on the game's time trial. The competition runs from today (April 21) until the 16th June.