This week on evo – RUF in the UK, Clio R.S.16 and more
A look at the most exciting things from the world of evo this week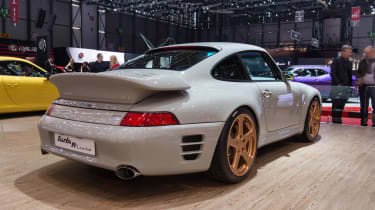 If you caught our coverage of the Geneva motor show earlier this year you'll have seen our video from the RUF stand – it was undoubtedly one of our highlights of an already-impressive show.
Now UK customers will be able to get closer than ever as the company is setting up a UK arm. Less certain is whether Renault Sport will make a production run of its new Clio R.S.16, driven this week. Catch those stories, and more, at the links below.
Renault Sport Clio R.S.16 driven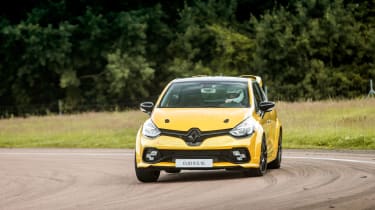 Renault has just launched the updated Clio range and with it a refreshed Renault Sport, with higher levels of quality and a fruity Akrapovic exhaust.
It's not quite a Clio R.S.16 though – that packs a Renault Sport Megane 2-litre engine and a manual transmission. And road test editor Dan Prosser has driven it – read about his experiences here.
Jaguar F-type R vs Porsche 911 Turbo S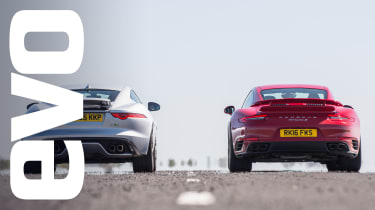 Here's a tip: If you're ever sitting next to a Porsche 911 Turbo S at a set of traffic lights… don't bother.
We've lined up the AWD Jaguar F-type R for the latest of our drag races, and the result isn't pretty. This is the difference between a quick car and a ballistic one.
RUF sets up UK arm
More powerful Porsche news, with the announcement that RUF – a company best known for its 200mph take on classic Porsche models – is setting up a UK arm.
That's great news for any RUF owners and any prospective buyers, and hopefully it'll mean we'll see a few more of their stunning creations on UK roads.
Smart Brabus Fortwo reviewed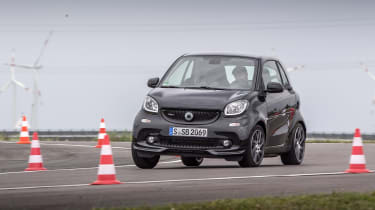 And from one German, rear-engined car to another. Smart has just launched its latest Brabus-tweaked Fortwo, Fortwo Cabrio and Forfour, and we've driven them.
Where the old models were always restricted by their safety-conscious ESP systems, the latest model is a little more playful. It's the best Brabus Fortwo yet, in fact.
Chevrolet Camaro Z/28 onboard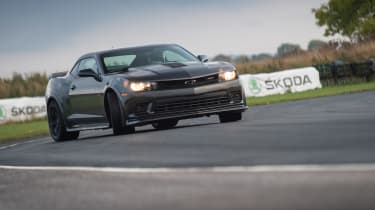 Muscle cars aren't known for their cornering prowess, but over the last few years American firms have significantly stepped up their game.
The Camaro Z/28 is evidence of this, and this week we published its onboard video from evo Track Car of the Year. This muscle car really does go around corners…