Jaguar's all-electric car I-Pace concept has ventured onto the streets of London the first time. The electric SUV car made its outing around the streets of the Olympic Park near Stratford to preview the full production car that will be unveiled later this year and then go on sale in 2018. Those truly interested in getting their hands on an I-Pace can now register their interest on Jaguar's website.
The final car will keep the same name as the concept and, as the I-Pace will follow a similar idea to the show car, we also expect it to look much the same too.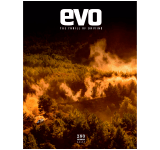 Subscribe to evo magazine
Subscribe today to have every issue of evo delivered straight to you. You'll SAVE 39% on the shop price, and get evo for its original cover price for a whole year!
> 2017 Frankfurt Motor Show preview
As is common with modern electric vehicles, Jaguar promises the full production I-Pace will have some impressive performance figures. It will be powered by two lightweight electric motors, one for each axle, that will source their energy from a 90kWh lithium-ion battery. 
This will equip the I-Pace with a combined power output of 394bhp and 516lb ft of torque. Jaguar expects such grunt will help the I-Pace dash from 0-62mph in around 4sec. It also predicts that its electric SUV will have an official range of just over 310miles. These sorts of figures will put the I-Pace on par with its main rival, the Tesla Model X.
The I-Pace is the most advanced Jaguar to date. It is the culmination of the marque's current aesthetic signature that started when Ian Callum joined the company as director of design in 1999.
Unveiled at the Los Angeles auto show in November 2016, the I-Pace is a real departure from the current Jaguar range. There are many familiar design Jaguar elements, but the style is stretched over a new, cab-forward bodystyle - made possible by the advanced electric powertrain. That body shape equates to both great interior room and a low drag coefficient of 0.29.
The I-Pace will be hugely important for Jaguar, and not just because Ian Hoban, vehicle line director at JLR, describes electric vehicles as 'inevitable'. The company predicts that the I-Pace will be, for many, the first electric car they own.
The I-Pace doesn't just need to be good – it must also make a positive impression for those new to the Jaguar brand, and reassure loyal, existing customers that the company is heading in the right direction.
Jaguar I-Pace: design
While the I-Pace has a passing resemblance to Jaguar's current models – most notably its existing SUV, the F-Pace, the use of an electric drivetrain has resulted in some quite significant technical changes under the skin and proportional changes to the car's shape.
'The revolution is in the profile,' explains Callum. 'I was determined from the very beginning of this project to create a design which reflected this change in the mechanics of the car.'
Jaguar hasn't strayed too far from a conventional silhouette, but with no engine to package the I-Pace is a more cab-forward design than existing Jaguars – which tend to have a cab-backward design to emphasise their front-engined, rear-wheel drive layouts.
While the side profile isn't quite a one-box shape, it's far from the traditional three-box look of Jaguar's saloons. The car's footprint is smaller than that of Jaguar's F-Pace SUV (51mm shorter and 285mm narrower to be precise), but there's a long, 2990mm wheelbase (116mm longer), pushing the concept's 23in wheels and 265/35 R23 tyres further out into the corners.
The lack of a combustion engine has allowed for a lower bonnet-line, yet the I-Pace manages a muscular look with pronounced front and rear wings and headlights positioned lower than they are on the F-Pace. The roofline is low, too, but a completely flat cabin floor – another benefit of the electric drivetrain – means interior volume is still large.
> Tesla Model S in-depth review
The cab-forward design has enabled designer Ian Callum to give the I-Pace strong haunches at the front of the car. Like the C-X75, the bonnet has a distinct dip and a scoop towards the back to reduce drag.
In spite of the low front and short overhangs, there's a bold front grille framed by slim lights, as on the F-Pace. 'It's important we establish the front as a Jaguar,' states Callum. 'The headlights of today's style have double J-blades – that's something we'll see more and more on Jaguars.'
Sweeping lines along the sides and a tapering waistline give the five-door SUV a coupe-like profile, leading to a sharply angled rear screen with a hydrophobic coating – so there's no need for a rear wiper.
Rear vents sit where tailpipes would usually be and channel air from the rear wheelarches to reduce drag. LED tail lights echo the look of other Jaguars, but are squared off for a more technical feel. 'We're relatively high at the back with quite square edges for optimum aerodynamics,' says Callum.
Jaguar I-Pace: drivetrain, performance and range
Power comes from a pair of electric motors, one per axle. They're compact (234mm in diameter by 500mm in length) and each is coupled to a concentric-mounted transmission, further freeing up space inside the I-Pace's cabin.
Combined output is 395bhp but as with other electric vehicles it's the 516lb ft of torque that most will become familiar with. With drive to all four wheels, putting this twist to the tarmac will be simple enough and regenerative braking will allow single-pedal driving much of the time, just as it does in cars such as BMW's i3. It's likely some kind of adjustment will be possible to lower or increase the regenerative effect, to make best use of the car's abilities and to suit different driving styles.
Some healthy performance figures are quoted. Jaguar hasn't confirmed a top speed for the I-Pace – that's likely to be limited somewhat compared with conventionally powered Jags to preserve range – but push the right-hand pedal to the bulkhead and 60mph will pass in 'around four seconds'.
Jaguar estimates a full-to-empty range of 310 miles by European testing standards from a 90kWh battery – the same capacity as that of a Tesla Model S P90D – but an estimated EPA-rated range of 220 miles (as used in the United States) is likely to be a more accurate indication of the Jaguar's reach. Charging can be carried out all the usual ways, with 50kW DC quick charging replenishing 80 per cent of your range in around 90 minutes.
The 90kWh lithium-ion battery pack is positioned low in the chassis for a low centre of gravity. The battery itself sits inside an aluminium shell that forms part of the car's structure. It's thermally managed: cooled and warmed to the optimal point by a liquid cooling circuit according to the outside temperature.
Jaguar I-Pace: interior
There are no Tesla Model X-style gimmicks here – just four doors and a hatchback, and a cabin that looks considerably higher-quality than anything Tesla has produced. It also doesn't look a million miles from production, with few of the whimsical, pigs-might-fly details you'd expect from something billed as a concept. 
There are certainly useful touches, however. Cabin climate – a touchy subject in the world of electric vehicles, since the use of heating, ventilation and air conditioning can rapidly deplete the battery – is controlled by a heat pump. This uses energy from the outside air to warm the cabin, rather than relying on power-hungry electric heaters, and contributes around 31 miles to the car's range compared with a conventionally heated equivalent in cold weather.
Interior materials are a mixture of Windsor leather, Alcantara, coloured carbonfibre and unvarnished walnut veneers. The roof is a full-length glass panel with embedded LEDs that illuminate after sundown.
The flat floor liberates plenty of space for legs (and has allowed the seats to be positioned lower, for a more conventional Jaguar driving position) and for interior stowage, with a large volume of space in the centre console. Overall luggage space is 558 litres: 530 in the boot, and another 28 litres where you'd normally find an engine.
Minor controls are either via a traditional knurled rotary controller or by touchscreen, and the unique centre console, seemingly suspended on struts, actually rises up to meet the driver when the car is switched on. A 12-inch TFT touchscreen dominates the dashboard, with a 5.5-inch screen below it for infotainment and climate.
In spite of the temptations created by the electrical architecture, Callum says that you still have to have familiar hardware, yet around the traditional driving position are three touchscreens.
There are plenty of delightful design details inside the I-Pace, with Jaguar's lozenge pattern on everything from the leather seats to the speaker grilles, while laser-etched into the burr walnut dash are the words 'Lovingly crafted by Jaguar. Est Coventry 1935'.