The Frankfurt motor show is one of the biggest events in the global automotive calendar and the evo team were out in force reporting live from Frankfurt's sprawling show halls at the 2017 event. 
The biennial, 67th IAA International Motor Show proved to be a blockbuster. Several manufactures released marquee cars – some will set the tone for the brands' future directions. Ferrari's California T replacement, Bentley's all-important new Continental GT and Mercedes-AMG's Project One hypercar took starring roles. Renault's Megane Renault Sport and SEAT's new limited run Cupra R carried the hot hatch flag while Audi showed the rear-wheel drive R8 RWS and RS4 Avant and, not to be outdone, Porsche uncovered the 911 GT3 Touring and Cayenne Turbo. In short, there was plenty to get excited about and we've got it all right here.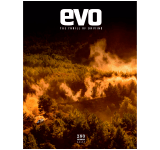 Subscribe to evo magazine
Subscribe today to have every issue of evo delivered straight to you. You'll SAVE 39% on the shop price, and get evo for its original cover price for a whole year!
Below you'll find all the news and new cars from the Frankfurt Motor Show with our picture gallery and twitter feed. Just scroll down to get a taste of all the action...
>Great stuff you might have missed at the 2017 Frankfurt show
Frankfurt 2017's most important reveals.
Mercedes-AMG Project 1 – Mercedes' ultimate F1-based hypercar could be as close to an F1 car for the road as there's ever been. Sharing the F1 car's drivetrain, this will be the most extreme Mercedes-AMG ever.
Renault Megane R.S. – The new incarnation of Renault's impressive hot hatch, Will it deliver the goods?
Porsche 911 GT3 Touring – The 911 GT3 without the rear wing and with a slightly softer road-biased cabin.
Bentley Continental GT – Bentley's new Continental GT makes use of a new Panamera-derived platform, new engines and a new look. Promising a more dynamic driving experience, the new Continental GT is a big deal for Bentley.
BMW M5 – BMW has followed AMG's lead by fitting all-wheel drive to its flagship performance saloon - we've driven a prototype, so bring on the twin test!
Ferrari Portofino – Replacement for the Ferrari California, the Portofino builds on the California's power and grace with new looks and nigh on 600bhp. 
Hyundai i30 N – Hyundai's first go at a proper hot hatch, Hyundai's exhaustive engineering efforts proves it isn't taking the i30 N lightly.
Porsche Cayenne Turbo – Porsche's original SUV, the third-generation SUV is all new and the Turbo version made its debut at the show.
Frankfurt motor show A to Z
The Frankfurt motor show has plenty of important and influential cars on show, so take a look at our current A-Z lineup of what we've seen on the stands.
Alpina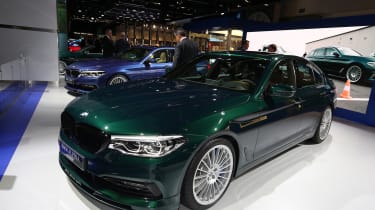 The (UK-spec) D5 S packs 322bhp and 516lb ft of torque, signifcantly more than BMW's equvialent range-topping diesel 5-series on both fronts. 
Audi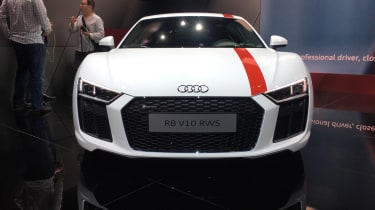 The A8, Audi's most luxurious model is a highlight of the stand this year, with its new array of technology on show including level 3 autonomous tech. We've already seen the new model, but this was our first glimpse of the luxury limo in the metal.
Audi's next generation RS4 Avant has also broken cover. Based on the new B9 A4, the new RS4 will share its drivetrain with the Audi RS5 coupe, but wrapped up in a more practical package. Meanwhile, Audi's R8 supercar has also undergone some changes, namely the introduction of a limited build rear-wheel drive option. We never thought we would see the day a rear-wheel drive Audi came to market but with a V10 engine and razor sharp dual-clutch gearbox, we aren't complaining. 
Bentley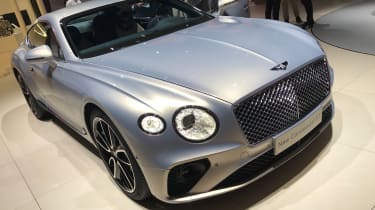 The next generation Bentley Continental GT has been revealed in the metal after its online reveal a few weeks ago. Based on the all-new Porsche Panamera-based platform, the Bentley is more luxurious and even faster than its predecessor, and we finally got to see how the 'Toblerone' infotainment screen worked.
BMW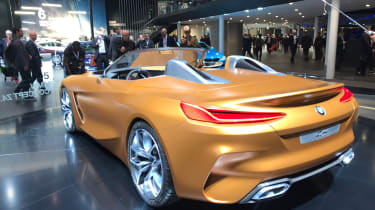 BMW's Z4 concept was revealed at Pebble Beach, but it's on show at Frankfurt too. The Concept is an 80 per cent representation of the car due to reach showrooms next year says BMW, sharing its platform and engines with the all-new next generation Toyota Supra.
Great anticipation lies around the new BMW M5 at Frankfurt, with a new 592bhp engine and M xDrive all-wheel-drive system. New, more aggressive styling is welcome too, while our pre-production drive proves the driving experience has definitely not been sterilised. The new 6-series GT is set to replace the previous 5-series GT, but slight changes differentiate the two. 
With all-electric power increasingly becoming a theme for all manufacturers BMW revealed its i Vision Dynamics concept, a precurser to a production i5 model. It has also updated the i3 with a hotter i3s model. The electric hot hatch is said to have a 20bhp boost over its standard counterpart, bringing it to a total 188bhp.
For those who like huge SUVs with dubious styling there was the X7 Concept to take in but we were more excited by our first glimpse of the BMW M8 production car, with the road-car based M8 GTE racing making an official debut. 
>The best cars at the 2017 Frankfurt Motor Show
Ferrari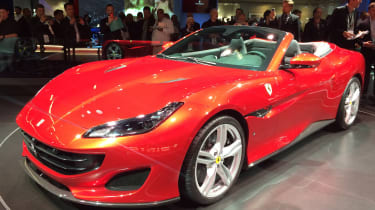 The open-top GT will arrive next year replacing the California T as the entry-level car in Ferrari's range. The exterior is reminiscent of the 812 Superfast, and the cabin layout channels Ferrari's latest interior design language. Under the skin though, the turbocharged 3.9-litre V8 from the California T remains, albeit heavily revised producing 592bhp.
Honda Urban EV Concept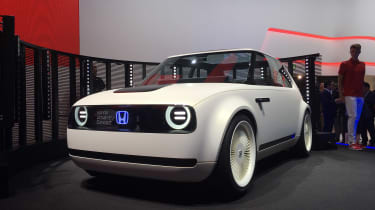 Honda's adorable Urban EV Concept has created a bit of a stir, not so much for its EV drivetrain or compact environmentally friendly demenour, but for its brilliant retro style. Based loosely on the original Honda Civic, the Urban EV is destined for production in 2019 – let's hope the production car looks this good.
Hyundai i30N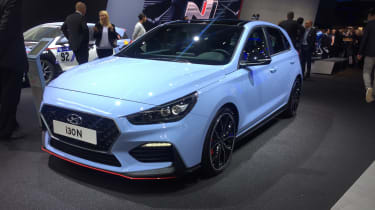 Hyundai's first crack at a sporty hot hatch is centre stage at Frankfurt and hasn't disappointed. Up to 290bhp proves it's no slouch, and when partnered with aggressive-looking wide arches and sporty bumpers the i30 N looks like it could be a major rival to the current hot hatch competition.
Jaguar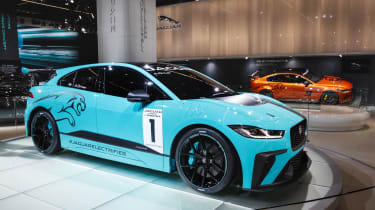 Jaguar's baby brother to the F-Pace, the E-Pace will bring a smaller crossover into the brand's portfolio. A variety of four-cylinder petrol and diesel engines will be topped by a 296bhp petrol, sending power to all four wheels. This could be badged as an 'S' model and gain some styling upgrades.
A production I-Pace was conspicuous by its absence, although the eTrophy racing variant launched instead does give us a better idea of what to expect for the production car.
Kia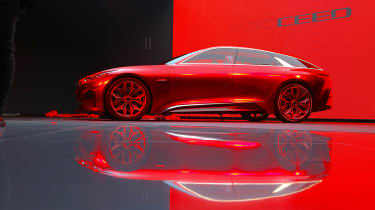 There's no mention of the running gear or architecture underpinning Kia's concept showpiece. Kia does intend to offer a Shooting Brake derivative of the Proceed as a halo model in the range and sees this concept's styling as a possible alternative to the three-door hatch format.
Land Rover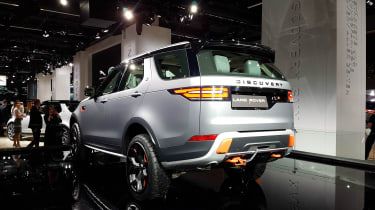 For those who think the normal Discovery lacks the necessary go-anywhere credentials the SVX is for them. The raised air suspension and long travel dampers should give the the off-road tyres a fighting chance of transmitting as much of the 5.0-litre, supercharged V8's 518bhp to the toughest of terrain. This SVO incarnation is unlikely to encounter any topography it can't tackle.
Mercedes-AMG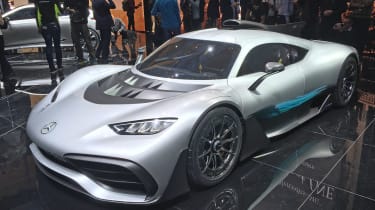 Mercedes' answer to the ever growing line-up of bank-breaking hypercars is a 1000bhp hybrid using an F1-spec turbocharged V6. Only 275 examples will be produced, many of which have already been sold.
The Mercedes-Benz S-class saloon has already received its mid-life update so now it is the turn of the Coupe and Cabriolet. The S-class coupe won't have the large GT market to itself any more though, with an all-new Bentley Continental GT on its way. 
Porsche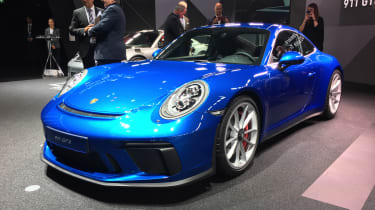 It was leaked prior to its show reveal but the debut of the GT3 Touring didn't make it any less enticing. With the same running gear as the GT3 the Touring does without the rear wing for a more subtle approach. Porsche's iconic SUV was displayed in its third generation form at the show and although we already knew the technical specifications of the new car, this was the first chance for the public to see it in the flesh. It will retain the same engine variants as the previous Cayenne though lighter materials will be used. Tech and interior design will be taken partially from the new Panamera to create an even more luxurious and modern finish.
Renault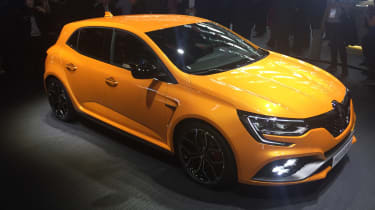 Once again Renault Sport works its magic to create an aggressive and possibly class-leading hot hatch, though this time with some suprises up its sleeve. Retaining the 4Control four-wheel steering setup from the current Megane GT it prides itself in being the only hot hatch to offer this innovative system. Buyers will also be able to choose between Sport or a harder Cup chassis setup, as well as a dual-clutch automatic or six-speed manual transmission.
>Great stuff you might have missed at the 2017 Frankfurt Show
SEAT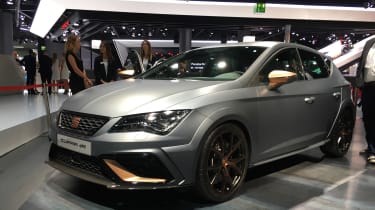 SEAT brought its most powerful car ever to Frankfurt in the form of this, the new Leon Cupra R. Packing 306bhp (in manual form only) the Cupra R will only be available in limited numbers and in both manual and DSG form. On top of the mechanical changes, SEAT has also pumped up the standard Cupra's bodykit with wider wheel arches, bespoke copper-finished alloy wheels and a fruitier exhaust system. 
Subaru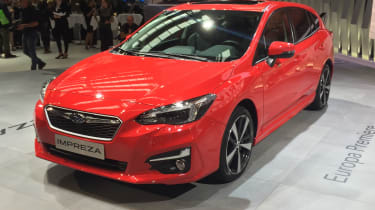 Subaru displayed its all-new Impreza in Frankfurt along with the car's greatly updated interior and tech to rival the competition. This is bound to whet appetites for the new WRX STI after it lands in the UK.
Suzuki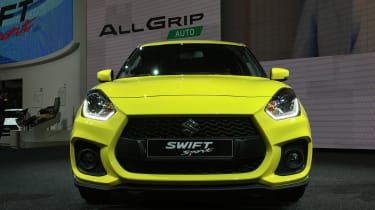 138bhp from the newly turbocharged 1.4-litre engine will satisfy small hot hatch buyers. The standard Swift is well liked at evo; described as 'light, responsive, punchy and agile' when we reviewed it in August, so we believe this more hardcore sport version won't disappoint.
Toyota
Toyota showed off a hot Hy-Power version of its C-HR crossover but there's more significance to this performance hybrid than meets the eye. We're told we could see quick Hy-Power models rolled-out across the brand's line-up.
Vauxhall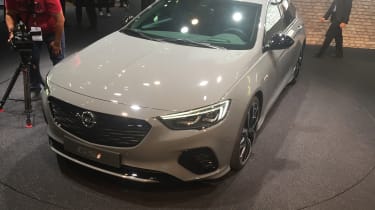 Not long after the latest version of the standard Insignia was released, we've been treated to a sporty GSi model at this year's show. On paper the car has a lot to offer, ranging from an eight-speed automatic transmission with paddles to a four-wheel drive system. In addition the car will feature a turbocharged 2-litre petrol engine producing 257bhp. Aside from performance, it has visual upgrades to make it look sportier and more aggressive inside and out. 
VW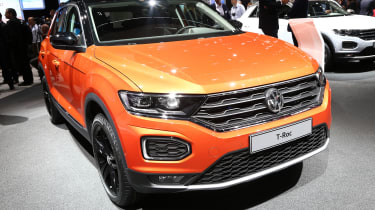 The latest addition to VW's growing SUV stable, the T-Roc will rival cars like the Audi Q2, and occupy that same space in VW's portfolio – a small, fashion-led city crossover. 
Frankfurt Motor Show twitter feed