Porsche to release a fully electric sports car within 10 years
High revving, naturally aspirated engines have a future too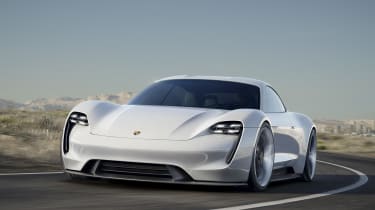 Porsche will make a fully electric sports car within the next ten years. In an interview with evo, Porsche's board member for research and development, Michael Steiner, revealed that a fully electric car is imminent: 'Today I would not like to tell you it would be in five years or seven years, but it's definitely one digit.' 
However, it's unlikely the new electric car will be based on the marque's perennial sports car, the 911. Steiner hinted the new car is likely to be smaller than the 911, 'We did a prototype testing based on the last generation Boxster as a fully electric sports car.'
> Click here for our full Frankfurt 2017 rundown and live twitter feed
Steiner outlined that Porsche faces two major challenges when trying to create a fully electric sports car, and wouldn't be able to bring one to market until it has improved the range of its electric vehicles and, encouragingly, the weight of the batteries and drivetrain: 'It's a question of power to weight. It's, let me say, it's only a few years away when this power to weight ratio, from our point of view, make sense.'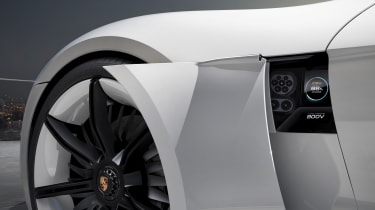 Such is the rate of development with Porsche's electric cars that, despite the significant tasks to surmount, the new car would likely be complete within a decade.
Much of that progress is thanks to the all-electric Mission E. The electric saloon car concept was shown back in 2015 at the Frankfurt motor show and previewed Porsche's first electric production car, 'The Mission E, that will be in on the road by the end of this decade.'
> Click here for more on the all-new GT3 Touring
The Mission E is based on what Steiner called the J1 platform, and the car will fill the gap between the four-seater 911 and large Panamera. But rather than being a conventional, BMW 3-series-sized saloon car, the Mission-E is much closer to being a sports car, despite its four doors. Its attitude and focus on performance mean the technology that's gone into creating it can easily be adapted to a future dedicated electric sports car.
Porsche is also working with Audi on a new electric vehicle platform called Premium Platform Electric (PPE). This new architecture is designed for much larger vehicles – Cayenne and Panamera sized cars – and wouldn't be suitable for a sports car. However, whatever relevant technology and information the two companies are learning through this project will feed into the Porsche's first electric car.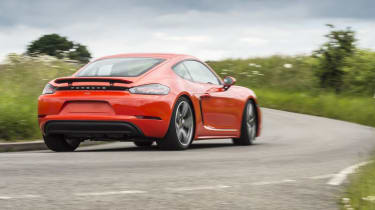 Fans of Porsche's more traditional sports cars, as well as 9000rpm rev limits, need not despair at this news. Steiner was keen to make clear that, as long as the regulations allow it, Porsche will continue to make such engines. Steiner's view on naturally aspirated engines was very encouraging 'We strongly believe for GT3, in terms of light weight, in terms of performance, in terms of, let me say, precise response of the engine. It has advantages we strongly believe there is more than a niche for engines like that.' He even gave a clue as to what the next naturally aspirated Porsche might be, 'And why not think about that as a strategy for the GT4.'
The future of the manual gearbox, as found in the new 911 GT3 Touring, was less clear. Essentially, if there's a significant demand for three pedals and a stick Porsche will cater for it. As those of us used to selecting our own gears get older and, sorry to get so morbid, start to die out, we should expect the manual to perish too.
http://www.evo.co.uk/porsche/911-gt3/19970/porsche-911-gt3-touring-revealed-manual-only-gt3-without-a-fixed-rear-wing