This year's Frankfurt motor show was a busy one for the evo team, covering the full spectrum of performance cars - bookended by the humble but incredibly appealing Suzuki Swift Sport, and the F1-engined Mercedes-AMG Project One.
But there's more to motor shows than just the big new arrivals, and in between press conferences and interviews we had a little time to investigate some of the show's less publicised vehicles and booths. Below is our pick of some great exhibits and details that you might have otherwise missed at the 2017 Frankfurt motor show...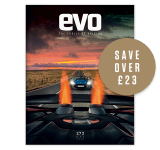 Subscribe to evo magazine
Subscribe today to have every issue of evo delivered straight to you. You'll SAVE 39% on the shop price, and get evo for its original cover price for a whole year!
Aspark Owl
We're wondering if Aspark's positioning next to Mazda in Frankfurt's halls was deliberate, as there's more than a hint of Mazda's design strategy in its dramatic lines. And like Mazda, Aspark hails from Japan, though from there things begin to diverge.
The headline figures are 430bhp and 563lb ft, sent through all four wheels. Those sound refreshingly sane by the usual standards of small-volume supercar companies, but things do take a turn for the less likely with a kerb weight of little more than 850kg and a 0-60mph time quoted at two seconds flat. Figures presumably possible at the expense of range, as that's given as only 93 miles.
It is of course electric, and arguably looks more dramatic than Mercedes-AMG's Project One, also launched at Frankfurt, but we're not wildly hopeful it'll ever make its way into production. Still, an interesting diversion.
Chery Tiggo
We'd not normally advocate a Chinese SUV concept as something worth diverting to should you be visiting the show. But while you might not be interested in the brand, nor yet another large, lumbering vehicle, the subtext behind the unusually-named Tiggo is fascinating.
Just a handful of years ago, it would have been unthinkable for a Chinese car company to display something with this much focus on design, technology and quality. The pace at which Chinese car companies are advancing is even quicker than the two decades or so it took Korean companies to produce cars competitive with the West.
The industry is hiring big design and engineering talent (Geely's design office, for instance, is headed by Volvo's Peter Horbury) and rapidly catching up established European brands in terms of quality and features. It can't be long until China produces a car that evo readers will want on their driveways…
Retro metal
A motor show isn't the sort of place you expect to find hoards of older cars, but fans of classic metal won't have been disappointed as they meandered around the halls. Brabus promoted its restoration service with over a dozen immaculate old Mercedes. From a 600 Pullman to a 190 SL, each example on show could only be described as perfect with not a single tarnished nut visible.
The German car club, ADV were at Frankfurt to encourage owners of classic and modified cars into their club. To do so they had amassed a collection of some rather unfashionable tuned cars from the '70s, '80s and '90s. But despite not being the epitome of taste, it was great to see that these cars still exist and that the owners haven't removed the fibreglass arches, gullwing doors and airbrushed murals to turn them back to standard. Especially as some would be worth much more as a result.
Bugatti deconstructed
It shouldn't need to be said how much engineering goes into creating something like the Bugatti Chiron - a car that can get from zero to 249mph and back to zero in under 42 seconds, according to its latest record - but there's no harm in bringing a little extra attention to what's going on under the skin.
Behind Bugatti's record-setter was a small enclosure featuring some of the individual components that go into the Chiron - from the enormous rear light bar, a single strip made up of 82 individual LED elements, to the entire 8-litre, quad-turbo W16 engine on a plinth, big enough to make you wonder how it could possibly fit within the confines of a car.
BMW i8 MemphisStyle
It's probably pushing the boundaries of realism to suggest you might have missed as car as vibrant as this one-off art car-style BMW i8, but given BMW was making a much bigger deal of the Vision i Dynamics and X7 concepts, it's fair to say the i8 MemphisStyle was less of a priority.
It's the work of Garage Italia, a Milan-based design centre which has tackled i3s and i8s in the past and has also made its name customising Mazda MX-5s, Fiat 500s and… Learjets. There's a strong pop-art vibe to it - we saw hints of Alexander Calder's CSL, David Hockney's 850i and Andy Warhol's M1 in its crazy colours - and unlike many of those cars, even the i8's interior received the patchwork treatment.
> Hypercar face-off - Mercedes-AMG Project One vs Aston Martin Valkyrie
Brabus Smart Ultimate ED Concept
With Daimler city car brand Smart announcing in Frankfurt that it would only produce electric vehicles from 2020, cars like the Brabus Ultimate 125 - a 123bhp, leather-lined take on Smart's Fortwo - will soon make way for cars like the Ultimate ED Concept. Based loosely on Smart's existing Fortwo ED (for electric drive, in case that acronym means something else where you live…) it features the same wild styling as the brand's petrol models but even wilder performance.
Courtesy of a 201bhp, 258lb ft electric motor, Brabus quotes a hilarious 4.5-second 0-62mph time and 112mph top speed, with a range of around 100 miles from the 22kWh battery pack. While we're not so sure about the eye-searing yellow and blue leather interior combination, that acceleration figure would show just about anything a clean pair of exhausts in city traffic.
Honda Civic Type R Customer Racing Study
The undoubted star of Honda's stand was its ultra-funky Urban EV Concept, with sofa-like seats and styling influenced by the first-generation Honda Civic of 1972. But the modern Civic has plenty to offer, particularly with a Type R badge on the back - and the Civic Customer Racing Study concept was one of the highlights.
In matte-black paintwork it wasn't the most eye-catching car at the show (even with a racing livery), but the keen-eyed would spot the lightweight 18-inch alloy wheels wrapped in square-shouldered racing slicks, and a lower stance over uprated suspension. It's an example of the kind of car Honda is considering offering for club-level racing.
Tuning parts
As well as whole cars filling the halls of the show, there is an awful lot of floor space dedicated to car components. If you want to find manufacturers of dashboard support bracketry or have a look around an un-machined, freshly cast crankshaft the Frankfurt motor show gives you that option.
It isn't all deeply nerdy, functional components that end up hidden within the depths of a car, though. Recaro were at the show celebrating 50 years of its shell-backed seat. As well as a new, angular-looking carbonfibre seat suitable for both race and road cars, there was the brand's famous Pole Position with a special commemorative finish. With carbonfibre effect leather, Dinamica cushions and lime green trim, the Pole Position Edition 2018 is limited to just 500 units.
Brembo had its full range of discs on show, from basic cast iron ones to its two-piece aluminium bell and carbon-ceramic rotor versions, too. Its stand was made all the more colourful with calipers in numerous different hues on display.
Slovenian exhaust manufacturer, Akrapovič, had a sparse stand with only a few of its systems on show as well as a couple of cars. Even so, never has titanium and carbonfibre looked like it was aching to make so much noise. The stubby, compact Lamborghini Aventador unit looked menacing even without a car attached to it.