BAC hypercar planned to keep the Mono company
British firm BAC is planning a full-on hybrid hypercar rival to the McLaren P1 by 2021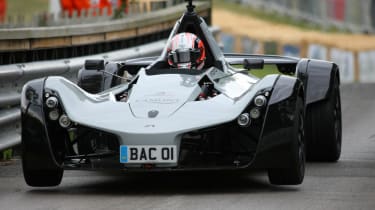 BAC is looking to build on the success of the Mono track car by developing a range of variants, and one of those new additions will see the British sports car manufacturer gunning for the big boys with a new seven-figure hypercar.
It's early days for the project but BAC has started working out the essential parameters of the new McLaren P1 rival, confirming that the company will be focusing on a hybrid powertrain and closed two-seater cockpit.
BAC engineer and designer Neill Briggs explained that the Mono is the firm's core model but opportunities to expand are being actively explored. "This car is what defines our brand so the Mono is BAC's '911' model if you like," he said, "but another super high performance car with more than one seat is a definite possibility within five years." 
He went on to explain that; "A closed cabin will make the car more usable in wet climates, but also more comfortable in hot ones", meaning it's less likely that the hypercar will follow the open-wheel race car vibe of the Mono. Engineered with input from an advisory panel of BAC customers, the new car should appeal to Mono customers looking for the next big thing.
If the jump from a £165k track-day toy to a £1million plus hypercar sounds a little ambitious, you would be right, but according to BAC, the current customer already has one or more Porsche 918 style hypercars in the garage. As such, the company thinks it won't be such a big leap for owners to pay more for a BAC product, so long as the engineering and performance can justify it.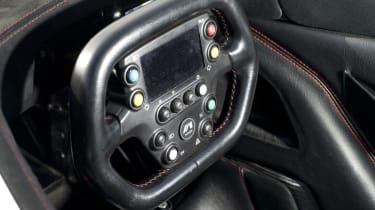 "A few years ago, people thought the hypercar was a massive beast of a thing that wasn't even much fun to drive. We can all see where it's going now with the racing tech going into cars like the new Mercedes, and it's hugely exciting. "It's creating an environment where more people understand and value the ultimate driving performance, and that is what we are all about." said Briggs.
> Mercedes-AMG 'Project One' hypercar
If the execution of the Mono is anything to go by, BAC's hypercar could be the one to challenge the big players at their own game. The soon to be revealed Mercedes-AMG F1-based hypercar and Aston Martin/Red Bull AM-RB 001 are on the horizon and the standard of ultimate hypercars is about to go through the roof. If BAC wishes to compete, it will need to create something very special.
New electric powertrain for the Mono
A little bit closer than the hypercar is the third strand of BAC's expansion plans, an 'alternative powertrain' model based on the Mono. "Think Formula E rather than F1 hybrid tech. Of course range anxiety is an issue for a battery powered road car, but if you're taking a car to a track day it's easy to imagine doing a few laps then stopping to analyse your race speed or rehydrate for half an hour while the car is on charge. It's an area that's definitely of interest to us."
As with the Mono, BAC's ambitions for this car remain small scale. "We'll always intend to be at the very exclusive end of the market," says Neill. "A total of 120 cars a year is probably our limit."