RM Sotheby's will host its annual Monterey auction between the 18th and 19th of August, and for once we can't pick a single standout car. Instead, the lot list is sublime from start to finish and features a number of showstoppers. Every car is immaculately presented and the range of metal available is breath taking.
From real driver's cars to full on racing machines, plus exquisite exotics designed to turn heads – there's the stuff of many a dream garage available at this auction. We've been through the auction catalogue and struggled to pick our favourites – but here they are. We can only guess at prices for now, as RM Sotheby's has not yet released auction estimates.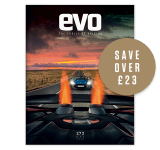 Subscribe to evo magazine
Subscribe today to have every issue of evo delivered straight to you. You'll SAVE 39% on the shop price, and get evo for its original cover price for a whole year!
1956 Aston Martin DBR1
When you think of sports car racing during the 1950s, you naturally think of Ferrari and Jaguar. However, Aston Martin is often forgotten and wrongfully so. This particular DBR1 was driven in period by the likes of Stirling Moss, Roy Salvadori and Carroll Shelby. In 1959 it won the world sports car round at the Nurburgring ring and played a crucial part in securing Aston Martin the constructor's title that year.  The same year, another DBR1 driven by Shelby and Salvadori actually won the Le Mans 24 hours.
With a freshly rebuilt engine and the original works engine being sold with the car, this is a rare opportunity to purchase something with incredible racing pedigree and that has been pedalled by some of the greatest drivers. Being the first example of only five DBR1's ever built, it's likely to be a hefty, but worthwhile investment.
1959 Aston Martin DB4GT
Design Project 199 (DP199) is undoubtedly the most important non Zagato DB4GT ever built. Used as the prototype and basis for all DB4GTs that followed, the car was first driven by Stirling Moss. The car is presented in its iconic Le Mans livery, as is the one of the most important cars within the David Brown lineage. 
2006 Aston Martin DBR9
The car that re-stamped Aston Martin's authority in the GT1 category of sports car racing, the DBR9 was a racing version of the already iconic DB9 road car. This particular car took a podium on its debut in 2006 and was part of the team that took second in the GT1 team championship that year. The car is now able to race in varying historic racing series or could be the ultimate track day weapon. The choice is yours. 
1961 Ferrari 250 GT SWB Berlinetta
Only 165 were ever made. The example on offer is the 110th example and is exquisite. It is fully Ferrari Classiche certified and received the platinum award at the Cavalini Classic last year. The car is near perfect and is unsurprisingly expected to fetch between $8 and $10 million, but this could easily be an under-estimation if previous 250s are anything to go by. If there were to be a stand out car from the auction, this may well be it. Very few examples ever come up as those who own them know how special they are. 
> Watch: evo drives a €10 million Ferrari 250
1991 Ferrari F40
Arguably the definitive supercar, and an all time evo favourite. There is no reserve on this particular example. Finished in traditional Ferrari Rosso, the car is immaculate and really has become a timeless classic. If you are in a position to make a bid, please do!
2004 Ferrari 360 Challenge Stradale/2009 Ferrari F430 Scuderia
At evo we are huge fans of the old Ferrari 458 Speciale, but it's easy to forget where that car came from and to ignore its bloodline. Both the 360 and 430 models had lightweight, hardcore iterations. The 360 Challenge Stradale may now look a little old but there is nothing ancient in the way in drives. Arguably the most unhinged and raw of all the lightweight specials, the noise and steering made the car one of the all time greats and few cars are as fun on track.
The Scuderia was an evolution of the stradale principles. Here more technology was used to enhance the driving experience with concepts learnt from Formula 1 applied to the car. It was the first road legal car to lap Fiorano faster than the Enzo. Both of these are iconic in their own ways and special beyond words.
Jaguar XJ220
We recently ran a piece on our ten favourite Jaguars. Unsurprisingly the XJ220 featured and now one has the opportunity to become part of an exclusive club. With the XJ220 Jaguar produced the fastest ever road legal car and with an engine from a Group B Metro, racing pedigree was ingrained within its DNA. A phenomenally fast car even by todays standard, the XJ220 is an iconic car with plenty of traits that would be found in Jaguar's Group C cars of the day. Presented in 'stylish' maroon, its presence is undeniable.
1957 Mercedes 300 SL Gullwing
Has there even been a road car that caused more of a stir just by being stood still? The Gullwing doors are one of the most iconic pieces of automotive design but the car possesses so much more than merely presence. With technology from the one of most successful racing cars of all time, the 300 SLR, the Gullwing drove superbly, and was for the time an extraordinarily fast car. It still feels punchy even by today standards. Most are found in silver, but this particular example is presented in black with the infamous red interior and white steering wheel.
1997 Porsche 911 Cup 3.8 RSR
With Porsche being at the top of GT racing using their GT3, it's easy to forget one of its most recent forbearers. The 3.8 RSR was evolution of the 60's and 70's philosophy. Add wings, power and remove weight to create the ultimate track weapon. The gold BBS wheels go perfectly with the Rosso paint scheme and make it an imposing prospect. One wonders whether it would be able to touble a new GT3. We think it may get close.
2011 Porsche 911 GT3 RS 4.0
With the 4-litre engine now being commonplace in the GT3 range, it's easy to forget that it used to appear in a one-off special. The final iteration of the 997 GT3 was the RS 4.0. Lighter and more powerful than any previous GT3, it was the ultimate expression of what the old manual GT3 could be. With racing crank and camshaft, the car revved like little else and added even more theatre to an already mighty soundtrack. This could be a rare opportunity to pick up a car that raised the benchmark in the performance and track car market.
2015 Porsche 918 Spyder
It's hard to comprehend that the 918 is more than two years old now. A car part of the holy trinity, very few people were in a position to purchase a 918 brand new. Numbers were limited and the price astronomical. Its unlikely that this particular car will sell for anything less than its original asking price but if you missed the boat first time round, here's your chance. 
Check out the rest of the lots for sale on RM Auction's site here...